Why British TV rules the world
We may not mine coal or make cars like we used to, but Britain has other, globally marketable skills. Ian Burrell looks at how our TV nous has made such an international impact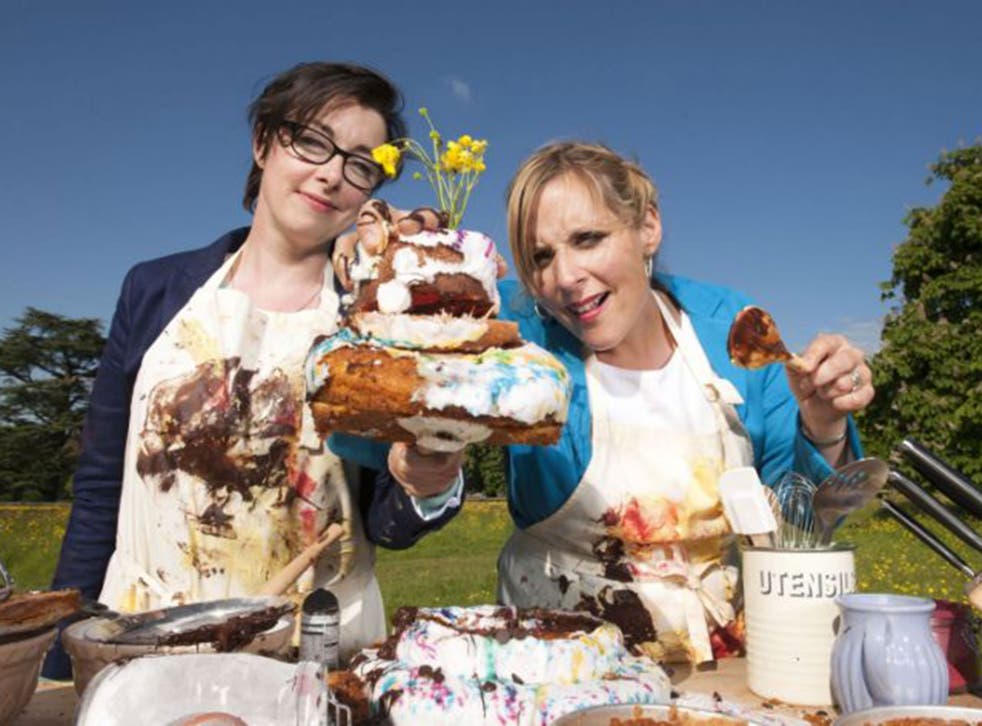 When people talk of the need to revive the once-great reputation of British industry, it's usually the big engineering factories and car plants they have in mind. But there's something else we make on these islands that we export in great quantities: television shows.
Making quality TV is becoming recognised internationally as a great British trait, matching our long-held reputation in popular music.
In the past three years, the UK has exported more than 600 TV shows, around six times as many as Germany. Only the American TV industry can compare.
As a vast middle class begins to take shape in China and other emerging economies such as India and Brazil, there is a clamour for programmes that provide a road map for these newly affluent lifestyles. And nobody makes factual entertainment – cookery shows, home improvement formats, travel series – like us.
At a time when the United Kingdom's position on the world stage is being called into question by its deteriorating relationship with Europe and the prospect of Scottish independence, television offers great opportunities for extending cultural influence and generating income. Sales of our programmes to the US were worth £475m in 2012, a year-on-year increase of 11 per cent, buoyed by America's infatuation with ITV's Downton Abbey and the BBC's Sherlock. The biggest independent TV producer of unscripted shows in the US is now ITV Studios, following its acquisition of New York-based Leftfield Entertainment Group.
Although its story has been overshadowed by the novelty of the internet, British television has been through a revolution in the past two decades.
In a recent article, US online magazine Slate said: "Everything is bigger in America: houses, cars, serving sizes, people. The nation of big appetites also craves more when it comes to our TV choices. The number of TV channels has been on the rise for years and, in 2013, the average TV-watching family had access to 189 channels, up from 129 five years earlier."
It used to be that the first thing most Brits would do on checking into an American hotel room was to scroll through the extraordinary smorgasbord of telly, knowing there were only five stations on the menu back home. But today we have up to 529 channels on offer, making the Americans look bereft of choice.
This process has taken place in defiance of predictions that British TV – or at least its commercial sector – was going to be taken down by the economic downturn. Only five years ago, ITV was being written off as a "basket case" that needed to be broken up. The broadcaster was slashing hundreds of jobs, closing regional studios and appealing for its advertising restrictions to be lifted. There was talk of "selling" Coronation Street to an independent producer. All that has changed. ITV recently announced pre-tax profits of £435m for 2013, aided by a 20 per cent hike in profits at ITV Studios.
Access unlimited streaming of movies and TV shows with Amazon Prime Video Sign up now for a 30-day free trial
Sign up
The hospitable global climate is opportune for Tim Davie, head of BBC Worldwide (the corporation's commercial arm). Unlike ITV, the BBC faces choppy financial waters as it once again prepares to make its case for a licence fee, a levy that younger audiences struggle to reconcile with a web culture that frowns on charging for media content. Beyond the BBC's Royal Charter, which ends in 2016, much responsibility will rest on the shoulders of Davie's BBC Worldwide to generate funds.
But the prospects are good. When the BBC premiered series three of Sherlock in China, it did so on video website Youku.com and received 5 million views inside 24 hours. Days later, the figure had climbed to 72 million.
The recent BBC1 documentary David Beckham into the Unknown, showing the former footballer's motorcycle trip in the Amazon rainforest, demonstrates the enormous appetite for BBC shows. Hatched by Beckham's XIX Entertainment management team (run by impresario Simon Fuller) and Davie's BBC Worldwide team to coincide with the World Cup, it was also screened to 60 million Brazilians on Globo TV. In a multi-million pound series of deals, the show was also pre-sold to Australia, France, China, Hong Kong, the US, Norway, Finland, Sweden, Denmark, Iceland, Spain, Romania, Hungary and South Africa. Although the BBC doesn't release income figures, UK television exports were worth £1.224bn in 2012 (up from £1.178bn in 2011), with sales to America up 11 per cent to £475m and sales to the fledgling Chinese market up 90 per cent to £12m. The mesmerising BBC natural history programme Penguins – Spy in the Huddle, in which a disguised "Penguin-cam" was used to obtain unprecedented footage, has been sold to 79 territories, including China, Russia and South Korea. Africa, presented by Sir David Attenborough and made by the BBC with international partners, has been bought by more than 100 countries. Dancing with the Stars, the international version of Strictly Come Dancing, has just been signed by a 50th territory (Slovenia) and is in its 18th season on America's ABC. "Once you have a format like that you can do a lot with it," says Davie. Some of the profits will go back to the BBC's budget.
One of the most popular shows in France is called Le Meilleur Pâtissier – a local version of the BBC's The Great British Bake-Off. "They tend to be a bit more choux pastry and macaroons and we tend to be more lemon sponge," says Davie. The format has also been sold to Ireland, Italy, the Netherlands, Belgium, Denmark, Norway, Sweden, Finland, Poland and Ukraine. A deal for five more versions of Bake-Off, all for countries outside Europe, is being signed off by BBC Worldwide. It is lifestyle formats such as this at which British television excels.
John McVay, the chief executive of Pact, the organisation that represents Britain's independent television production sector, looks back to the birth of Channel 4 in 1982 as a pivotal moment in developing the public appetite for original British shows. "In the early 1980s, it was acquired US programmes such as Dallas, Dynasty, Starsky & Hutch and Cagney & Lacey that dominated the primetime schedules," he says. "Channel 4 came in to stimulate origination and creativity and all the other broadcasters had to react."
He claims that Britain's unique mix of commercial, private TV and public-service broadcasting has created "the world's leading production culture", though he concedes that "America has the edge" on scripted programmes. This is because the US industry has a well-established culture of team script-writing which has proved a winning formula in the production of long-running series from The Wire to Breaking Bad. But McVay says that the licence fee and the regulation model for British TV had shaped a special relationship between audience and broadcasters.
In America, telly is seen as a utility; a commercial offering. In the UK, we have a different relationship with our television programmes, there's more trust and respect.
Unscripted British factual entertainment shows such as Who Do You Think You Are? (made by Wall to Wall) and Undercover Boss (created by Stephen Lambert, one of Britain's leading originators of formats), have been huge global hits. Aside from the US, Britain's biggest international competitors are Holland and Israel, which have both built reputations in the global market, especially in developing game-show formats. It was Holland that gave us The Voice and Big Brother, while Channel 4's Homeland and ITV's singing show Rising Star have their roots in Israel.
But in China, the state television regulator has pushed back against what is seen as an excess of game shows, imposing strict limits. The opportunity here for British producers is in lifestyle programmes. "In these previously under-performing economies, you now have people who can choose what type of cuisine that they eat, the freshness of their food. There's a middle class," says McVay. "It has become striking that when we talk to international buyers in so-called emerging economies, they are asking for lifestyle programming. And we are brilliant at lifestyle programming. We were the nation that invented Changing Rooms, Masterchef, Wife Swap," he said, listing some of the British formats sold around the world.
Of course, the story is not one of unmitigated success. Broadcasters are facing major challenges in preventing young viewers from abandoning television in favour of YouTube and other online video providers.
Some smaller production companies – which cannot afford to attend the big international content fairs – feel unable to avail themselves of the opportunities that are there because they feel that the Government's focus is on supporting the biggest players in the sector. The City of London apparently prefers to take a chance on investing in technology companies rather than put money into a "traditional" media sector. But against that, the recent investments by big American players (Viacom purchasing Channel 5, and Discovery Communications acquiring the large London independent production company All3Media) have been a clear vote of confidence in the UK industry.
The potential for British TV is no longer simply in simply selling formats that have proved successful in the home market, though. The high production values mean that there is great scope for co-produced projects intended for multiple territories.
The BBC has just agreed to make The Refugees, an English-language sci-fi series set in an isolated village north of Madrid, with the Spanish company Atresmedia, an international arrangement which allows for greater ambition and scale.
Pact recently signed a memorandum of understanding with the Chinese state broadcaster, CCTV. The BBC has a similar arrangement. The rapport means that British television is perfectly placed to work with the Chinese as they offer their ideas to – and share their culture with – the outside world.
The English language has clearly been an important factor in the ability of British television to travel the world. But there is more to the global appeal of our television than the lingua franca, or even the collective impact of British lifestyle brands from Burberry to the Beckhams. "What I think is at the heart of it is that we are a nation of storytellers – you only have to look at our literary history," says Davie.
"Shows such as Sherlock and Doctor Who trust the audience to grasp complex ideas and understand irony. I think that we are masters of the subtle and the curious and there is certainly a place for that in the global TV market."
Not only that: British TV is now trusted to teach the world how to do up their homes, run their small businesses and cook dinner – as well as whip up a lemon sponge.
Join our new commenting forum
Join thought-provoking conversations, follow other Independent readers and see their replies