Why Paul Whitehouse and Harry Enfield had to stab BBC2 in the back
They became household names on BBC2, but now they present a merciless spoof tribute to the channel. Paul Whitehouse and Harry Enfield tell James Rampton why they couldn't resist the chance to bite the hand that feeds them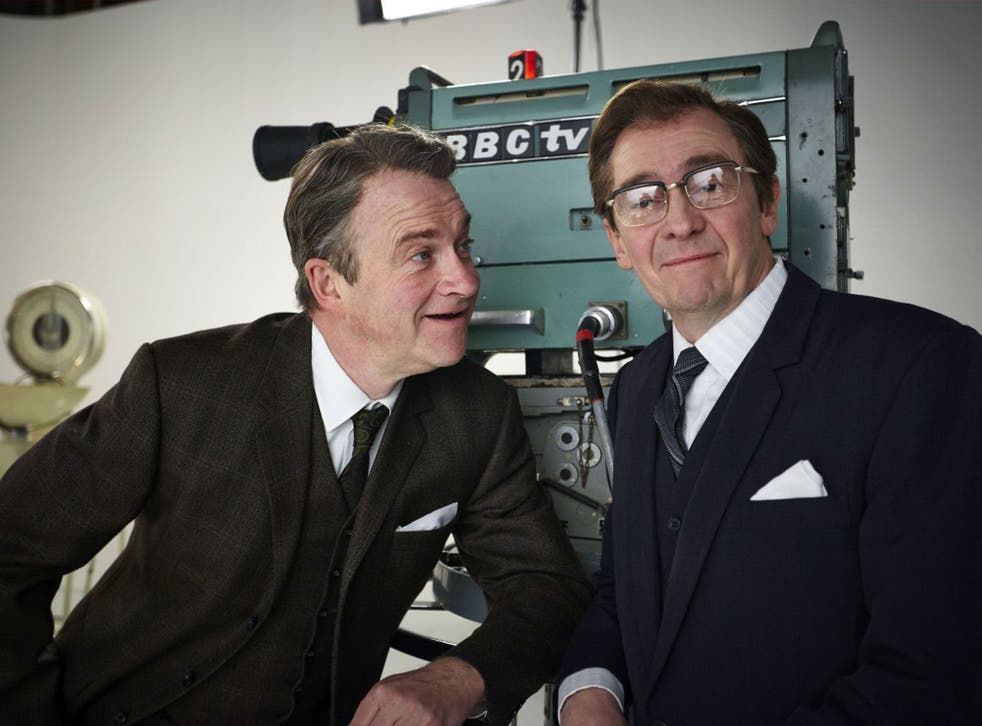 Paul Whitehouse sums up how he and his long-term partner Harry Enfield approached the task of producing Harry and Paul's Story of the 2s, a spoof history of BBC2. "Harry and I only do three impersonations each. They just put us in a different wig for each sketch!"
There is, of course, rather more to the show than Whitehouse's self-deprecating summary indicates. Between them, the comedians play more than 150 characters, including John Cleese-Shop-Sketch, Germaine Dreary, Joan Bakewell Tart, and Gerald Manley Paxman.
Linked by Simon Schama (played by Enfield), Harry & Paul's Story of the 2s sprints through the past half century in just an hour, offering a bravura send-up of more than 50 BBC 2 shows along the way. These include such landmark programmes as The Forsyte Saga, I, Claudius, Boys from the Blackstuff, Grumpy Old Men, QI, The Apprentice, The Office, The Young Ones and The Old Grey Whistle Test – renamed here "The Old Grey Wrinkled Testicle".
During the show, which goes out at 9pm on Sunday 25 May as part of the channel's 50th anniversary celebrations, the pair get to rummage around gleefully in the dressing-up box. Whitehouse delivers a priceless Mary Berry ("Wouldn't I make a wonderful queen?"), while Enfield appears to have slightly too much fun as Margaret Thatcher.
Harry & Paul's Story of the 2s

Show all 6
Harry & Paul's Story of the 2s underlines the duo's ability to conjure up characters before our very eyes in a matter of seconds. It also helps explain why Johnny Depp, albeit with more than a hint of hyperbole, once called Whitehouse, "the greatest actor of all time".
Enfield and Whitehouse do not disappoint in person. When we meet in a central London bar, it is like being treated to a command performance – to an audience of one. Like all the best double acts, they are constantly bantering, ever eager to top one another's punch lines.
At one point, 52-year-old Enfield recalls that Whitehouse initially had some difficulty "finding" the character of Nigel Lawson. "The way Paul eventually got into character was by repeatedly saying, 'I was right about everything'."
"We'll be like that in a few years' time," Whitehouse chips in. "In fact, we're like that already. I'm right about everything!"
Harry & Paul's Story of the 2s exhibits a refreshing willingness to bite the hand that feeds it. Enfield jokingly observes that after the channel gave the duo their break almost a quarter of a century ago with Harry Enfield's Television Programme and subsequently remained loyal to them with Harry Enfield and Chums and then Harry & Paul, "It was only right that now we should stab BBC2 in the back."
Access unlimited streaming of movies and TV shows with Amazon Prime Video Sign up now for a 30-day free trial
Sign up
It is perhaps a sign of the channel's confidence that it is happy to let its two most mischievous stars rip into it with gay abandon. The show certainly does not hesitate to stick the boot into some of BBC2's most revered programmes. For instance, in one skit, a Monty Python character says the sketch he is performing in is, "very long indeed", and will be revived, "every decade for the next half a century, when it's definitely past its sell-by date".
Whitehouse, 56, jokes to Enfield that John Cleese, who is singled out for particularly satirical treatment, "Will be coming after you. We're getting our apologies in now!"
"But you're allowed to take the piss out of John Cleese," Enfield retorts. "He can take it!"
The duo maintain, however, that their mockery stems from an innate fondness for BBC2. "Some people will probably be slightly offended, but they shouldn't be," Whitehouse contends. "They'll pretend to us that they think it's funny and then seethe in private.
"But it all comes from a place of affection. It sounds like a cliché, but I've always loved BBC2. We grew up loving most of these programmes. If I had to have only one channel, it would be BBC2. We take the piss out of Monty Python and Fawlty Towers because we love them."
Never more than 30 seconds away from the next gag, Whitehouse carries on: "Anyway, comedians are great at laughing at themselves, aren't they? They're the most kind-hearted, generous people. They're so good at laughing at others – ergo, they must be good at laughing at themselves. None of their behaviour comes from a place of insecurity and bitterness, just warmth and fellowship!"
Enfield adds that a skit comparing himself to the very mainstream sketch comedian Dick Emery is, "Crueller than anything else in the show. We're nastier about me than anyone else."
Harry & Paul's Story of the 2s also addresses subjects that may not be particularly comfortable for the BBC. For instance, it does not shy away from tackling the fact that allegations of sexual assault by some BBC stars in the 1970s were not taken seriously at the time.
In a parody of Call My Bluff, the panellists put forward various possible explanations of the word "paedophile", before Robert Robinson (Enfield) emphatically declares that, "There is no such thing as a paedophile."
"That was the attitude in the BBC during the 1970s," says Enfield. "The Call My Bluff sketch is not gratuitous. It's a nod to what was never confronted back then. If we don't confront it now, then it's yet again not being acknowledged. It would almost be more contentious if there weren't some kind of allusion to it in this show. If I were a journalist, I'd ask, 'Why didn't you cover it?'"
So what's next for the duo? After four series of Harry & Paul, Enfield is not sure if they will make another. "We feel we're getting to the end of that. We're too old for sketches now."
What is more certain is that Whitehouse will be making a BBC2 adaptation of his well-received Radio 4 sitcom, Nurse, in which he plays most of the patients visited by a community psychiatric nurse (Esther Coles).
Enfield jokes that his collaborators on Harry Enfield and Chums, Whitehouse and Charlie Higson, went off to make The Fast Show in 1994 because, "They needed to get away from my ego. Paul's next series, Nurse, features a lot of actors, but not me. I wonder who he needs to get away from again ..."
Of course, the fact that Enfield and Whitehouse so relentlessly take the rise out of each other only underscores the strength of their relationship. They say things to each other that only very close friends can get away with.
Enfield and Whitehouse have been working together since they first met in a Hackney pub 30 years ago and started developing such iconic 1980s characters such as Loadsamoney and Stavros for Channel 4's Saturday Live.
Enfield puts the longevity of their partnership down to the fact that, "We have a very good way of writing. We get together in the morning, and then about 10 minutes later Paul will say, 'Shall we go and have lunch?'"
Whitehouse's take on their enduring collaboration is that, "It's very simple. It's based on the fact that we make each other laugh."
"And the fact that no one else will work with me," Enfield chimes in.
"It's true," Whitehouse concludes. "When I found myself laughing at one of Harry's jokes the other day, I quickly rang the hospital and said, 'Can you fit me in, please?'"
'Harry & Paul's Story of the 2s' is on Sunday 25 May at 9pm on BBC2
Join our new commenting forum
Join thought-provoking conversations, follow other Independent readers and see their replies