Here's what the 'Game of Thrones' cast looked like when they first started acting
Anjelica Oswald
Thursday 31 August 2017 13:39 Comments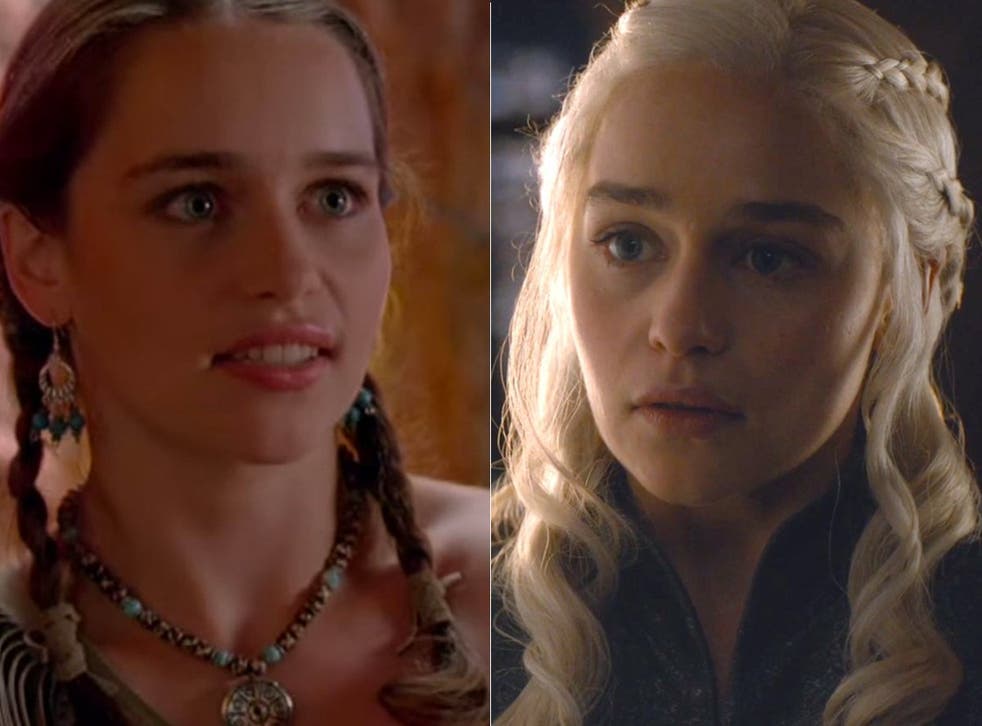 The "Game of Thrones" cast is now one of the most recognisable in the world.
While some of the stars owe their careers thanks to the hit HBO show, others joined the cast as established actors.
Here's what the cast looked like in their earlier roles.
You might not recognise Mark Addy, who played Robert Baratheon, in one of his earlier roles as Fred Flintstone in "The Flintstones in Viva Rock Vegas."
Charles Dance may be known for his villainous role as Tywin Lannister, but the actor's first film role was as the villain in the James Bond movie "For Your Eyes Only."
Lena Headey made her film debut in 1992's "Waterland" before she was ever Cersei on "Game of Thrones."
We may know him as Tyrion Lannister, but Peter Dinklage's breakout role was in 2003's "The Station Agent."
Known for playing Jaime Lannister, Nikolaj Coster-Waldau's first movie was the 1994 Danish film "Nightwatch."
Jack Gleeson portrayed the despised Joffrey Baratheon, but one of his earliest roles was playing an adorable little kid in "Batman Begins."
The 65-year-old Anton Lesser is known as Qyburn on "Game of Thrones," but the actor has been a member of the Royal Shakespeare Company and was in a number of TV movies starting in 1979.
Julian Glover portrayed the old Grand Maester Pycelle, but the actor (who has been acting since the '60s) was once in a "Star Wars" movie.
70-year-old Jonathan Pryce played the High Sparrow on "Game of Thrones." He began his career as a stage actor, but his breakthrough film role was in 1985's "Brazil."
Jerome Flynn is hilarious as Bronn, but in the '90s, he was part of a music duo with his costar from "Soldier Soldier."
Diana Rigg is iconic as Lady Olenna Tyrell, but the actress has been in the industry since the '60s, well-known for her role on the spy series "The Avengers," and was even a Bond girl in "On Her Majesty's Secret Service."
Natalie Dormer made her film debut in 2005's "Casanova" before playing Margaery Tyrell.
One of Iain Glen's earliest roles before playing Jorah Mormont was in 1988's "Gorillas in the Mist."
Emilia Clarke had two TV roles before landing the part of Daenerys Targaryen, one of which was the TV movie "Triassic Attack."
Jason Momoa's first role ever was on "Baywatch: Hawaii." Now, he's known for his former role as Khal Drogo.
Conleth Hill may be bald as Varys but the actor sported a headful of brown hair on the '90s British sitcom "Blue Heaven." He does still have a full head of hair — it's just white.
Nathalie Emmanuel is Missandei, Daenerys' right-hand. Her first on-screen role ever was on "Hollyoaks."
Jacob Anderson is known for his portrayal of the brilliant warrior Grey Worm, but he's been acting since 2004.
Liam Cunningham is fan-favorite Davos Seaworth, but the 56-year-old began acting in the '90s in projects like "A Little Princess."
Stephen Dillane is well-known for his former role as Stannis Baratheon, but he started acting in the '80s.
Rory McCann plays a foreboding Sandor "the Hound" Clegane, but his first major role was in the comedy "The Book Group."
Sean Bean played the beloved Ned Stark, but he has been in the business since the '80s.
Michelle Fairley played the Stark family matriarch Catelyn Stark, but she began her professional acting career in 1989.
Kit Harington had only been in the National Theater (and later West End) production of "War Horse" before being cast as Jon Snow.
Max von Sydow, 88, has had a prolific career, dating all the way back to 1949. One of his most recent roles was as the Three-Eyed Raven.
Gwendoline Christie is the powerful Brienne of Tarth, but she only made her film debut three years earlier as a shopper in "The Imaginarium of Doctor Parnassus."
Aiden Gillen nailed it as Petyr "Littlefinger" Baelish, but the 49-year-old started his career in the '80s. He broke through with his role on the 1999 series "Queer as Folk."
Alfie Allen plays Theon Greyjoy, but he first made his debut in 1998 with a TV movie comedy "You are Here" and a brief appearance in "Elizabeth."
Comedian Gemma Whelan made her film debut in 2010's "The Wolfman" as a maid. Now, she's Yara Greyjoy.
Before she was Melisandre, Carice van Houten was in numerous Dutch films and TV series, including "Suzy Q."
Michiel Huisman, who plays Daario Naharis, starred alongside Carice van Houten in "Suzy Q" and later in "Black Book."
Paul Kaye was known for his comedic character Dennis Pennis on "The Sunday Show," but in "Game of Thrones" he played Thoros of Myr.
Hannah Murray plays Gilly now, but her first role ever was on "Skins."
Joe Dempsie, who recently returned as Gendry to the series, was also on "Skins."
Thomas Brodie-Sangster made his feature film debut in "Love Actually" and is known for his former role as Jojen Reed.
Read more:
• Barnier on Brexit talks: no 'decisive progress on any of the principle subjects'
• Explosions at Houston chemical plant after it was flooded by Harvey
• Theresa May insists she will fight the next general election
Read the original article on Business Insider UK. © 2016. Follow Business Insider UK on Twitter.
Register for free to continue reading
Registration is a free and easy way to support our truly independent journalism
By registering, you will also enjoy limited access to Premium articles, exclusive newsletters, commenting, and virtual events with our leading journalists
Already have an account? sign in
Join our new commenting forum
Join thought-provoking conversations, follow other Independent readers and see their replies