Last night's TV: Killing for Love: Storyville (BBC4); Kate Humble: Back to the Land (BBC1)
A murder case drenched in blood and confusion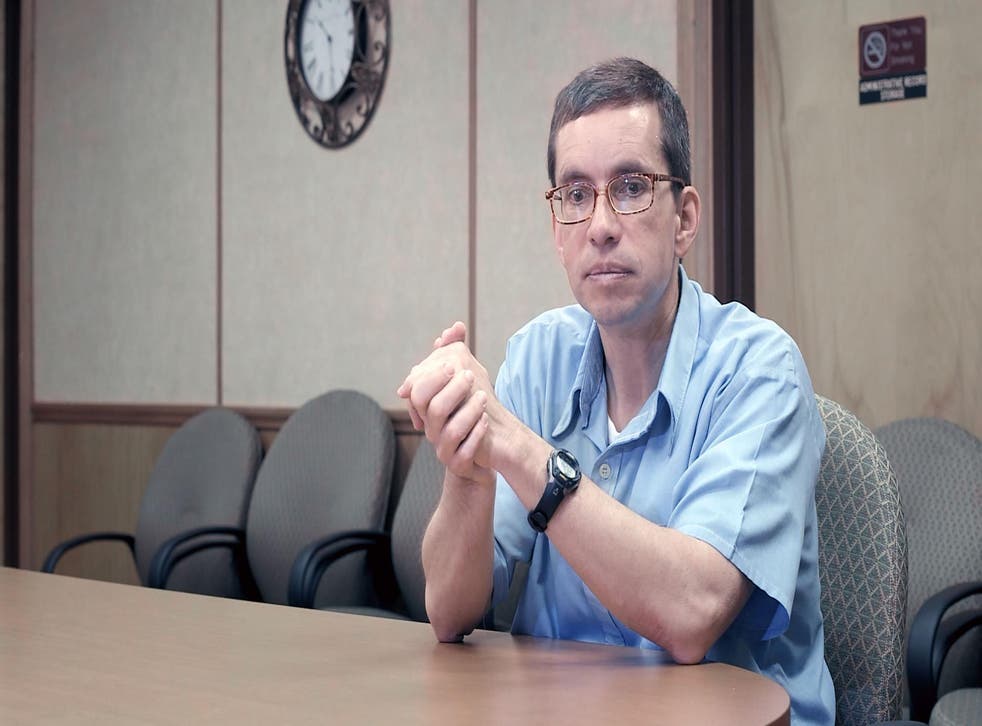 Probably wisely, the makers of Killing for Love: Storyville don't actually claim, still less prove, that the alleged miscarriage of justice that took place in one of the most gruesome double killings in modern US history was indeed an injustice. More than 30 years ago a comfortably-off couple in a sleepy corner of Virginia were murdered with great force and ferocity in their own home. Derek Haysom and his wife Nancy were stabbed to death, and probably by someone they knew, rather than a random manic intruder, say.
They were almost decapitated and the living room was drenched in their blood. In due course their only child, Elizabeth, and her boyfriend Jens Soering, who had skipped the country, were convicted of the double murder and sentenced to life. They were young (20 and 18 respectively) students at the University of Virginia, apparently madly in love, and possessed of both high intelligence and a tendency to fantasy.
He was German, the son of a diplomat; she Canadian/English. Superficially, and possibly for real, it looked like a simple case of conspiracy to murder. That, at least, was what Soering confessed to before later reversing his confession and claiming innocence, a stance he has maintained for more than a quarter of a century, since his conviction.
For her part, she has broken her silence only once, in 2011 when Soering just missed the opportunity to be released and deported to Germany after decades of incarceration in one of the toughest jails in the States. A change of Governor in the Commonwealth of Virginia fractured that plan. Jens's dreams of becoming a burglar alarm salesman in Germany evaporated. The pair still languish in custody, their lives wasted.
But who dunnit? Even after two hours of investigation by the German film-maker Marcus Vetter the answer is no clearer than it was in 1985, or rather even less clear than it was then when it seemed a fairly simple, if bizarre case. One of the main problems is that both protagonists changed their stories so often.
Elizabeth, for example, seemed to veer between saying that her own mother sexually abused her, then retracting that, and then asserting it (and this highly unusual pattern of abuse lasted for eight years). Jens confessed initially to the murders, apparently because he was under the mistaken impression that he would be sent for trial in Germany where the softy justice system would bang him up for only a few years before he could be reunited with Elizabeth, an "unconventional" beauty who retained her English accent from her youth in Britain.
She, so the plan went, would be let off when he took the rap. There were various other reversals and apparent alibis along the way that went wrong. There was also some suggestion of a third player at the scene, from the DNA evidence. It was dizzying.
At the end of it all – and watching it and the old trial footage was like being a juror at some kind of retrial – the best conclusion was the pragmatic one reached by the Governor of Virginia Tim Kaine in 2010, which was that Soering had already served a conventionally long sentence and was no danger to the public and could be safely packed off to Germany. That said, miscarriages of justice sometimes turn out to be no such thing, even if they have distinguished journalists and "new evidence" coming forward that appears compelling. At all events, it made for morbidly fascinating viewing, even at an extraordinary length for modern telly.
I approached Kate Humble: Back to the Land with a degree of trepidation that only the most goody-goody and wholesome BBC presenters can instil in me. And there is surely no more wholesome a figure than Kate Humble, a woman who is the only person on our screens eligible for Soil Association approval. She is as free range, organic and additive-free as anything you're liable to discover down at the farm shop.
Access unlimited streaming of movies and TV shows with Amazon Prime Video Sign up now for a 30-day free trial
Sign up
Much the same can be said for "award winning organic restaurateur" Geetie Singh-Watson, who joins in her search for inspirational ways farmers are making a living. All the best roughage can induce a certain amount of flatulence and I found the unrelenting enthusiasm for the rural business scene all a bit windy.
It's all very worthy, I know, and I am as keen on saving the honeybee as any weary, cynical old hack, but there's something frustratingly small-scale about the various schemes and projects the organic duo discover in their travels. I was left a little hungry by the end of it all. What I really want to know is what the grain barons will do when the EU subsidies disappear? Something for Kate to get her teeth into, maybe.
Register for free to continue reading
Registration is a free and easy way to support our truly independent journalism
By registering, you will also enjoy limited access to Premium articles, exclusive newsletters, commenting, and virtual events with our leading journalists
Already have an account? sign in
Register for free to continue reading
Registration is a free and easy way to support our truly independent journalism
By registering, you will also enjoy limited access to Premium articles, exclusive newsletters, commenting, and virtual events with our leading journalists
Already have an account? sign in
Join our new commenting forum
Join thought-provoking conversations, follow other Independent readers and see their replies