Monty Python's 'dead' parrot suspended from crane in London in tribute to comedy quintet
The 50ft-long fibreglass bird was a giant replica of the mythical Norwegian Blue seen in 'The Dead Parrot' sketch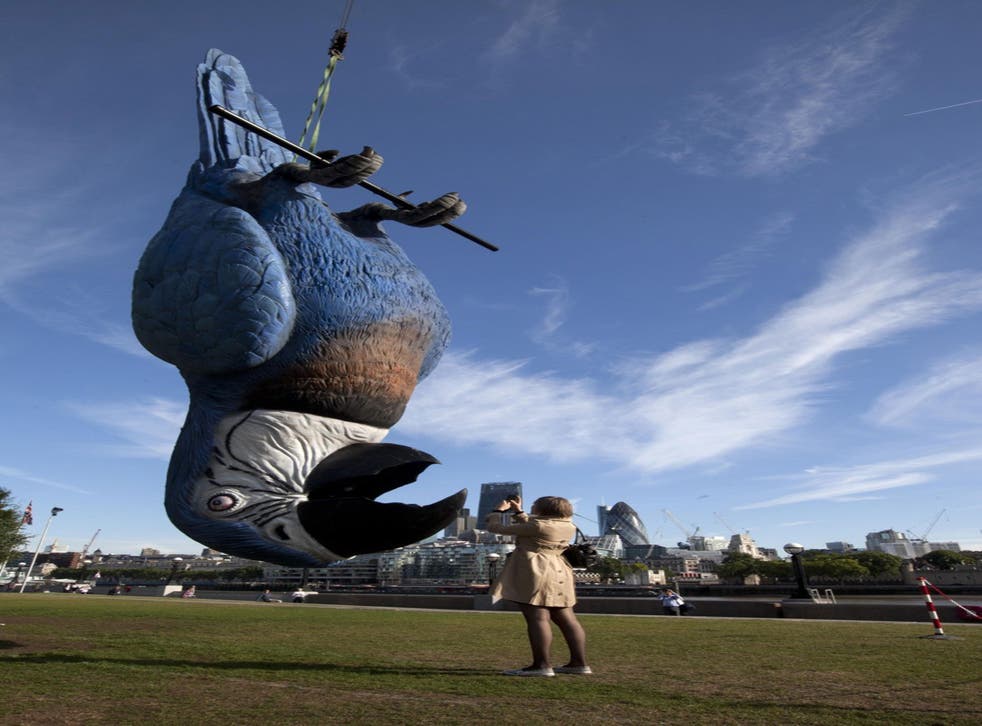 In what is probably the most famous Monty Python sketch of all, John Cleese and Michael Palin are seen arguing about the existential state of a "Norwegian blue" parrot, creatively euphemising its death in typical British style.
And now a fibre-glass version of the bird from 1969's The Dead Parrot has been hung upside down from a crane in London.
The structure, which is almost 50ft-long from the tip of its tail to the top of its head and took more than two months to make, was suspended from the crane before being laid on its back at Potters Fields near London's Tower Bridge to mark the screening of the cult comedy act's live show on TV channel Gold.
Lead sculptor Iain Prendergast said: "We are all Monty Python fans so we were delighted to receive the brief from Gold to recreate the mythical Norwegian Blue on a giant scale.
"We watched both live and televised versions of the sketch and found that there have been a number of different incarnations of the parrot with a variety of different plumages."
Prendergast continued: "Our sculpture provides a colourful hybrid of the dead parrots which have featured in the celebrated sketch.
In pictures: Monty Python Live (Mostly)

Show all 10
"The key challenge for us was capturing the comedy value of the dead parrot, keeping the realism of the bird whilst also adding touches like the bloodshot, stunned eyes."
The massive model will end up at the O2 in Greenwich where the remaining Pythons - Cleese, Michael Palin, Eric Idle, Terry Gilliam and Terry Jones - are performing their final comeback gig on Sunday.
Steve North, the general manager of Gold, said the giant bird was "a fitting tribute to a sketch that is so loved by audiences throughout the world".
The final show is on Gold on Sunday night from 7.30pm.
Additional reporting by Press Association
Join our new commenting forum
Join thought-provoking conversations, follow other Independent readers and see their replies