2017 TV preview: The best shows to look out for from House of Cards and Twin Peaks to Game of Thrones
Including Fargo, The Defenders and the return of Stranger Things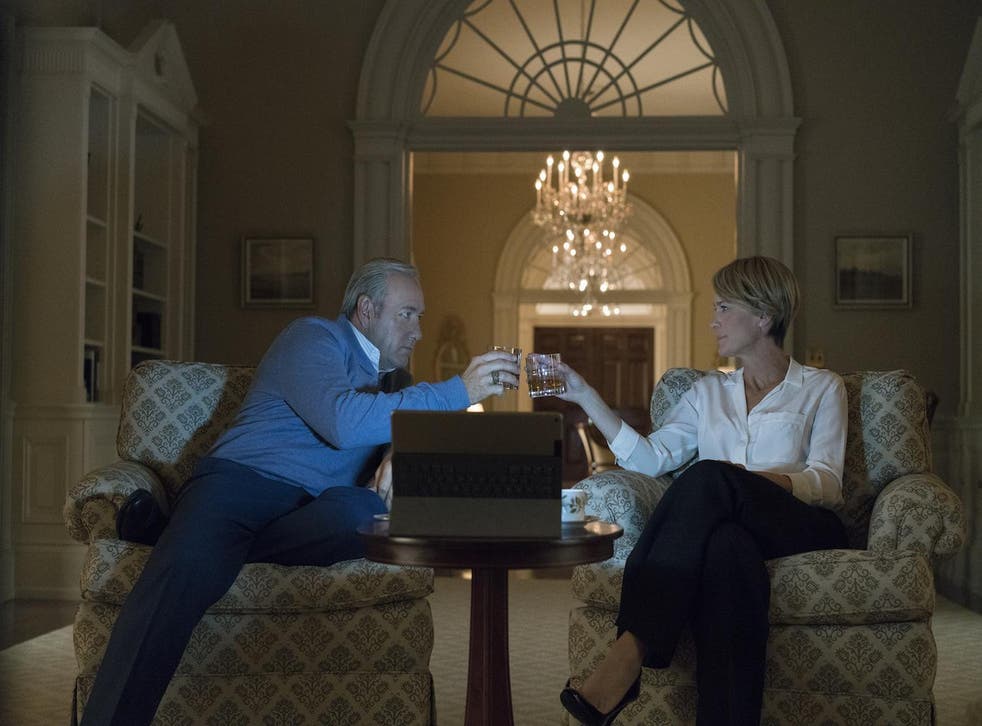 The first half of 2017 has been a strong one for television.
X-Men spinoff Legion blindsided viewers, Peaky Blinders creator Steven Knight delivered the BBC yet another hit with Taboo and Broadchurch drew to what most considered a satisfying close.
Somehow, it seems as if the second half of 2017 may improve on this; not only is there the return of beloved series Twin Peaks and HBO mega hit Game of Thrones, but a whole crop of new shows will be introduced to the world. Elsewhere, critically acclaimed series The Leftovers will be drawing to what is sure to be a much-discussed close.
It's also a fervent year for Netflix who will be continue to average almost one new original project a week - two of which will be new entries into its Marvel canon alongside Daredevil, Jessica Jones and Luke Cage.
These are the television shows to look out for in the remainder of 2017.
The TV shows you'll be bingeing in 2017

Show all 27
Sense8 season 2 - 5 May
Created by the Wachowskis, J. Michael Stracynzki
Starring: Doona Bae, Jamie Clayton, Tina Desai, Tuppence Middleton, Max Riemelt, Miguel Ángel Silvestre, Brian J. Smith, Toby Onwumere
Sense8, the original series from The Matrix creators Lana and Lilly Wachowsk, returns following the Christmas special last December which reunited the Wachowsk, returns following the Christmas special last December which reunited the sensates, eight strangers emotionally linked by the ability to communicate with each other from wherever they are in the world.
I Love Dick season 1 - 12 May, Amazon Prime
Created by Jil Soloway
Starring: Kevin Bacon, Kathryn Hahn, Griffin Dunne
The new series from Emmy award-winning Transparent creator Jil Soloway centres on a married couple whose relationship is put to the test when they both fall for the same professor.
Master of None season 2 - 12 May
Trailer: Master of None- Season Two
Created by Aziz Ansari, Alan Yang
Starring: Aziz Ansari, Noël Wells, Eric Wareheim, Kelvin Yu, Lana Waithe
Aziz Ansari returns for a second run of his popular comedy-drama series in which he stars as Dev, a 30-year-old actor attempting to make his way through life in New York City.
Twin Peaks season 3 - 22 May, Sky Atlantic
Twin Peaks season 3 teaser: Kyle Machlachlan returns as Agent Cooper
Created by Mark Frost, David Lynch
Starring: Kyle MacLachlan, Sherilyn Fenn, Mädchen Amick, Dana Ashbrook, Grace Zabriskie, Naomi Watts, Tim Roth, Michael Cera, Monica Bellucci, Jennifer Jason Leigh, Amanda Seyfried, Sheryl Lee
Access unlimited streaming of movies and TV shows with Amazon Prime Video Sign up now for a 30-day free trial
Sign up
The majority of the original cast (Laura Palmer actor Sheryl Lee included) plus a host of new faces (Cera! Dern! Watts! Seyfried!) are returning for one of the most anticipated TV revivals of all time.
House of Cards season five - 30 May, Netflix
Created by Beau Willimon
Starring: Kevin Spacey, Robin wright, Michael Kelly, Joel Kinnaman, Molly Parker
Kevin and Claire Underwood's fifth outing begins on the later date of 30 May but with new showrunners Melissa James Gibson and Frank Pugliese - who have stepped in following the departure of Beau Willimon - things promise to be more dramatic than ever for the power-hungry couple.
Fargo season 3 - May TBC, Channel 4
Created by Noah Hawley
Starring: Ewan McGregor, Carrie Coon, Mary Elizabeth Winstead, David Thewlis, Michael Stuhlbarg, Scoot McNairy
The Coen Brothers spin-off returns, this time following brothers Emit and Ray Stussy who get caught up in a tangle of corruption and deceit.
Riviera - 15 June, Sky Atlantic
Created by Neil Jordan
Starring: Julia Stiles, Monica Bellucci, Lena Olin, Iwan Rheon, Amr Waked
Julia Stiles heads up the cast of this new drama from director Neil Jordan (The Crying Game) as the widow of a billionaire who is shocked to discover that the fortune behind his immaculate, ever-so-tasteful lifestyle is tainted with dishonesty, double-dealing, crime and ultimately murder. This year's The Night Manager.
Preacher season 2 - 26 June, Amazon Prime
Created by Garth Ennis, Steve Dillon, Sam Catlin, Seth Rogen, Evan Goldberg
Starring: Dominic West, Ruth Negga, Joseph Gilgun, Ian Colletti
Preacher returns moree confident than ever with an expanded 13-episode season. Following the, er, explosive events of the season one finale, we'll pick up with West's Jesse Custer, ex-girlfriend Tulip and Irish vampire Cassidy as they hit the road to "find God" whose unknown whereabouts is causing havoc across Texas.
Poldark season 3 - June TBC, BBC One
Created by Debbie Horsfield
Starring: Aidan Turner, Eleanor Tomlinson, Ruby Bentall, Beatie Edney
Aidan Turner is returning for a third time as late 18th-century Cornish copper Ross Poldark, now wrongly arrested for the fatal shipwreck that rocked the series two finale.
Game of Thrones season 7 - 27 July, Sky Atlantic
Game of Thrones season 7 photos

Show all 15
Created by David Benioff, D.B. Weiss
Starring: Lena Headey, Kit Harington, Peter Dinklage, Emilia Clarke
With the HBO fantasy series gearing to a close, this penultimate shortened season - arriving later than usual - will pick up where the last left off; with Cersei Lannister (Headey) in power and the Mother of Dragons en route to Westeros. Westeros.
The Leftovers season 3 - July TBC, Sky Atlantic
The Leftovers Season 3 - Trailer
Created by Damon Lindelof, Tom Perrotta
Starring: Justin Theroux, Carrie Coon, Christopher Eccleston, Scott Glenn, Amy Brenneman, Chris Zylka, Kevin Carroll, Margaret Qualley, Regina King
The sorely underrated drama, focusing on the aftermath of an event which saw the disappearance of more than 2% of the world's population, returns for a final time with the action relocated to Australia. Can Kevin Garvey (Theroux) find enlightenment following the climactic events of season two? Early reviews have put this series in pole position on Metacritic's list compiling the best-reviewed shows of the year - we agreed, believing that the first episode to "cement its status as life-changing television."
Stranger Things season 2 - 31 October, Netflix
Created by The Duffer Brothers
Starring: Winona Ryder, David Harbour, Finn Wolfhard, Millie Bobby Brown
The fate of Eleven is resolved (we hope) as we return to Hawkins for more otherworldly shenanigans that'll undoubtedly involve Demogorgons, the Upside-Down and 80s film references.
The Walking Dead season 8 - October TBC
Created by Robert Kirkman
Starring: Andrew Lincoln, Jeffery Dean Morgan, Norman Reedus, Lauren Cohan, Melissa McBride, Lennie James, Chandler Riggs, Christian Serratos
The popular zombie series returns for an eighth (eighth!) run following the climactic events of the previous which saw Alexandria, the Hilltop Colony and The Kingdom fight back against Negan and the Saviours. Expect casualties a-plenty.
Tin Star - Autumn TBC, Sky Atlantic
Created by Rowan Joffe
Starring: Christina Hendricks, Tim Roth
28 Weeks Later director Rowan Joffe is behind this ten-part thriller, set in the Canadian Rockies, which sees an expat British police officer take a stand against an oil company fronted by the mysterious Mrs Bradshaw leading to unprecedented bloodshed.
Britannia - Autumn TBC, Sky Atlantic
Created by Jez Butterworth
Starring: Kelly Reilly, David Morrissey, Zoë Wanamaker, Stanley Weber
The first co-production between Sky and Amazon is ten-part Roman revenge drama set in 43AD which they're clearly hoping will tap into the Game of Thrones bracket.
The Defenders - Autumn TBC, Netflix
Created by Douglas Petrie, Marco Ramirez
Starring: Charlie Cox, Krysten Ritter, Mike Colter, Finn Jones, Élodie Yung ,Sigourney Weaver
This mash-up will see the lead characters of Netflix's four Marvel shows - Daredevil, Jessica Jones, Luke Cage and Iron Fist - unite in a bid to overcome evil forces in New York City led by Sigourney Weaver's villainess.
The Punisher - TBC, Netflix
Created by Steve Lightfoot
Starring: Jon Bernthal, Ben Barnes, Ebon Moss-Bachrach, Amber Rose Revah, Deborah Ann Woll
Daredevil character Frank Castle proved so popular that he's scored his own TV series. Former The Walking Dead star Bernthal plays the vigilante who uses lethal methods to fight crime.
Curb Your Enthusiasm season 9 - TBC, Sky Atlantic
Created by Larry David
Starring: Larry David, Jeff Garlin, Susie Essman, JB Smoove, Cheryl Hines
Earlier this year, Larry David announced the return of his acclaimed HBO comedy series to the relief of fans the world over. There's no current release date but rest assured knowing David is currently somewhere in the world getting himself into awkward trouble for your viewing pleasure.
Join our new commenting forum
Join thought-provoking conversations, follow other Independent readers and see their replies