Are you the British Honey Boo Boo? New channel TLC brings Toddlers and Tiaras to the UK
The channel, which launches tomorrow, will deliver 'extreme' reality TV audiences this side of the pond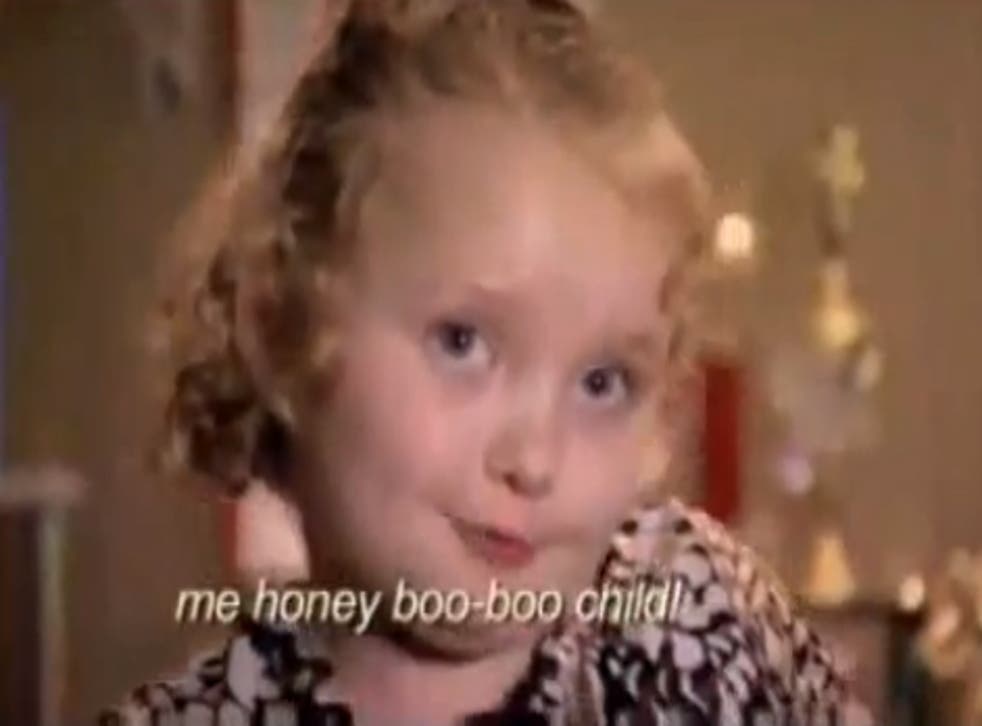 It once stood for The Learning Channel, but British viewers tuning in to the much-hyped launch of TLC tomorrow won't find any high-minded documentaries about science or art.
Instead, they'll see Breaking Amish, which shows how sheltered teenagers cope with life in New York, followed by My Strange Addiction, where 19-year-old Allison talks about her voracious consumption of car tyres.
But the controversial broadcaster's pièce de résistance is being held back until mid-May. Here Comes Honey Boo Boo, a reality show about child pageant star Alana Myers and her "voluptuous" family in rural Georgia, drew more US viewers aged 18-49 (the key group for advertisers) last year than Fox News's coverage of the Republican National Convention, and tied with CNN's Democratic Convention reports.
There was outrage. An editorial in The Hollywood Reporter described it as the "most socially irresponsible channel" in America, while a New York Times article on the public's increasing appetite for extreme reality shows said it was "easily the leader in this type of sludge".
And now TLC and its most popular American outputs are hitting British shores. The channel comes under the Discovery umbrella, and Discovery Networks UK & Ireland general manager Susanna Dinnage is hoping TLC bags as many viewers as its parent channel "within a year". Her wish, she said, is "that we have as strong a channel for women as we do for men with Discovery".
The rapid growth necessary to achieve such a task – Discovery is the top paid-for factual channel in the UK – rests on the shoulders of a sassy seven-year-old girl. Alana Myers, who calls herself Honey Boo Boo, became an internet sensation after appearing on TLC's Toddlers and Tiaras, which goes behind-the-scenes in the demented world of child pageants. The show drew criticism for showing Alana preparing for her pageant performances by wolfing down sherbert and "go-go juice" – a potent mixture of caffeine and energy drinks.
A reality show based on her family, Here Comes Honey Boo Boo, was quickly commissioned, but it drew equal ire for its apparent stereotypes of the South. The family members are filmed bobbing for pigs trotters and taking a devil-may-care attitude towards maintaining a healthy diet.
But Ms Dinnage said Alana's mother June had put the money from the show into trust funds for her daughters, and was the "least pushy" of all the pageant mothers.
"June has always said that when Alana stops having fun – that's it, and we'll have to find another great success," she said.
Access unlimited streaming of movies and TV shows with Amazon Prime Video Sign up now for a 30-day free trial
Sign up
Ms Dinnage said British viewers wouldn't mind watching American imports, as "good television travels". However, she did suggest that TLC UK could soon be on the lookout for a home-grown Honey Boo Boo. "It's all about offering what the audience responds to. We've got a fantastic production and development unit here in London. We hope to keep all these great ideas coming," she said. The Discovery manager also expects outside production companies to start pitching ideas, saying: "It may be inspired by TLC shows, as long as it's right for the brand."
TLC, she said, is about "having a really good mix. You want people to turn on at any time and find a bit of television that entertains them and gets them thinking and talking."
Join our new commenting forum
Join thought-provoking conversations, follow other Independent readers and see their replies