Battle of the TV bushmen: Ray Mears's latest assault on 'boy scout' Bear Grylls's reputation is just the tip of the iceberg
Ray Mears accused his junior of putting viewers' lives at risk with unsafe advice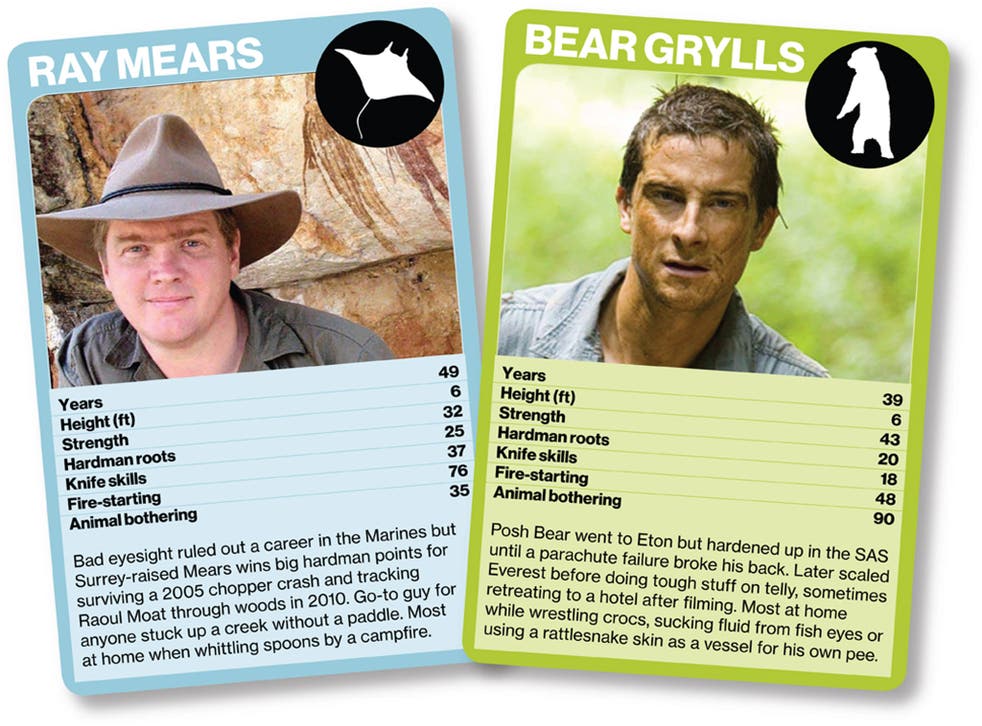 In one corner, Bear Grylls, the shark-wrestling former SAS man who once took a nap inside a camel's carcass. In the other, Ray Mears, the spear whittler from Surrey who survived a helicopter crash and secretly helped police in the hunt for Raoul Moat.
The quiet rivalry between Britain's best-known outdoor hard men that has crackled for years burst into flame today after Mears accused his junior pretender of putting viewers' lives at risk.
"Some of the things [Grylls does] are crazy," Mears said in an interview to promote his autobiography. "Leaping off cliffs into water when you don't know what's in it. If a 15-year-old was to copy him and impale himself on a pram leaping into a canal... because they were inspired by it, I would think that was his fault."
Mears said he had become a TV survival expert in part to "put right the damage done by Rambo". He added, in an interview in The Guardian: "Everyone thought of this word 'survival' as aggressive, militaristic and rather stupid. I wanted to show that this knowledge was healthy."
Grylls is every inch that Rambo figure, throwing himself into apparently deadly situations in series including Man Vs Wild. While Mears might sit by a river in the Rockies crafting a canoe out of birch bark, Grylls would be up to his waist in the water, sinking his teeth into a live salmon and sucking the fluid from its eyeballs.
Mears previously dismissed Grylls in 2008 as a "showman" and a "boy scout". "I think the viewer knows that if you want to really know how to take care of yourself in the wild, I'm the person to talk to," he told the Radio Times.
Asked if he watched Grylls' shows for tips, Mears laughed, replying: "Yes – on how not to make television programmes! As far as I am concerned these people are just showmen. I welcome competition, but I want to see real experts, not boy scouts pretending to be."
A year earlier, Grylls had been exposed for living in comfort when the cameras stopped rolling. In one sequence set on a desert island in Hawaii, the Old Etonian billed himself as "a real life Robinson Crusoe", only to retire to a hotel after dark.
But his on-screen escapades have turned him into a ratings hit for the BBC and the Discovery Channel in the US. Millions watched him urinate into a rattlesnake skin, sling it around his neck, and drain it into his mouth to survive the heat of a desert.
Grylls, 39, is the son of a Tory peer and grew up on the Isle of Wight. He later joined the army but broke his back in a parachute accident while serving with the SAS, only to recover to become one of the youngest climbers to conquer Everest. TV and book deals followed. He now lives on a houseboat on the Thames with his wife, Shara, and their sons, Jesse, Marmaduke, and Huckleberry.
The presenter has so far decided flattery is the best survival technique in the face of Mears' assaults. "Ray has given me a bit of a grilling in the press but it would be so easy for me to come out fighting," he said in 2008, warning his rival, "I know all the inside stories because we've had the same crew on a lot of things so I could really go to town but I don't want to."
Mears, 49, grew up in Kenley, now part of Croydon in South London. After poor eyesight ruled out a career in the Royal Marines, he became obsessed instead with bushcraft and developed his skills before becoming a teacher to other would-be bushmen, via a brief stint in the City.
He began his TV career with the BBC in the early 1990s. While filming in Wyoming in 2005 he and his team were doused with fuel after their helicopter crashed. None were hurt seriously and Mears used his skills to administer first aid.
In 2010, Northumbria Police called Mears after Raoul Moat had gone to ground in woodland. Talking about the experience for the first time this week, Mears said he had got to within 20 feet of the suspect in a murderous shooting spree after tracking him for eight hours. Moat later shot himself dead after a stand-off. "It was a real-life hunt," Mears told the Gloucestershire Echo, "within my skill set but outside of my comfort zone."
Top trumps
Ray Mears
Years 49
Height (ft) 6
Strength 32
Hardman roots 25
Knife skills 37
Fire-starting 76
Animal bothering 35
Bad eyesight ruled out a career in the Marines but Surrey-raised Mears wins big hardman points for surviving a 2005 chopper crash and tracking Raoul Moat through woods in 2010. Go-to guy for anyone stuck up a creek without a paddle. Most at home when whittling spoons by a campfire.
Bear Grylls
Years 39
Height (ft) 6
Strength 43
Hardman roots 20
Knife skills 18
Fire-starting 48
Animal bothering 90
Posh Bear went to Eton but hardened up in the SAS until a parachute failure broke his back. Later scaled Everest before doing tough stuff on telly, sometimes retreating to a hotel after filming. Most at home while wrestling crocs, sucking fluid from fish eyes or using a rattlesnake skin as a vessel for his own pee.
Join our new commenting forum
Join thought-provoking conversations, follow other Independent readers and see their replies