BBC to bring P G Wodehouse in from the cold with drama about his time in Nazi internment camp
BBC to bring P G Wodehouse in from the cold with drama about his time in Nazi internment camp

Show all 2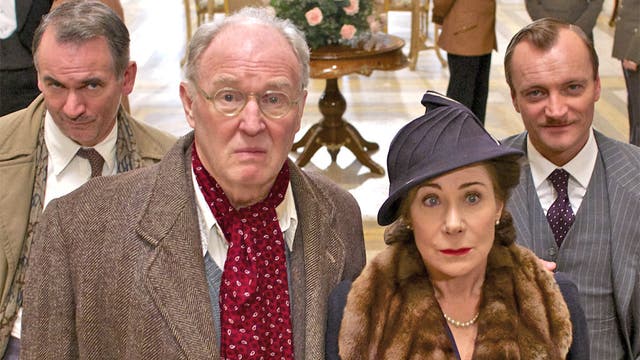 P G Wodehouse is remembered as the comic author who created Jeeves and Wooster, yet for decades he has also been burdened with the reputation of wartime traitor due to accusations he collaborated with the Nazis.
Now, testimony buried for decades that backs the writers's innocence is being used to dramatise his traumatic Second World War experiences on television for the first time, in the hope it will also restore his tarnished legacy 38 years after he died.
Wodehouse in Exile is to be broadcast on BBC 4 later this month, starring Tim Pigott-Smith as the writer who is also known for Blandings.
Nigel Williams, the Golden Globe and Emmy award-winner who wrote the one-off drama, said: "A hell of a lot of people still get this story wrong. I wanted to say: 'Can we stop this? It just isn't true.'"
The film focuses on the period from 1940 when the author was put in an internment camp in Upper Silesia. The German foreign ministry subsequently convinced him to do a series of broadcasts to America.
He agreed so as to reassure his fans of his safety but the Germans used it to soften the image of the Third Reich. "He was extremely naive; he thought he was just talking with his readers," said Williams.
The broadcasts brought him condemnation at home, where he was denounced as a collaborator by the Government and the media. Despite compelling evidence to the contrary – and the fact he was knighted in 1975 – the smears against Wodehouse have proved tough to put to right.
Williams said he drew on a range of existing evidence for his drama, but "we also uncovered new things during the research".
That included an MI5 report in the National Archives on Noel Barnard Teesdale Mackintosh, who was in the camp at the same time as Wodehouse, and swore to the author's innocence. "Most people haven't read that. Mackintosh states Wodehouse was not a traitor," Williams said.
"They turned on him because of politics. They needed America in the war. Anything that made it look like the Germans weren't Nazi beasts wasn't expedient. It was necessary for them to blacken his name, which they did."
He continued: "He wasn't a person to protest his own innocence. He was very English and didn't want to make a fuss."
After his release, he moved to America and never set foot in Britain again. A crucial piece of evidence already available was a 1946 report carried out by Major Cusson on behalf of the British government into claims of treasonable activity.
"It totally exonerated Wodehouse," Williams said. "That report was never published. The reason why is a longstanding mystery. The non-publication ruined the rest of his life."
Williams has previously made a documentary about Wodehouse for the BBC Omnibus programme, in which he interviewed some of the author's fellow inmates at the internment camp. "All of them said the idea that he was any kind of traitor was ludicrous."
Pigott-Smith said: "I knew very little about him. The one thing I did know was this slur as a result of the broadcasts."
Having studied the character, the actor said he is confident that Wodehouse was "an innocent".
"The broadcasts were good-old stiff-upper-lip stuff, showing 'you're not getting us down'. He didn't understand how this would be misrepresented. He put his head into a noose."
Join our new commenting forum
Join thought-provoking conversations, follow other Independent readers and see their replies