Bear Grylls grilled by council over cliffside slide
Bear Grylls grilled by council over cliffside slide

Show all 2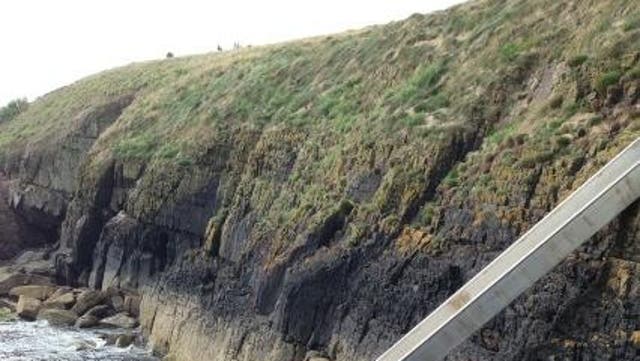 A slide pinned to a cliff face that shoots users into the sea – as long as the tide is in – has landed adventurer Bear Grylls in hot water.
The television survivalist for whom grappling with crocodiles and venomous snakes is all in a day's work now finds himself facing a more mundane but potentially more successful challenger, the local planning officials.
Chief Scout Grylls provoked the interest of the authorities when he cheerfully tweeted a picture of a slide that had just been installed on the island he owns off the coast of North Wales.
"New slide attached at home on our island! You hit the water very fast!!!" he enthused.
The slide, however, has prompted concerns about safety because it can only be used for two hours a day, when the tide is in, and about planning regulations because it is a designated area of outstanding natural beauty.
Officials from Gwynedd Council are now investigating whether the Grylls has breached any planning rules by installing the slide on St Tudwal's Island West, off Abersoch.
"Officers from the Council's Planning Service are investigating this case and will be discussing the matter with the site owner," said a spokesman for the council.
He added that officials "are still looking" into the regulations to establish how slides are classified within planning law, adding: "They don't know at the moment whether planning is needed or not."
Grylls bought the island in 2001 for £95,000 and last month submitted an application to build a new £580,000 harbour on the island, which is intended to provide safe access to St Tudwal's West.
He, his wife Shara, and their three sons, split their time between the island and their other home, a Dutch barge in London.
Wyn Williams, the Grylls family's local councillor in Abersoch, expressed concern about the safety of the slide which he said was installed without discussions with the council. He was quoted as saying: "I don't believe you should be allowed to erect a slide in an area of outstanding natural beauty such as St Tudwal's Island before going through correct procedures.
"As far as I'm aware, he uses it about two-to-four hours a day and it's used by the family itself. When the tide is in, that's not too bad. When the tide is out, there's quite a lot of rocks."
Grylls won himself a reputation as an adventurer and the all-round tough guy of choice while presenting television shows including Born Survivor and Man Vs Wild. He was first offered a presenting role after becoming at the age of 23 one of the youngest people ever to have scaled Mount Everest. He has since become the first person to fly over Everest with a powered paraglider and has broken records for skydiving and high altitude ballooning.
Join our new commenting forum
Join thought-provoking conversations, follow other Independent readers and see their replies