Britain's Got Talent Final 2013: Egg hurler was protesting against Simon Cowell's 'dreadful influence' on music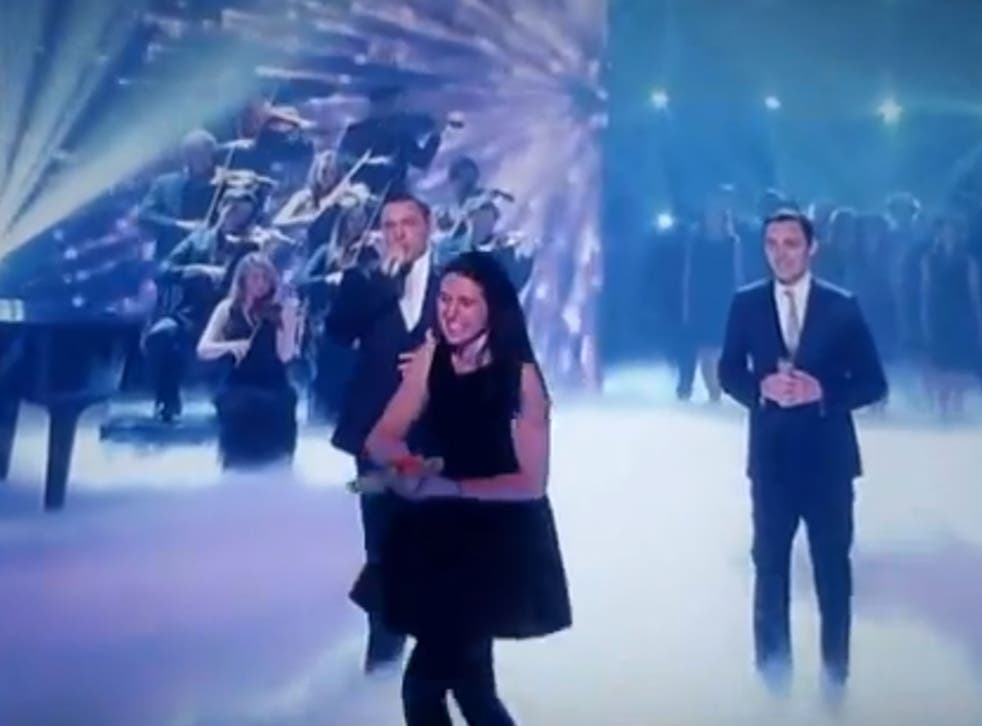 A musician who hurled eggs at Simon Cowell during the Britain's Got Talent final has said she did so in protest against his "dreadful influence" on the music industry.
Natalie Holt, a viola player, was watched by an audience of more than 13 million people when she rushed to the front of the stage on Saturday night and threw the eggs at the show's judges during a performance by Welsh singing brothers Richard and Adam.
In an interview with The Sun newspaper, Holt, who was part of the backing group for the brothers, attacked the show for making backing performers mime.
"I took a stand against people miming on television and against Simon and his dreadful influence on the music industry," Holt, 30, told The Sun newspaper.
Holt, reportedly a musician who took part in the 2012 series without getting past the bootcamp stage, launched the eggs at the judging panel made up of Cowell, comic David Walliams, singer Alesha Dixon and actress Amanda Holden, before being overpowered by security staff.
She later apologised, releasing a statement saying: "I want to apologise to Richard and Adam for overshadowing their performance.
"I've never done anything like this before and in hindsight I have realised it was a silly thing to do."
The show, won by Hungarian shadow dance troupe Attraction, was watched by a peak audience of 13.1 million, with an average of 11.1 million viewers across the two-and-a-half hour show, the broadcaster said.
A BGT spokesman said that police were called because of her "misguided actions" but that no further action would be taken against her.
Access unlimited streaming of movies and TV shows with Amazon Prime Video Sign up now for a 30-day free trial
Sign up
ITV revealed that Attraction won with 27 per cent of the public vote, ahead of runner up, teenage comic Jack Carroll, 14, who got 20.1 per cent and Richard and Adam, who came third with 15.4 per cent despite the interruption .
The eight-strong Hungarian group, whose presence on a show supposedly highlighting native performers had led to criticism, won after a resolutely British-themed display, including Land Of Hope And Glory and the voice of Winston Churchill.
Their performance, against a backdrop that included the Union flag, the Olympic rings and the Queen, saw them beat disabled youngster Carroll, whose sharp routine poked fun at BGT's BBC rival The Voice, including talent judge Sir Tom Jones, among other targets.
Cowell said afterwards that the result was "a bit of a surprise", adding: "It just shows that this country welcomes people from all over the world and they loved this act."
He joked that he had previously tweeted that he did not like eggs and added: "I really don't like eggs now."
Attraction's leader Zoltan Scuzs said after the win that it was "amazing", adding: "Thank you to all the British public."
But in an interview with The Sun he attacked Ms Holt for spoiling their big moment,.
"It was not good. We picked up the papers and there was a big article about this girl throwing eggs and just one line on Attraction," he said.
"What she did was stupid and we are not happy about it."
PA
Join our new commenting forum
Join thought-provoking conversations, follow other Independent readers and see their replies