Emmys 2015: Jon Hamm finally wins best actor for Mad Men, dedicates award to those who took him in after his mother died
The actor has been nominated for the award seven times since the drama began in 2007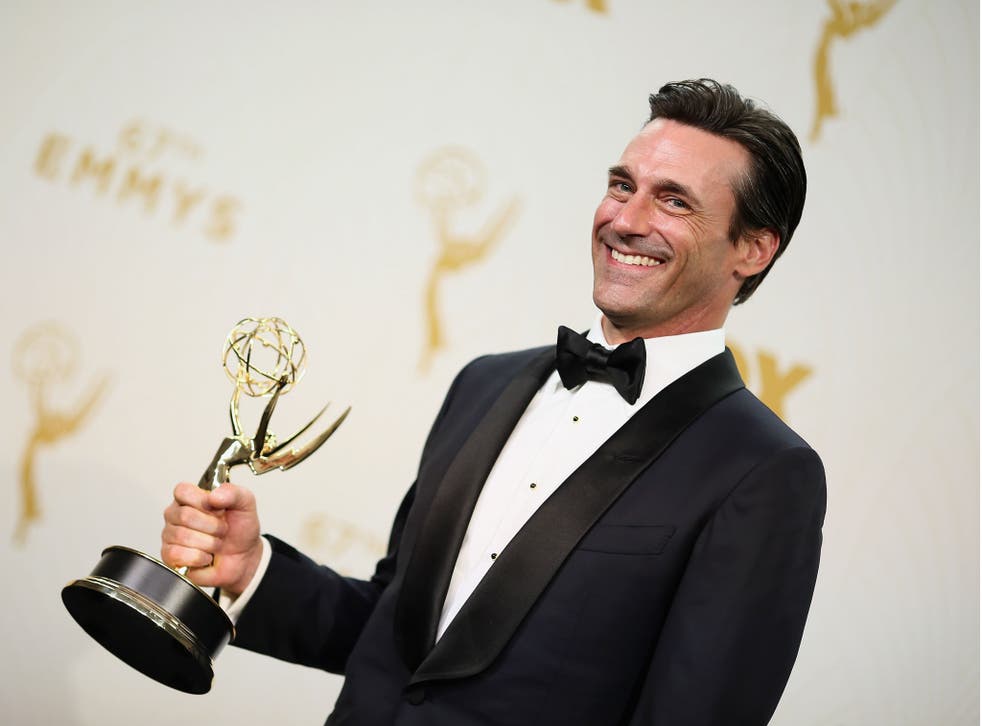 It has been seven years in the making - and now Jon Hamm has finally won an Emmy for his turn in Mad Men.
The actor crawled onto the stage to accept the award for Outstanding Lead Actor in a Drama Series from Tina Fey.
The 44-year-old mocked his long-awaited Emmy, saying: "There has been a terrible mistake, clearly! This is impossible", before going on to thank numerous people by name, many of which were school parents at John Burroughs School in St Louis, Missouri, who looked after Hamm when his mother died when he was 10.
He also thanked his close friends and family - "to who I owe an incredible debt" - including his ex-girlfriend Jennifer Westfeldt and their dog, Cora.
Hamm, who completed rehab earlier this year for alcohol abuse, lost his mother to colon cancer when he was 10. His father died a decade later when he was 20.
The actor has been nominated for an Emmy for his performance as Don Draper in Mad Men seven times since the AMC drama began in 2007. The series finished after seven seasons earlier this year.
Thanking the cast and crew, he said: "This is impossible to be named with all those extraordinary gentleman. It's impossible to be up here. It's impossible to have done this show with this incredible cast and these incredible people, these incredible writers, the incredible crew."
Join our new commenting forum
Join thought-provoking conversations, follow other Independent readers and see their replies