Game of Thrones season 7 episode 2: Did Tyrion undermine Daenerys in his raven to Jon Snow?
He opted for a softer approach to diplomacy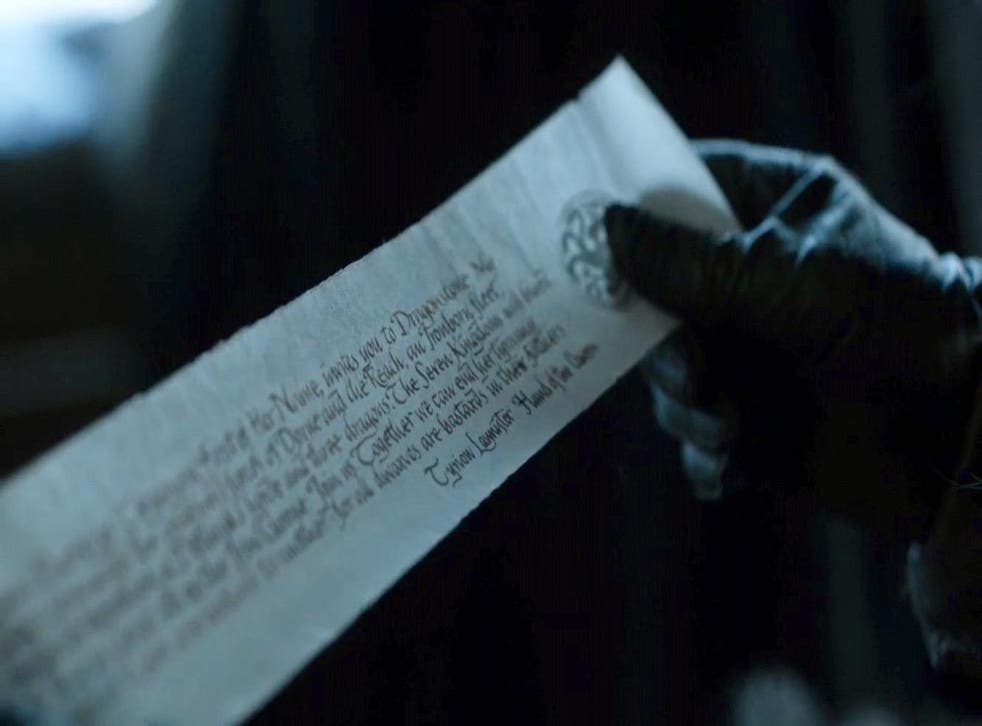 Game of Thrones' Daenerys Targaryen might not be as tyrannical as her father the Mad King, but she definitely has her moments.
She was pretty uncompromising and authoritarian in season 7 episode 2, 'Stormborn', threatening to burn Varys alive and demanding that King Jon bend the knee in spite of Tyrion and Melisandre vouching that he is generally a good guy and probably someone to ally with not subordinate.
It seems the Hand to the Queen might have realised that she's not the most experienced/generous diplomat however though, with Tyrion's raven to Winterfell not exactly relaying Daenerys' message as she intended.
Transcription:
"Danaerys Stormborn, first of her name, invites your to Dragonstone. [illegible] Dorne and the Reach, the Ironborn Fleet, [Illegible - but probably about the Dothraki and Unsullied] and three Dragons. The Seven Kingdoms [llegible - something about Cersei]. Join us and together we can end her tyranny. [Illegible - likely something bastards], for all dwarves are bastards in their father's eyes."
Nothing about bending the knee. Positive language like "invites". Even an empathetic joke harking back to their shared history.
You could argue that Tyrion is undermining his Queen a little here, but it probably worked out for the best given Jon ended up accepting the invite in spite of reluctance from his inner circle.
Jon and Davos look set to reach Dragonstone for their first meeting with Daanerys in episode 3, and here's hoping Tyrion manages to pull the King in the North aside for a quiet word about his new boss, preferably over a few tankards of mead.
What the Game of Thrones cast look like out of character

Show all 44
Game of Thrones continues on HBO, Sky Atlantic and NOWTV on Sunday nights.
Join our new commenting forum
Join thought-provoking conversations, follow other Independent readers and see their replies