The Independent's journalism is supported by our readers. When you purchase through links on our site, we may earn commission.
Game of Thrones season 7: release date, trailer, spoilers, cast, plot, photos, episode titles - everything we know
**Warning: Possible spoilers for Game of Thrones season seven below**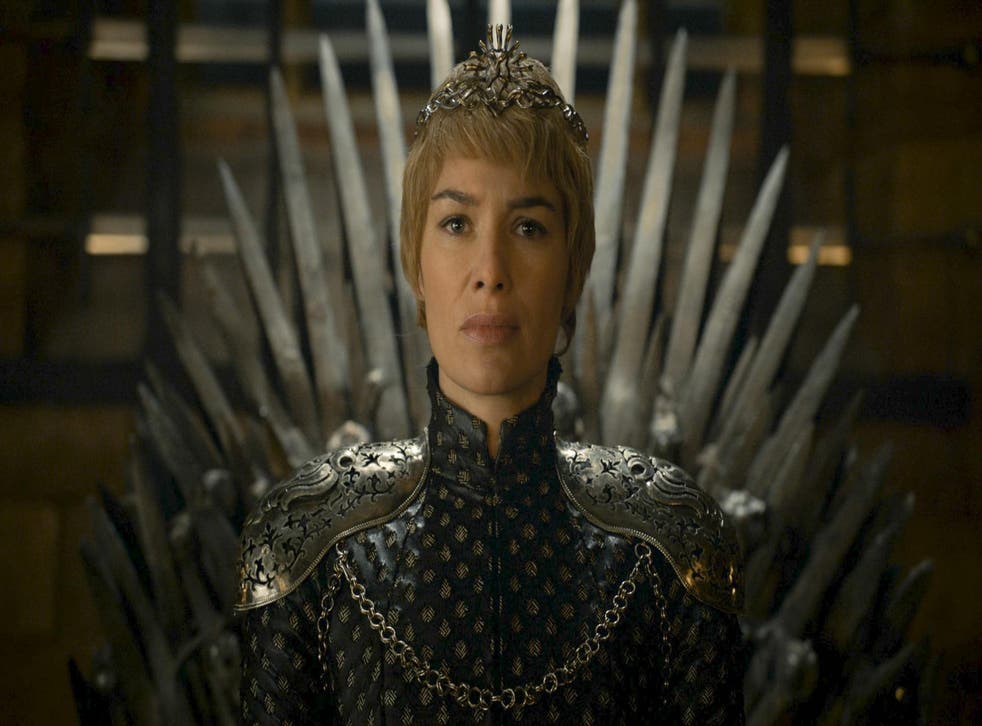 It's been an extra long time coming this year (all because Winter couldn't come fast enough), but season seven of Game of Thrones is edging ever closer to finally airing.
While season six didn't end on an 'Is Jon Snow dead?' cliffhanger, there's still plenty to discuss before the 'tits and dragons' show returns.
To help you out, we've put together a comprehensive list of everything we know so far about the upcoming season, from new cast members and story speculation to air dates and how to watch.
There is also a SPOILERS section clearly marked MAJOR SPOILERS. Don't read below that unless you want to have certain elements from the show ruined.
What have we seen so far?
Earlier this year, fans were treated to the first proper trailer for the upcoming season, with Cersei looking set to destroy everyone (and everything) around her.
Trailer: Game of Thrones Season 7
We set our greatest Game of Thrones minds on the trailer to devour exactly what's going on. Check out our shot-by-shot breakdown below.
Game of Thrones season 7 trailer - shot-by-shot breakdown

Show all 42
The teaser trailer for season seven was released just before, teasing a royal brawl between the Queens and King of Westeros. Watch below.
Game of Thrones: Jon Snow, Daenerys Targaryen and Cersei Lannister in new trailer
Fans believe the last image in the clip, featuring the Night King's eye, reveals a major plot point to come - that there's a huge crack in The Wall that will let the White Walker's through. If you look closely (and use your imagination) you can almost see it in the last seconds of the above clip.
Following all the above released, another trailer was released, featuring yet more forboding scenes. You can check out our scene-by-scene breakdown here.
Access unlimited streaming of movies and TV shows with Amazon Prime Video Sign up now for a 30-day free trial
Sign up
Various revealing photos from the season have also been released. A couple of batches have so far been released, all of which you can click through below.
Game of Thrones season 7 photos

Show all 15
Batch two features a first look at the Brotherhood Without Banners leader Beric.
Game of Thrones season 7 - photos from HBO

Show all 11
Another load of photos was also released by Entertainment Weekly, the most impressive featuring a huge dragon looming over a burnt battlefield.
Game of Thrones season 7 pictures from Entertainment Weekly

Show all 7
Plus, a closer look at the season premiere has been released, featuring Lyanna Mormont and Mera.
Game of Thrones S7E1 'Dragonstone' - in pictures

Show all 7
The very first glimpse of Arya, Sansa and Jon was offered last year, in HBO's official 2017 schedule teaser along with two production videos that were previously shown.
Game of Thrones Season 7 footage features in HBO 2017 trailer
There was also the 'official tease' which features the Westerosi Houses sigils made into one conflicting statue that crumble as snow falls.
"The same thing is coming for all of us," Jon Snow says, referencing the White Walkers. "There is only one war that matter. The Great War. And it is here."
Game of Thrones Season 7 'Sigils' teased in new, opaque trailer
And, finally, a brief look at many of the characters' upcoming costumes in a new HBO teaser.
HBO trailer teases Game of Thrones Season 7 secrets
Release date and how to watch
After months of waiting, HBO finally confirmed that Game of Thrones will return for in the US on 16 July. Sky Atlantic and NOW TV will simulcast every episode weekly at 2 am from 17 July, followed by a repeat at 9 pm the same day. You can also stream via NOW TV.
Rather than simply announcing the release date, HBO decided to milk fan hysteria with a Facebook Live video that saw a vast block of ice melt when triggered by viewer comments, eventually revealing when the show would return. Unfortunately, things didn't exactly go to plan.
Every other season has debuted around April, yet season seven won't start until July. Showrunners David Benioff and Dan Weiss explained: "We're starting a bit later because at the end of this season, 'Winter is here' – and that means that sunny weather doesn't really serve our purposes anymore.
"So we kind of pushed everything down the line, so we could get some grim grey weather even in the sunnier places that we shoot."
How many episodes?
In memoriam: Every major character who died in Game of Thrones season 6

Show all 34
While other seasons have been made up of 10 episodes, season seven will contain just seven. However, thanks to the show's huge ambitions for the upcoming episodes, they're spending just as much time filming this season as previous ones.
"Season seven has much more ambition," Kit Harrington - who plays Jon Snow - previously said. "There are less episodes this year, so they spent more money on those episodes. So, the whole scale of it is up."
Also of note: the final episode will be a reported 90 minutes long, marking the show's longest episode yet!a reported 90 minutes long, marking the show's longest episode yet!
Episode Titles
The titles for the first three episodes, along with a minute plot synopses for each, have been released. They are:
Episode one: "Dragonstone"
Jon (Kit Harington) organises the defence of the North. Cersei (Lena Headey) tries to even the odds. Daenerys (Emilia Clarke) comes home.
Written for television by David Benioff & D. B. Weiss; directed by Jeremy Podeswa.
Episode 2: "Stormborn"
Daenerys (Emilia Clarke) receives an unexpected visitor. Jon (Kit Harington) faces a revolt. Tyrion (Peter Dinklage) plans the conquest of Westeros.
Written for television by Bryan Cogman; directed by Mark Mylod.
Episode 3: "The Queen's Justice"
Daenerys (Emilia Clarke) holds court. Cersei (Lena Headey) returns a gift. Jaime (Nikolaj Coster-Waldau) learns from his mistakes.
Written for television by David Benioff & D. B. Weiss; directed by Mark Mylod.
Faster pace
Thanks to the fewer episodes, plus the show's near conclusion, we can expect season seven to be much faster paced than previous seasons.
"Things are moving faster because in the world of these characters the war that they've been waiting for is upon them," Weiss
"The conflicts that have been building the past six years are upon them and those facts give them a sense of urgency that makes [the characters] move faster."
Those conflicts include Daenerys sailing to Westeros to reclaim the throne, Euron Greyjoy sailing to meet Daenerys, and the impending threat from the Night King's army of dead.
Benioff continued: "You still want to give characters their due, and pretty much all the characters that are now left are all important characters. Even the ones who might have started out as relatively minor characters have become significant in their own right."
Jon Snow actor Kit Harrington also elaborated, saying season seven 'is really different' to what's come before thanks to an end being nearly in sight.
"A lot of stuff collides and happens much much quicker than you're used to seeing on Thrones," he continued. "It's so different than what everybody is used to. It's quite exciting."
Directors
The season 7 directors list sees the return of three veterans and one newcomer, reflecting the show's shorter run. They are as follows:
Alan Taylor: Season One - "Baelor", "Fire and Blood"; Season Two - "The North Remembers", "The Night Lands", "The Prince of Winterfell", "Valar Morghulis"
Jeremy Podeswa: Season Five - "Kill the Boy", "Unbowed, Unbent, Unbroken"; Season Six - "The Red Woman", "Home"
Mark Mylod: Season Five - "High Sparrow", "Sons of the Harpy"; Season Six - "The Broken Man", "No One"
Matt Shakman: New to Game of Thrones, though he has previously worked on It's Always Sunny in Philadelphia, Mad Men, The Good Wife, and Fargo.
Notably absent is Miguel Sapochnik who arguably directed the strongest episodes of season six, 'Battle of the Bastards' and 'The Winds of Winter'.
The new characters
Last year, a casting call went out asking for numerous new cast members, including a general, priest, warrior, gate guard, city guard, merchant, lovely lady, young Lord, and lieutenant.
Notably, the call detailed how the majority of the characters must speak in British RP, a characteristic of those from King's Landing. With half the key characters from the capital of Westeros having died in Cersei's Wildfire explosion, it is no wonder Game of Thrones is bringing in a host of new King's Landing-ers. Read all about the casting here.
Jim Broadbent's also joining the cast
Most actors associated with Game of Thrones try their hardest not to discuss the show once finished filming - possibly due to those infamous HBO snipers - but Jim Broadbent couldn't help himself.
"I'm an old professor character," the Harry Potter and Moulin Rouge actor said, elaborating: "I did five episodes. I did sort of one major scene in each episode."
Many fans believe he will be playing Maester Marwyn, a character strongly associated with Samwell Tarly and possibly Daenerys further down the line.
Re-casting Dickon Tarly
Freddie Stroma may have played Sam's jock younger brother, but Black Sails' and Merlin's Tom Hopper will continue as the character, hinting at big things to come for the Tarly story.
Musical cameos?
At SXSW festival, David Benioff and D.B. Weiss revealed numerous snippets of information regarding the upcoming season. Alongside talking about spin-offs and season eight - which we won't discuss here - they revealed Ed Sheeran will guest star in an episode.
In the same week, Mastodon guitarist Brent Hinds said he will once again be on the show. However, having been a Wildling in season five, the rocker has morphed into a White Walker.
"I just came back from my second cameo Game of Thrones," he said. "This time, I had my broken leg and they were like 'You're doing the best zombie walk, we want you to come right towards the camera. I want you to drag this axe behind you.' I'm like a reborn, come to life Wildling turning into a White Walker."
While not confirmed, Bastille has also seemingly filmed a cameo for the upcoming season's final battle; reports claimed the group were spotted filming at Wolf Hill quarry in Northern Ireland.
What's going to happen to Sansa
Mild spoilers, but we're just reporting what Sophie Turner said. Thanks to some recent remarks, it seems Sansa will indeed survive season seven: "We're about to start shooting the next X-Men, we just finished shooting season seven of Game of Thrones. Then I've got a couple of movies to do before X-Men starts and then we go onto season eight. So, I've got a busy year lined up."
A certain rumour regarding Sansa has also been 'put to bed' as the character is reportedly not pregnant, despite Ramsey hinting "You can't kill me, I'm part of you now."
Cliffhangers
Season six may not have ended with an 'Is Jon Snow dead?' cliffhanger, but season seven might. Maisie Williams previously teased a 'huge cliffhanger' to come, without confirming when in the season.
What else has Maisie Williams said?
Probably the most vocal and excited cast member is Arya Stark herself. Here are some of the best snippets from her previous conversations about the show.
Speaking about the show in general, she said: "It's just kind of tumbling now. We've come to the climax and it's rolling down to the end. It's exciting. I really felt like at the end of last season everything was set up for how it was going to end. Every character came to a little junction in their lives. Now we're all going to crash down together to however this show ends."
On the finale: "It's so exciting… it's just a great finale, it makes me excited for the series after."
Discussing the cast guessing what's coming up next: "I make educated guesses and we try and get answers and bits of information from the writers, but they keep it close to their chest."
Return of the Iron Bank
Mark Gatiss has confirmed that he will be back for season seven, featuring in two upcoming episodes. The Sherlock actor plays Tycho Nestoris the Iron Banker in the series, a member of the Iron Bank.
Fans speculate that, with Gatiss's return, the Iron Bank will venture to Westeros to get the money they are owed by The Crown. Conflict to come? Cersei needs to watch herself.
Jaime Lannister almost letting slip spoilers
Nikolaj Coster-Waldau - the Danish actor who plays Jaime - almost Coster-Waldau - the Danish actor who plays Jaime - almost let slip a major spoiler for season seven after hinting at a possible new love interest for either Queen Cersei or the Kingslayer.
"He's not like his sister and brother, but he's been on the battlefield his whole life, and knows about people's weaknesses and loving someone unconditionally because he loves his sister unconditionally," he said. "Plus, there are no other suitors. Well, that's not true… but he has to step up and take his father's place. Wow, I was about to reveal something from seasons even and thought, 'What am I doing?'" Close but no cigar.
Lena Heady talking Cersei
"I don't play her as a villain," Heady said of playing Cersei, who recently became Queen of Westeros. "I don't set out to do that consciously, I just play a woman who is a survivor and will do exactly what a man would do - which is, you know, murder somebody when you're in a war. Maybe just not directly."
Discussing whether the character will one day redeem herself, the esteemed actor added: "I think that would ruin it."
Theon's mental state
Alfie Allen spoke about his character's mental state in the upcoming series, saying he's "skittish and full of fear… Basically, and then that can kind of, I guess, evolve into rage, which you might see…who knows?"
Despite having met with the Queen of Dragons, Theon still has a fierce uncle hunting him down: no wonder he's not stable.
Euron Greyjoy's going to get satisfied
In the novel's, the Greyjoy 'king' is much more ruthless, with Pilou Asbaek recently saying the character will begin 'satisfied - good satisfied' - probably not a good sign for Theon.
What that means, we're not completely sure, but the actor also hinted he might not make it through this season.
The Dragons are going to be huge
Game of Thrones is, as you likely know, phenomenally popular, in part thanks to its monstrous production value. First time GOT director Matt Shakman recently teased: "The dragons this year are the size of 747s. Drogon is the biggest of the bunch — his flame is 30-feet in diameter!" Glad to see HBO are using the money wisely!
Dagger in the night
Thanks to an image released by EW, fans have been speculating how Arya got hold of a certain dagger: the catspaw dagger.
That blade played a large role in season one as one guard attempted to assassinate Bran using it. Catelyn Stark attempted to identify the blade's owner, Littlefinger claiming it belonged to Tyrion Lannister.
Eventually, though, Littlefinger seemingly ends up with the dagger following Ned's death, although we're not 100 per cent sure. If the silver-tongued manipulator does hold the blade, one could question how Arya comes to hold it.
Many fans believe Arya will head to Winterfell and steal the dagger from Littlefinger, and likely attempt to kill him. With the young Stark currently exacting revenge, there's a high possibility this could happen.
**MAJOR SPOILERS AHEAD**
The Dragonpit
Two images emerged online revealing Tyrion, Bronn, and seemingly Jon Snow entering what has been called the Dragonpit, a ruin located near King's Landing. This scene is expected to feature in season seven's last episode.
Some have doubted the pictures' authenticity, but the scene links with previous filming information from Italica, Spain. What's more, alongside Kit Harrington (Jon Snow), Peter Dinklage (Tyrion Lannister) and Jerome Flynn (Bronn of Blackwater), the likes of Lena Lena Headey (Queen Cersei), Emilia Clarke (Daenerys Targaryen), Iain Glen (Ser Jorah), Conleth Hill (Varys), Nathalie Emmanuel (Missandei), Anton Lesser (Qyburn) and Hafthor Bjornsson (The Mountain) were all present at the scene's filming.
And why did such a big name group of characters, some of which despise each other, convene? Jon Snow will apparently bring a captured Wight as proof of the White Walker threat in an attempt to unite everyone against a common foe.
Characters coming back
David Bradley - who plays Walder Frey, the villainous lord who assisted the Lannisters in massacring the Starks in season three's infamous 'Red Wedding' episode - will apparently be back for season seven despite being killed by Arya. Considering Arya's now a dab hand at Faceless antics, it seems she'll be putting those skills to good use by 'becoming' Frey.
Benjen/Coldhands actor Joseph Mawle will also seemingly be back having been photographed in Northern Ireland alongside Iain Glen (Jorah) and Kristofer Hivju (Tormund).
Family reunions
According to various reports, three Stark children - Sansa, Arya and Bran - will be reuniting in Winterfell, but not on good terms. Apparently, there will be a conflict between Arya and Sansa, who have been living completely different lives for numerous years. Accordingly, Littlefinger will notice the divide an attempt to further it, using their battle for his own gain.
Backing up the reports are photographs of actors Maisie Williams and Isaac Hempstead-Wright together using the same make-up trailer for the show. Whether the Wall will come crumbling down as Bran passes through it - something many fans speculate will happen due to the mark left on him by the Night's King - remains unconfirmed.
A phenomenal meeting
We're all expecting Jon Snow and Daenerys to meet at some point during the series, the two being related and all. Thanks to filming on an open beach in Spain, images of the two together have been shared across the Internet, confirming the phenomenal meeting.
What's perhaps more earth shattering, though, are reports of Emilia Clarke (Daenerys), Peter Dinklage (Tyrion), Kit Harington (Jon Snow), Liam Cunningham (Davos), Nathalie Emmanuel (Missandei), and Conleth Hill (Varys) all together. Oh, and dragons. Jon is going to meet dragons.
Also at Dragonstone...
The aforementioned meeting between all those characters will seemingly happen at the Westeros location Dragonstone, where Daenerys has stopped. Along with Jon meeting the Queen of Dragons, he will also confront Theon and - as expected - won't be pleasant to him.
Sex scenes
Yes, season seven will continue the show's tradition of featuring sex scenes. However, this one's a little different, as Daenerys' aide Missandei and the castrated army commander Grey Worm will reportedly be getting together. How that will work remains to be seen.
The wolves are coming
Arya's direwolf Nymeria - seen in season one - will likely be back for season seven, along with Jon Snow's Ghost. Nymeria was last spotted en route to King's Landing after she defended Arya and the butcher's son from Prince Joffrey.
Join our new commenting forum
Join thought-provoking conversations, follow other Independent readers and see their replies