Giant hedgehog appears on Clapham Common for launch of David Attenborough series
The life-like sculpture was unveiled for the second series of Natural Curiosities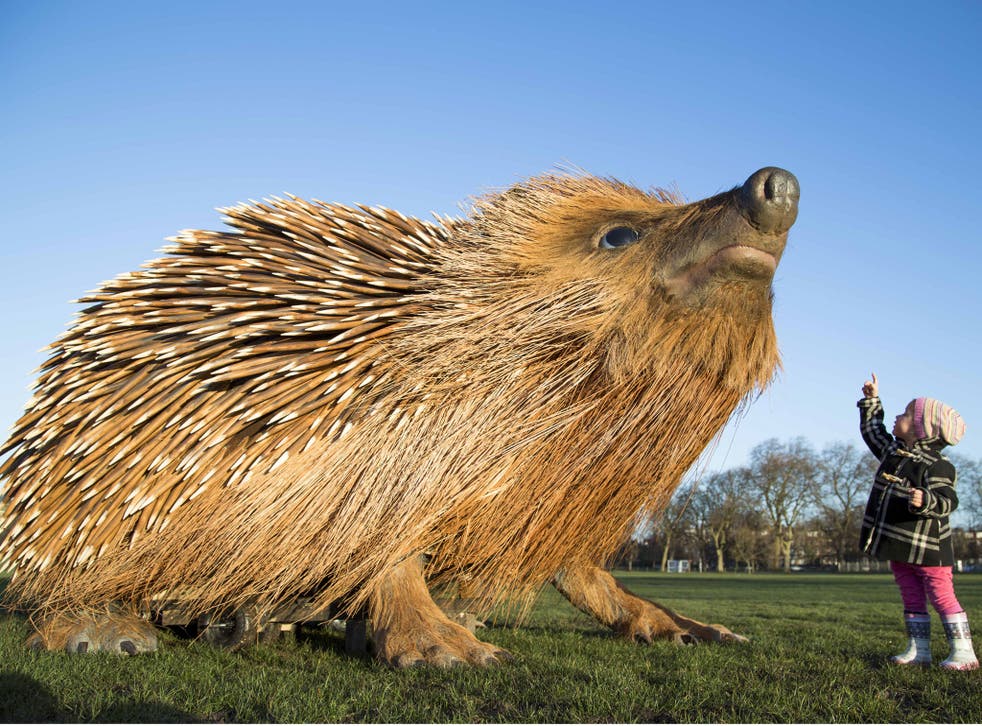 People taking a Sunday stroll on Clapham Common were greeted by a giant hedgehog, unveiled for the relaunch of David Attenborough's Natural Curiosities this week.
The realistic sculpture, which took two months to design and build, is larger than a rhinoceros at 12ft long, 8ft wide and 7ft tall.
Fake fur produced from a combination of willow and coconut fibre makes up the structure along with 2,000 soft wood spikes.
A recent survey of 2,000 British adults by UKTV channel Watch found that a 25 per cent had never spotted a hedgehog in the wild, while almost three quarters voiced concern over dwindling numbers of the species.
"What people don't know about hedgehogs is that in the wild they have vast territories and they roam for miles on end. How do they mate? Very carefully!"
"This was my most challenging brief to date," added sculptor Andy Billet. "We spent weeks replicating the skin tones and spikes to make the build as life-like as possible."
Hedgehogs feature in the ten-part second series, which explores the lives of extraordinary creatures with distinctive evolutionary quirks. Emperor penguins, wood frogs, rhinos, gorillas and vampire bats will be studied, among others.
Natural Curiosities airs on Watch at 8pm on Tuesday 18 February
Join our new commenting forum
Join thought-provoking conversations, follow other Independent readers and see their replies