Jeremy Clarkson's Amazon Prime deal to reunite Top Gear trio thumbs nose at the BBC
'I feel like I've climbed out of a biplane and into a space ship,' said Clarkson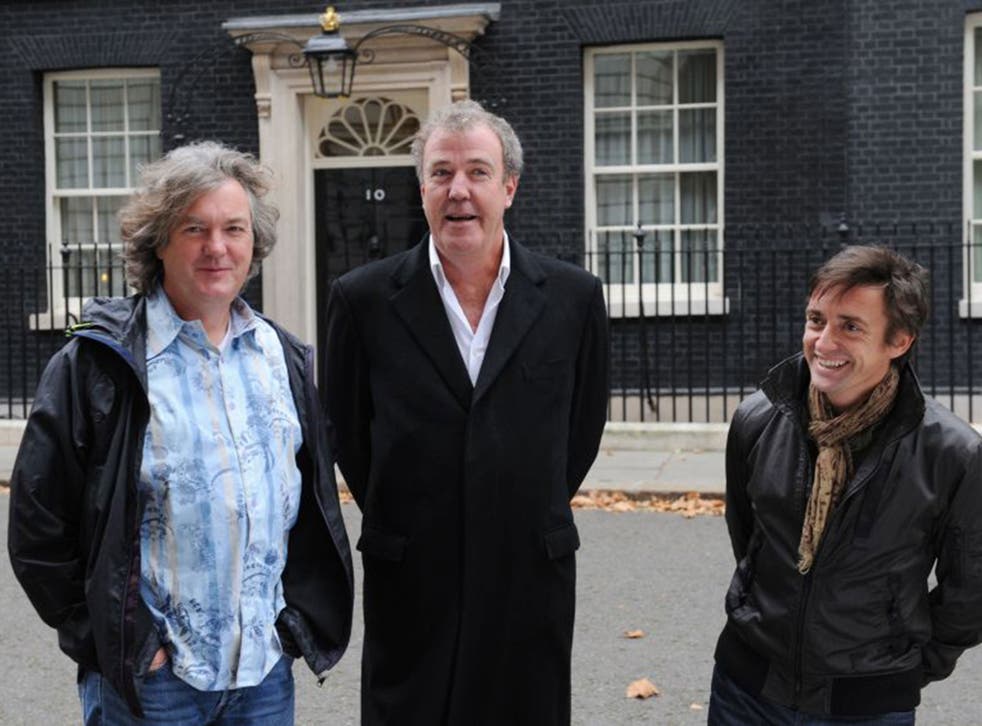 Jeremy Clarkson couldn't resist a jibe at his old employer, the BBC, as he announced plans to reunite with his former Top Gear presenting colleagues and create a new car show for the internet giant Amazon.
"I feel like I've climbed out of a biplane and into a space ship," said Clarkson, in a pointed reference to the BBC, which fired him earlier this year following a fracas with a member of the Top Gear staff. Clarkson, along with James May and Richard Hammond, chose to align themselves with the retail and entertainment behemoth despite competition for their signatures from Netflix and ITV.
The Amazon deal was negotiated by Andy Wilman, for years the executive producer of Top Gear, and the hidden power behind the most watched car show in the world. Wilman, like May and Hamond, parted company with the BBC in the wake of Clarkson's severance in March.
Things you never knew about Top Gear

Show all 14
The as yet untitled show is a major coup for Amazon and represents a marketing prize which will be offered exclusively to its Prime customers, who pay a subscription for an enhanced service. From 2016, the former Top Gear trio will join a roster of television talent on Amazon's Prime Video line-up, where producer Ridley Scott and actor Gael Garcia Bernal are among those already plying their trade. Earlier this year Amazon won its first Golden Globe for the show Transparent, featuring a father-of-three who identifies as a woman. The show's writer, Jill Soloway has spoken of being "blown away" by the creative freedom given to her by the Internet giant.
It is not clear whether the new Clarkson will be made available to viewers week by week – similar to Amazon's British drama Ripper Street - or in a cache of shows which can be watched back-to-back, as was the case with Transparent.
The BBC Radio 2 breakfast host Chris Evans has been chosen as the new lead presenter of Top Gear and has begun work on the next series.

Although the Amazon online show will not compete with Top Gear in scheduling terms, insiders have spoken of the great ambition of Wilman and his team. Coupled with the considerable financial backing of Jeff Bezos's company, which is set to generate $100 billion in revenues this year, the project puts great pressure on the BBC and Evans, who has already described the role as "the most challenging thing I have ever done in my career". The BBC is likely to respond with the announcement of Evans's co-presenters, with model Jodie Kidd and Formula 1 driver Jenson Button among the favourites to take the jobs.
With the previous incarnation of Top Gear having generated £150m-a-year in global sales, the financially-pressured BBC will be anxious to maintain that income by continuing to offer the world's premium motoring show. The question is whether the personalities of the presenters are more valuable than the name and format of the programme.
"Customers told us they wanted to see the team back on screen, and we are excited to make that happen," said Jay Marine, Vice President of Amazon Prime Video EU.
Access unlimited streaming of movies and TV shows with Amazon Prime Video Sign up now for a 30-day free trial
Sign up
To critics who were pleased to see the back of Clarkson, Top Gear's tone was xenophobic and past its sell by date. But James May suggested that the old presenting trio had had the last laugh. "We have become part of the new age of smart TV. Ironic, isn't it?" he said.
Amazon Prime
Jeremy Clarkson and his unique brand of television presentation represent the latest in a whirlwind of inducements to fork out for a subscription to Amazon's Prime service.
Only 24 hours earlier it has been the UK version of the Prime Music service, offering free streaming and downloads of 1m songs by artists ranging from Madonna to Mark Ronson. Now it's the new show by Clarkson, Hammond and May.
Not content with domination of entire swathes of the retail sector, Amazon CEO Jeff Bezos wants more Amazon users to pay £79-a-year for a shopping experience that includes options for delivery on Sundays and, for those in London, in the space of one hour. Bezos has described Prime, which launched in the UK eight years ago and has several million customers in this country, as "the best deal in the history of shopping".
Prime now extends way beyond the rapid transport of a cardboard parcel. The elite service is almost continually adding new perks. Its Kindle Owners Lending Library made 800,000 book titles available for free loan to those owning an Amazon digital reader – provided they were Prime customers.
Then came Prime Instant Video, offering unlimited streaming of 15,000 film and TV titles. The success of shows such as Transparent, now nominated for 11 Emmys, and Bosch, created by American crime fiction writer Michael Connelly, has helped create a new platform for television and made Amazon a great rival to Netflix in the growth of online video entertainment.
At the end of last year Amazon introduced another inducement, Prime Photos, offering unlimited storage in the cloud. Its Prime Music service has been running for a year in America and has already overhauled established streaming services including Deezer, Rhapsody and Google Play. It represents a threat to the newly-launched Apple Music. The UK service is bespoke to the local market and is expected to make similar inroads.
Amazon's rare posting of a quarterly profit earlier this month sent its share price soaring and the company is now being described as bigger than Wal-Mart, the world's biggest bricks and mortar retailer.
For many independent book shops, small record stores and other retail and entertainment enterprises, the irresistible tornado that is the rise of Prime has left a terrible trail of destruction. But for Jeremy Clarkson and his chums, Bezos and his billions offer an open road, away from the strictures of the BBC.
Join our new commenting forum
Join thought-provoking conversations, follow other Independent readers and see their replies