Joke is on Nigel Farage as police refuse to investigate BBC over Have I Got News For You
None of the other political parties complained about the satirical show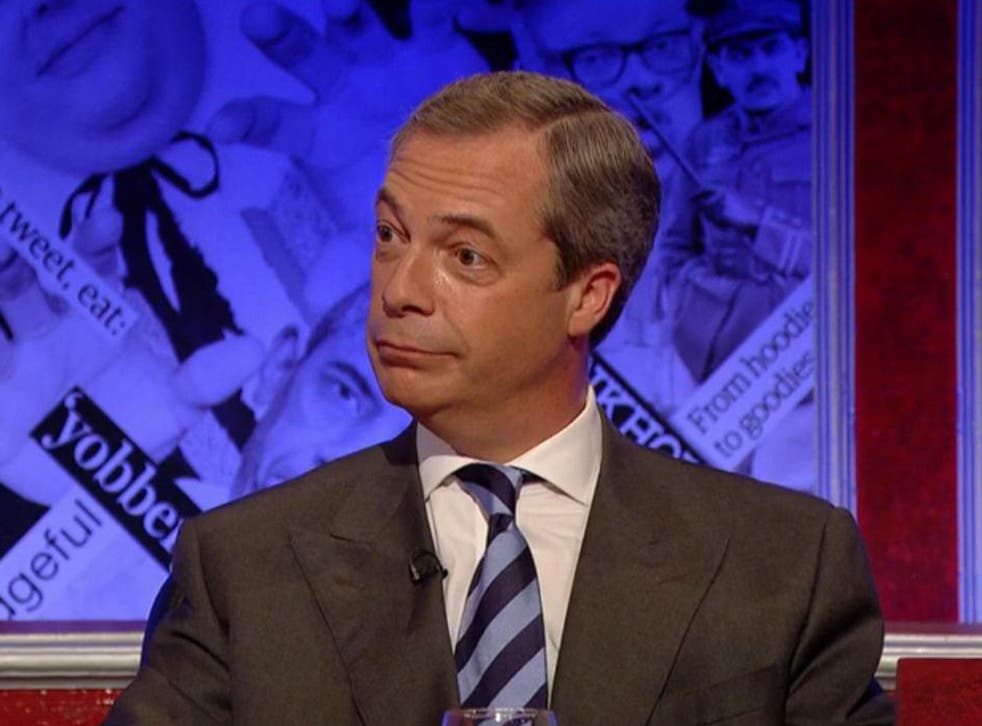 Kent police have declined a request by Ukip to investigate the BBC following an episode of Have I Got News For You.
The political party reported the broadcaster to Kent police claiming comments might have hindered its leader Nigel Farage's chances of electoral success.
They suggested the programme breached the Representation of the People Act 1918.
Journalist Camilla Long appeared as panellist on the satirical programme broadcast on Friday evening.
The comments followed 13 minutes of jokes about the Tories, Labour, Lib Dem and SNP campaigns.
Kent police today told The Independent there was "no evidence of any offences" and confirmed that there will be no further action.
Ukip gaffes and controversies

Show all 18
A statement from the constabulary reads: "Kent Police received a complaint regarding comments made on a television broadcast last week. It was suggested that the comments breached the Representation of the People Act.
"The matter has been reviewed by officers but there's no evidence of any offences and there will be no further action"
A BBC spokesperson said: "Britain has a proud tradition of satire, and everyone knows that the contributors on Have I Got News for You regularly make jokes at the expense of politicians of all parties."
Farage told LBC's Nick Ferrari that the BBC was "guilty of blatant prejudice", adding: "We have complained like hell and we've written a number of letters to them."
He said: "Time and again, we see the BBC treating us in a way that is really quite extraordinary. Even through to a programme on Have I Got News For You last week where comments were made about an individual in a constituency, namely me, that I just don't think would have been said about any other candidate in the country."
Join our new commenting forum
Join thought-provoking conversations, follow other Independent readers and see their replies