Kevin Spacey's House of Cards character should be ruthless role model for politicians, series creator says
Beau Willimon said Frank Underwood 'gets things done when others are mired in stagnation'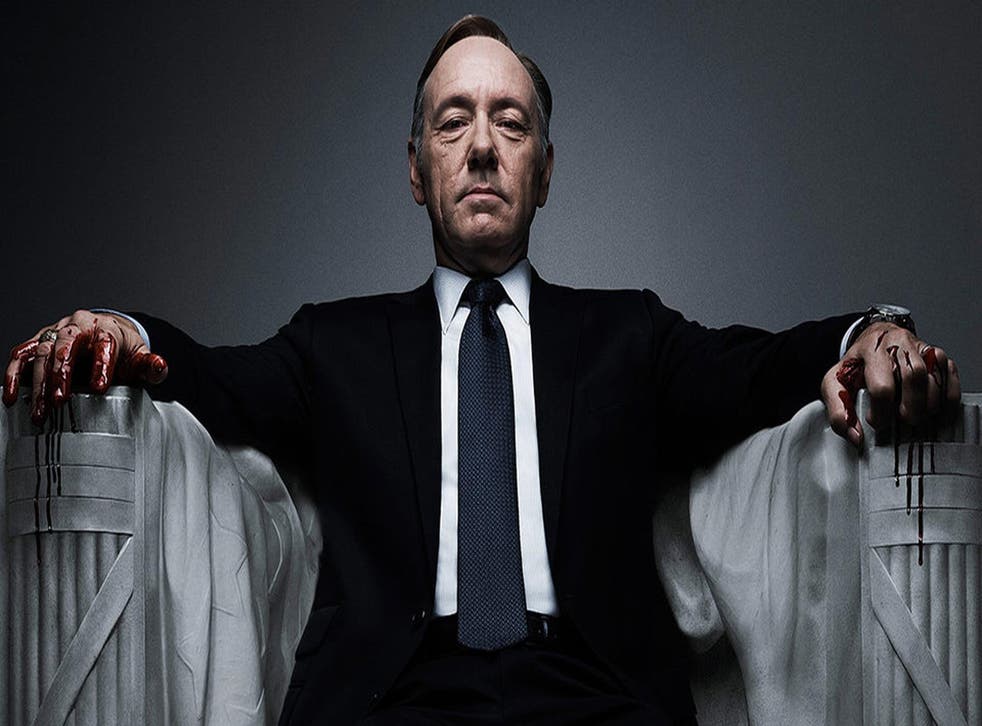 In the hit US drama series House of Cards, Kevin Spacey plays a ruthless, vengeful politician who employs blackmail and murder to advance his pursuit of power.
But our aspiring leaders should see Frank Underwood as a figure to emulate if they wish to smash through the gridlock of modern politics, the show's writer and producer has claimed.
Beau Willimon, who adapted House of Cards, originally a Michael Dobbs novel and BBC series, into an addictive portrayal of Washington D.C.'s political class at its most venal, believes his central character is much misunderstood.
Like its Westminster-set predecessor, Spacey's Underwood is a Chief Whip, who when his ambitions are frustrated, embarks upon a relentless pursuit of his own political agenda, destroying anyone who gets in his way.
Consumed in "binge-viewing" chunks on the Netflix streaming service, House of Cards retains the conspiratorial asides to camera which made the scheming Francis Urquhart so memorable. "For those of us climbing to the top of the food chain, there can be no mercy," Space intones.
"The series asks 'do the ends justify the means when government isn't working?'", said Willimon, 36, who previously wrote Ides of March, the George Clooney-directed Presidential drama.
Willimon, who worked on Hillary Clinton's 2000 senate race and Howard Dean's 2004 presidential campaign, said real-life politicians could learn from Underwood's machinations.
"I don't advocate elected officials offing people," the playwright and screenwriter said. "But we are watching someone not tied down by gridlock. When Frank gets boxed in he finds a way to unlock the situation. There's a certain wish fulfilment for viewers because we'd like to see this more in real life."
"Frank's sole object is power for its own sake and in that pursuit he accomplishes quite a lot. You can agree or disagree if it's good for the country but at least he is making some form of progress."
Access unlimited streaming of movies and TV shows with Amazon Prime Video Sign up now for a 30-day free trial
Sign up
Willimon, born in St Louis, Missouri and now based in New York, does not accept that series like House of Cards, The Thick of It and HBO's vice-presidential satire Veep feed off a widespread cynicism of politicians.
"I don't see Frank as morally bankrupt of cynical," he said. "If something isn't working, he'll try something else. The way he goes about is ethically questionable but Frank Underwood is an optimist. He gets things done when others are mired in stagnation."
Speaking to The Independent/i ahead of the DVD release of House of Cards Season 2, Willimon said the seeds of the series were sown after he witnessed Howard Dean's infamous "scream" during the 2004 campaign, which confirmed the view of many voters that the candidate was "un-Presidential".
"In that moment the campaign had to move quickly staunch the flow of blood but for a host of reasons that wasn't possible. With Dean there was always a thought that he was a 'loose cannon, a live-wire' and 'unelectable'. The narrative people wanted to see was proven in that moment."
Hillary Clinton is unlikely to make a similar gaffe if she chooses to run in 2016. "She would make a great candidate. I'd love to see her get into the race. At the very least it would spark a thoughtful, exciting debate about where the country is headed."
Netflix invested $100m in House of Cards, which became the first web-only series to be nominated for a prime-time Emmy award. With all 13 episodes "dumped" instantaneously on the service, subscribers leapt on the ability to gorge on the show.
"People are coming to expect the option of a whole series arriving on day one," Willimon said. "This trend began with box sets and then PVRs. With Netflix, ratings numbers alone are not the sole indicator of success. I don't know the number of people who watch House of Cards and I'm glad I don't or I would find myself obsessing how many people are watching each episode.
"When (executive producer) David Fincher approached me we knew we had 26 episodes guaranteed over two seasons. I saw it as an opportunity to take this incredibly ruthless character, to liberate him from the BBC series and ask how would he behave inside the American system." The answer is 'very badly'? "Effectively."
Spacey added his own Shakespearean take: "He had played Richard III (in Sam Mendes 2011 Old Vic production) and that was an influence on the show but so was Macbeth and Henry IV Part 1."
How long can House of Cards, which now attracts A-list Hollywood directors including Jodie Foster and Joel Schumacher, continue? "I take it one season at a time," said Willimon, whose play Farragut North, was performed at Southwark Playhouse last year. "I'm hard at work on Season 3 now. We have to maintain the quality if we're doing our job right. And we want to maintain the integrity of the viewing experience, so no spoilers."
House of Cards Season 2 is out on Blu-ray & DVD 16th June
Join our new commenting forum
Join thought-provoking conversations, follow other Independent readers and see their replies