Vietnamese MasterChef airs 'cruel' scenes of live turtle being beaten and beheaded
The turtle (pictured unharmed) was then cooked for the judges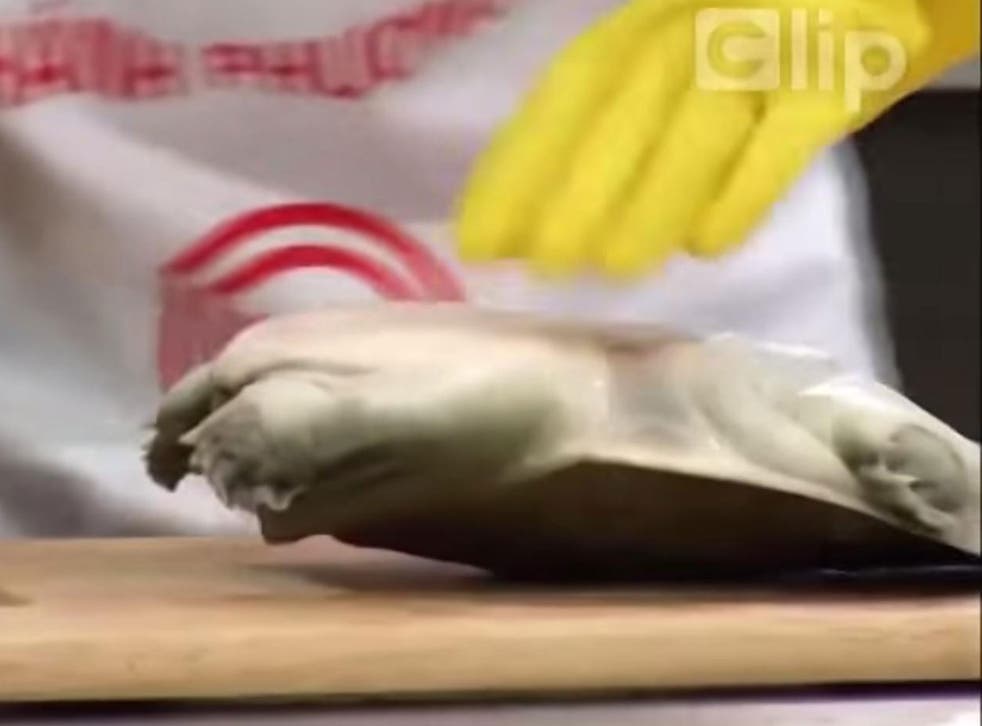 A live turtle was beaten, prodded and eventually beheaded in distressing scenes on MasterChef in Vietnam.
Turtle is considered a delicacy in the country and it was one of three options, alongside two types of live fish, to cook in the episode.
Contestant Khanh Phuong, 21, appeared distressed as she tried to kill the reptile – first using a wooden stick, then beating it on a chopping board and punching its underside.
After trying to draw its head out with scissors, she pinned its bloodied mouth to the board with a knife and hacked off the head with a large meat cleaver.
The soft-shelled turtle was then cooked in a stew and served to the judges.
The close-up footage, which lasted for several minutes, sparked a backlash against Vietnamese broadcaster VTV3, which apologised following the broadcast in September.
Lai Van Sam, head of sports, entertainment and business at the channel, told Thanh Nien newspaper that "allowing such a violent scene to air was an accident" caused by a slip in censorship.
"Sometimes, we have to watch too many programmes a day and only inattention [causes us to] miss such scenes," he said.
"[We] stood there stupefied after [it was] broadcast."
One viewer told Thanh Nien the scenes were "inappropriate" and another vowed never to watch MasterChef Vietnam again.
"What happens if my little son sees the beheading scene and thinks it's okay to pick up a knife, and cut off the head of his little dog, or any other living things?" a mother reportedly asked on Facebook.
Miss Phuong said afterwards that she regretted killing the turtle in a "very cruel" way and could not sleep well since beheading the animal.
But Tuan Hai, a Vietnamese chef and a member of the judging panel, said "every cook must overcome" dealing with live animals and the scene allowed viewers to judge contestants' personalities better.
The Vietnamese edition of MasterChef is based on the UK format and licenced by Shine Group but produced independently.
A spokesperson for Shine said the group "works closely" with licensees but the standards of what is considered acceptable to eat and how it is prepared "can vary greatly" between countries.
"We strongly discourage tasks which feature the preparation of live animals," she added.
"Unfortunately the production company in Vietnam only made us aware of the item after it had aired.
"It was clearly an unacceptable and regrettable incident, the channel has rightly apologised to viewers there and we have been given assurances from the producers that such practices will not happen again in this version of the show."
A spokesperson for MasterChef UK said: "We always ensure an ethical approach to how we source and use food whilst making the programme."
Join our new commenting forum
Join thought-provoking conversations, follow other Independent readers and see their replies