The next Great British Bake Off? BBC2 unveils the Great British Pottery Throw Down
Sara Cox will lead the search for Britain's best potter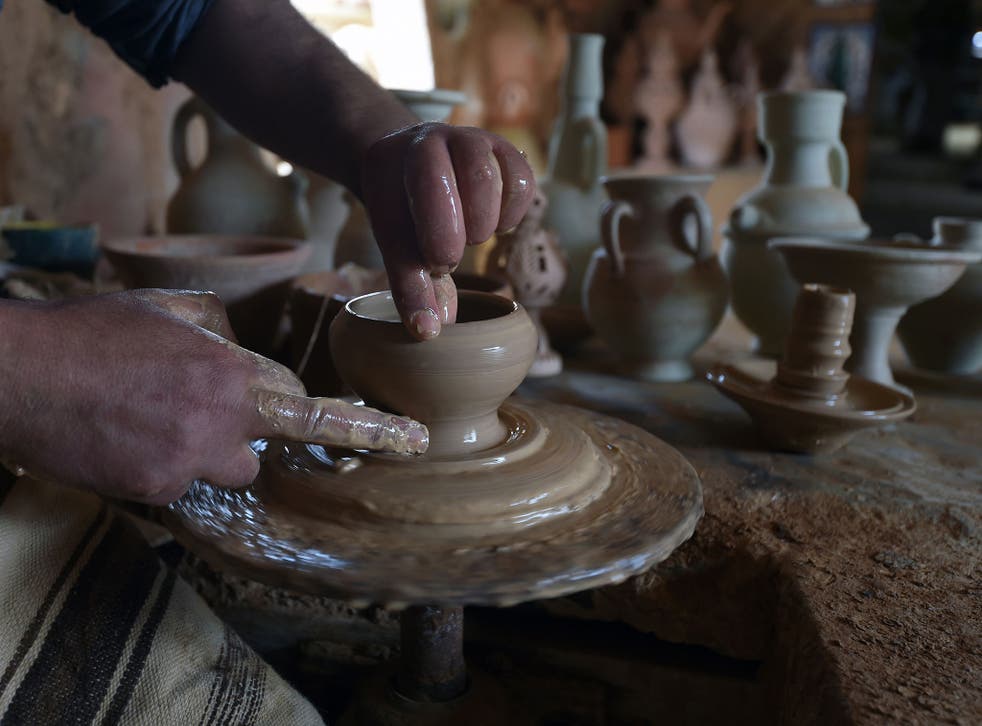 After the triumph of Bake Off, we've been tempted by a Great British Sewing Bee and a Garden Revival. Now BBC2 hopes viewers will roll up their sleeves and get dirty with a new challenge to find Britain's best potter.
Described as "Bake Off's messier cousin", the Great British Pottery Throw Down hopes to recreate the surge of interest in ceramic wheel creation last sparked by the infamous "erotic pottery" scene in the 1990 film, Ghost.
Created by Love Productions, the company behind The Great British Bake Off, the search for Britain's leading amateur potter will be led by Sara Cox, the Radio 2 DJ and former "laddette", assisted by two of the British pottery scene's most renowned potters, Keith Brymer-Jones and Kate Malone.
Ten potters will be set tasks testing their skills, and patience, at the wheel and their ability to master different techniques.
The potters will produce a piece from slab of clay to "glazed glory", with every episode culminating in the reveal of the Main Make which the potters present straight from their kiln for judging.
The BBC warned: "Anything can go wrong in the kiln. The potters who fail to impress with their clay will leave the pottery studio until the final when one person proves themselves to be master of the wheel. It's messy, it's hot, it's pottery."
Ms Cox said, "Clay, mess, passionate potters and the team behind Bake Off. What's not to love? There's something really raw and exciting about grabbing a lump of clay and creating something unique out of it."
BBC2 is seeking a new hit after BBC1 poached the top-rating Bake Off. Pottery classes last became over-subscribed when couples sought to re-enact the slippery scene between the late Patrick Swayze and Demi Moore in Ghost.
Fifty years ago, the BBC used a four-minute film, The Potter's Wheel, as a soothing test-card interlude between programmes.
Access unlimited streaming of movies and TV shows with Amazon Prime Video Sign up now for a 30-day free trial
Sign up
BBC2 also announced that Nigella Lawson is returning to the channel with a new series in which the "kitchen goddess" introduces viewers to a "new pared-down approach to cooking and eating."
Nigella Lawson and Charles Saatchi's former personal assistants have been found not guilty of fraud at the end of a three-week trial in which the TV cook was forced to admit her use of cocaine and cannabis
Ms Lawson said of the series, called Simply Nigella: "It's about food that makes our life easier, that makes us feel better, more alive and less stressed."
She returns to British screens after The Taste, her attempt to become a household name in the US, was axed ratings slumped.
Ms Lawson's new show promises "healthy everyday breakfasts and substantial weekend brunches" as well as "quick-to-make, lighter suppers that de-stress, and 'bowl food' that comforts."
It is her first UK show since Ms Lawson was forced to admit her use of cocaine and cannabis during the court case which resulted in the personal assistants of the cook and her ex-husband Charles Saatchi found not guilty of fraud.
BBC2 also announced a new drama from Hugo Blick, writer of The Honourable Woman and The Shadow Line, about a "compelling set of characters caught up in a very human moral dilemma, set in contemporary Africa."
Join our new commenting forum
Join thought-provoking conversations, follow other Independent readers and see their replies