Barack Obama interviews Sir David Attenborough in unique White House encounter for BBC1
This is what happened when David Attenborough met President Obama...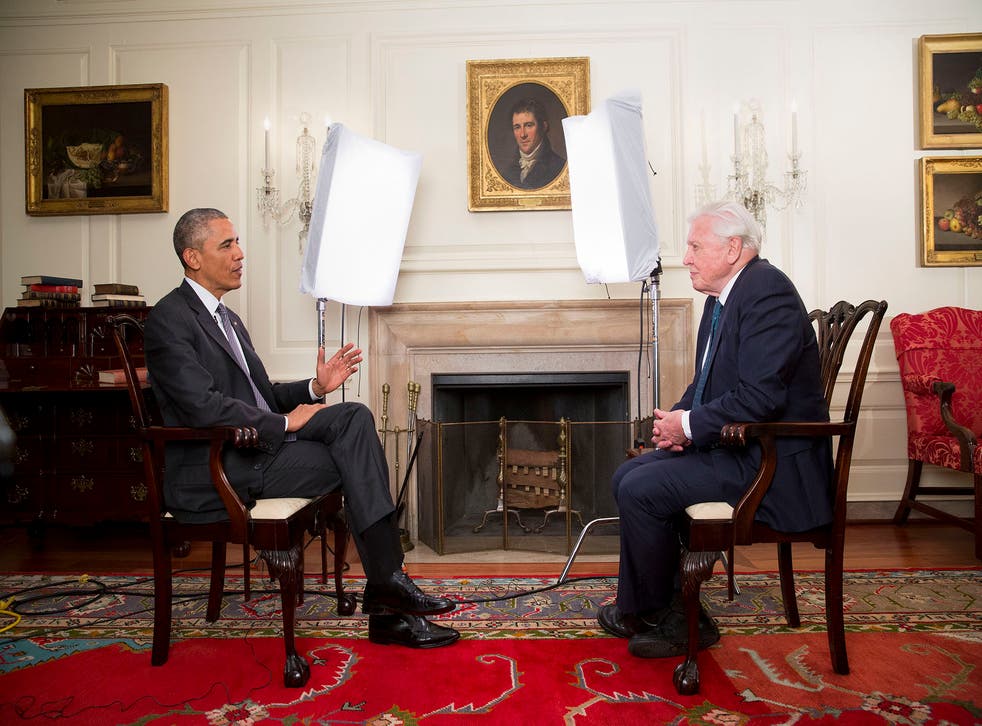 Normally, it is President Obama who answers the questions. But on this occasion the US President invited Sir David Attenborough into the White House for a unique interview in which he grills the broadcasting legend about his career and prescriptions to save the planet.
The summit between the President and the great natural history educator took place on Sir David's 89th birthday.
During the candid encounter, they discussed the future of the planet, their mutual passion for nature and what can be done to protect it.
The President, long an admirer of Sir David's work, admitted his debt to Sir David for enlightening him on the environmental threats which the planet faces. Sir David is asked his thoughts on the critical issues facing the Earth.
The meeting between the most powerful figure in the Western world and the man who has brought the wonders of our planet into millions of homes will be broadcast on BBC1 this Sunday at 10.30pm.
During their chat, President Obama tells Sir David: "I have been a huge admirer of your work for a very long time…you've been a great educator as well as a great naturalist."
He added: "We're not moving as fast as we need to and part of what I know from watching your programmes, and all the great work you've done, is that these ecosystems are all interconnected.
"If just one country is doing the right thing but other countries are not then we're not going to solve the problem, we're going to have to have a global solution to this."
The President concludes: "What we're seeing are global trends that depends on the entire world working together, and sadly we haven't made as much progress as we need to on climate change."
Access unlimited streaming of movies and TV shows with Amazon Prime Video Sign up now for a 30-day free trial
Sign up
Sir David Attenborough told the President: "I believe if we can find ways generating and storing power from renewable resources, we will make the problem with oil and coal disappear – because economically, we'll wish to use these other methods. If we do that, a huge step will be taken in solving the problems of the Earth."
"I think what's required is an understanding and a gut feeling that the natural world is part of your inheritance. This is the only planet we've got and we've got to protect it. And people do feel that, deeply and instinctively, it is after all where you go in moments of celebration and in moments of grief."
Reflecting on their meeting, the broadcaster said: "On my 89th birthday it was to my considerable surprise to find myself in a place that I've never been to before...to visit the White House with the President of the United States. (He was) friendly, hospitable and genuine."
Charlotte Moore, Controller BBC1, said: "It's an absolute coup to see these two great men in conversation on BBC1, talking about their shared personal passion for the future of the natural world and some of the critical issues facing our planet today."
Anthony Geffen, CEO of Atlantic Productions and Producer, said: "It is extraordinary to see these two charismatic individuals together, thoughtfully addressing some of the most important issues facing the planet. This intimate film which includes behind-the-scenes footage of President Obama and Attenborough at the White House, provides the context for their important debate. It includes previously unseen footage as well as some of the highlights from Attenborough's greatest films – including Life on Earth, Blue Planet, and Galapagos."
The special programme will also air on the BBC America channel this Sunday.
Join our new commenting forum
Join thought-provoking conversations, follow other Independent readers and see their replies