Sherlock Christmas Special: Benedict Cumberbatch and gang reveal origins of 'The Abominable Bride'
'We knew we didn't want to just do a Comic Relief sketch. It has the weight, it has the legs for it'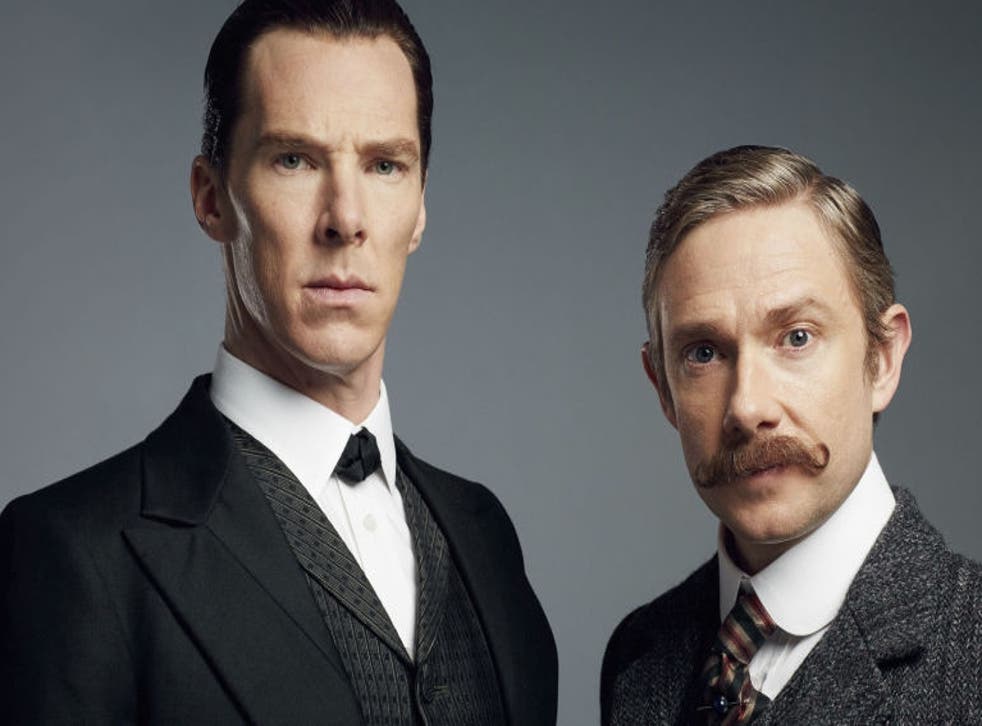 As fans clamoured, it seemed almost an inevitability that Benedict Cumberbatch's Sherlock Holmes and Martin Freeman's Dr. Watson would eventually trace back to their Victorian roots. The question was simply, how? How to transplant such a thoroughly modern reimagining without all the constrained silliness of time travels or dream sequences? The answer appears simply to let these same characters roam free within new contexts, and it looks like it's going to work out rather well.
Not that it won't be a gamble. Writers Mark Gatiss and Steven Moffat developed the idea while writing a Sherlock sequence in which the pair dressed in the outfits made iconic by their literary predecessors, deerstalker and capes included. As Moffat described to Digital Spy, "It started with us thinking, could we justify having a 10-minute bit where they put the togs on, just so we could see them do it? But then we thought, actually, let's not do that. Let's just do it for real. Let's do a whole film and do it properly - not tongue-in-cheek."

Gatiss continued, ""We knew we didn't want to just do a Comic Relief sketch. It has the weight, it has the legs for it, and it's a very good mystery."
Indeed, the idea of creating a special conveniently solved the issues surrounding the coordination of filming for Season 4, juggling the duo's intensely busy schedules spent starring in blockbuster Marvel fare. Cumberbatch has just been revealed in his full Dr. Strange get-up, and Freeman is set for a role in Captain America: Civil War. 

Cumberbatch relayed his own reaction to the pitch, "I went, 'You're mad'. And then the more detailed pitch arrived. We were talking about series four as well, and then I went, 'OK, this is going to be great fun' - and it really is. It's so nice to play him in his era." Indeed, the actor seems pleased with the commitment allowed by the special, "I suppose there's some sort of gleeful hand-rubbing from Mark and Steven. But when you're playing it, you just get on and do the thing. If you were doing it with a raised eyebrow, it doesn't work."

Freeman added, ""It's still very smart, and it's still very fast-moving. There's no sense of it being sedentary because it's 'old' - it's still our version."

The episode's look involved drawing inspiration from the entire history of Holmes' depiction: from Sidney Paget's original illustrations accompanying the stories in The Strand Magazine to the Basil Rathbone films of the '40s and the 80s television series starring Jeremy Brett. All elements that became a great boon to Cumberbatch's own experience with the role, ""I don't know any other actor that's been that spoilt with this role. I mean, Rathbone did leap forward to the '40s and fought Nazis, in modern clobber - but I think I'm the only one who's done that [time shift] quite so severely as we have."

The 'Abominable Bride' of the title refers to the supposed ghost of a tragic young woman, as the pair investigate rumours of her stalking the streets of London in 1895; indeed, Gatiss gleefully terms it as 'full-blooded Victorian Gothic'. 

And, considering Cumberbatch and Freeman's ever-tightening schedules; we may have more time-crossing adventures to be expected from Holmes and Watson. Gatiss jokingly added, "We're going to do one set in 1944, in black-and-white, where they fight the Nazis!"

The 90-minute special will air on BBC One on New Year's Day at 9pm, simultaneously screening in select UK cinemas.  
Join our new commenting forum
Join thought-provoking conversations, follow other Independent readers and see their replies