Sherlock season 4 trailer: First glimpse of Benedict Cumberbatch in Christmas special hints at Moriarty's return
The Victorian era clip shows the detective returning to Baker Street with Martin Freeman's Watson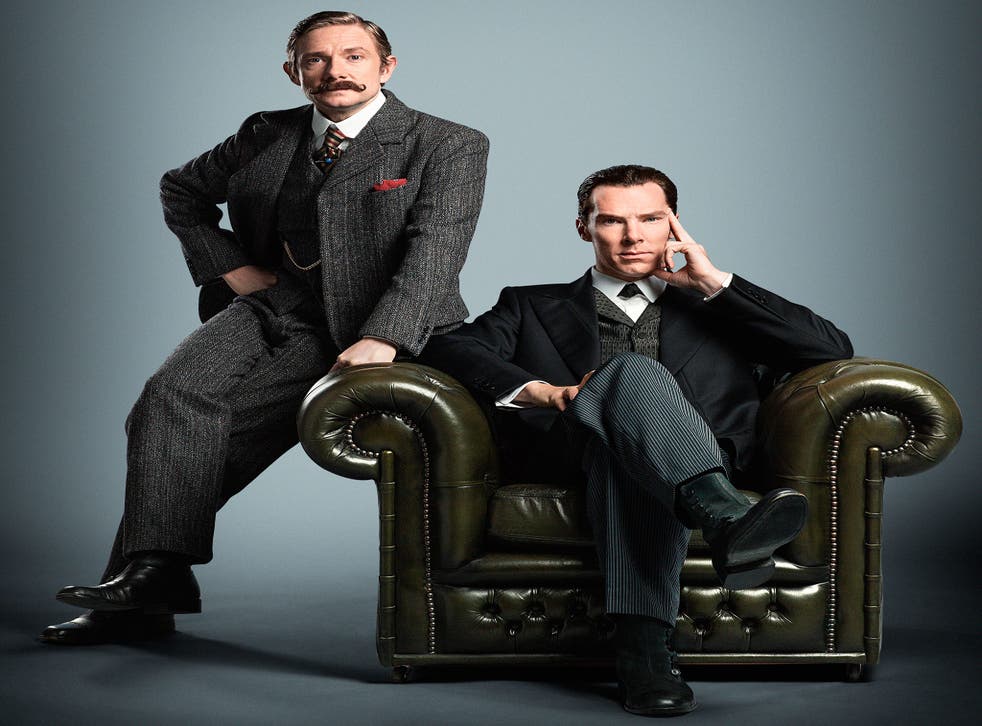 San Diego Comic-Con is now in full swing, and the first of the internet-breaking trailers has already dropped.
Fans attending the Sherlock panel - which consisted of showrunner Steven Moffat, Sue Vertue and Inspector Lestrade actor Rupert Graves - were treated to a huge surprise as the first minute and a half of the Christmas special was shown.
Starring Benedict Cumberbatch and Martin Freeman reprising their roles as Sherlock and Watson, unlike the normal show set in the modern-day, the special has taken the pair back in time to the Victorian era.
"We've had some trouble with dismembered country squires," says Sherlock to Mrs Hudson as the duo return back to Baker Street. "Caught the murder, still looking for the legs," he says later on. Watch the hilarious clip below.
While not appearing at the panel, Benedict Cumberbatch did take the time to film an apology video with writer Mark Gatiss and, more surprisingly, Andrew Scott who plays Sherlock nemesis Jim Moriarty.
In the video they all make excuses for not appearing in San Diego, with Scott saying he unfortunately can't appear as he's doing a "little film" – referring to the upcoming Bond film Spectre – with Cumberbatch saying how he is currently occupied as starring in Hamlet.
The video ends with Scott saying in a very serious, Moriarty-like tone, "Hey Comic-Con. Miss me?" Could he be back from the dead? Fans have already begun to speculate:
The third series of Sherlock ended last year with Holmes appearing to shoot villain Charles Augustus Magnussen and teased viewers that Moriarty may have cheated death and be set for a return.
Best moments from Sherlock

Show all 9
The Sherlock special is expected to air around Christmas, with three more episodes soon to follow as a separate fourth season – presumably back in the modern day. The special is also set for a limited release in cinemas.
Co-creator Steven Moffat dropped some hints on what we have to look forward to earlier this year, revealing that the next season will be "dark in some ways".
"Obviously it's great fun and a Sherlock Holmes romp and all that - but there's a sense of things coming back to bite you," Moffat told press at the Bafta winners press conference in May. "It's going to be more of an emotional upheaval. Hopefully enjoyable and fun all the things Sherlock must always be. It will be tough at times."
The main problem with scheduling Sherlock involves the hectic diaries of Cumberbatch and Freeman. Cumberbatch, nominated at the Oscars for The Imitation Game, has been cast as Doctor Strange in next year's Marvel movie while Freeman is currently filming Captain America: Civil War.
Join our new commenting forum
Join thought-provoking conversations, follow other Independent readers and see their replies