Sky Sports treats women presenters as 'window dressing' says Gabby Logan
Gabby Logan lambasts sport channel for failing to give women a level playing field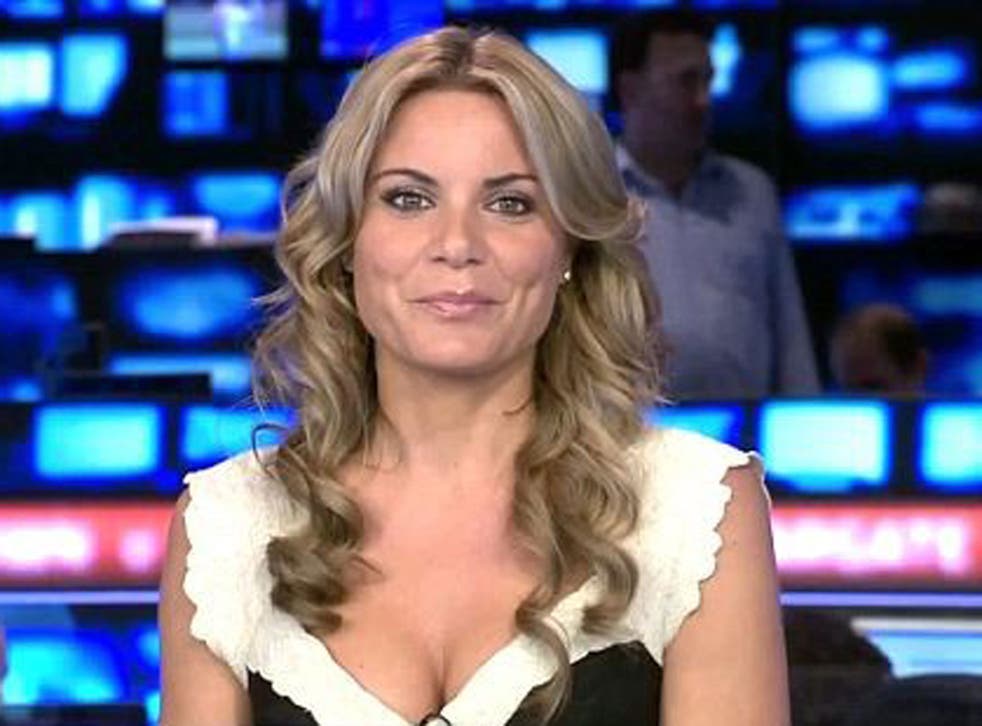 The female presenters who wear figure-hugging outfits on Sky Sports are there to provide "window dressing" alongside their male colleagues, the broadcaster Gabby Logan has claimed.
The BBC presenter, who received her television big break when she was talent-spotted by BSkyB, criticised the role of her successors on the 24-hour Sky Sports News channel, which pairs female and male news-reading anchors.
The Sky Sports News roster includes Charlotte Jackson, Kirsty Gallacher, a friend of Logan's and Charlie Webster, who was said to have caused disquiet among her colleagues when she posed in her underwear for "lads" magazine FHM earlier this year.
Sky Sports rejected Mrs Logan's claims, saying it employed trained journalists who are "passionate about sport".
Asked by Radio Times if the Sky Sports women were being used as "window dressing", Mrs Logan replied: "The girls are basically wearing a leotard while the bloke's in a suit and a tie. It's fine if they're given a career path, but there have never been any big breakthrough women on Sky. We all have to go to other places."
Sky Sports defended its presenter line-up. A spokesman said: "While we respect Gabby's opinion and her work, we're surprised by the comments as there are many talented women who have developed successful presenting or reporting careers at Sky Sports.
"They include trained journalists, passionate and knowledgeable about sport, who work on our most high profile sports including football, golf, cricket and Formula 1."
Sky Sports has sought to rid itself of a "laddish" culture within its football department, which led to the axing of presenters Richard Keys and Andy Gray after they were caught making misogynist remarks off-camera.
The broadcaster said that women now made up 30 per cent of the production team at Sky Sports News. "It would be disrespectful to those women if we didn't challenge the idea that they are there for any reason other than merit," the spokesman added.
Access unlimited streaming of movies and TV shows with Amazon Prime Video Sign up now for a 30-day free trial
Sign up
Natalie Sawyer, a Sky Sports News anchor, recently said: "I've been here for over 10 years, joining as a runner before moving on to presenting, and Sky has always given me the support and training opportunities for professional development. I cannot imagine working for another broadcaster; Sky feels like home and we are very much one big family."
Mrs Logan said she was told by a Sky boss that if she wasn't presenting football by the time she was 27, she would never get the chance. She left Sky Sports in 1998, aged 25, to present the ITV football programme, On The Ball.
Since defecting to the BBC in 2007, Mrs Logan has presented major football, rugby and athletics events and played a leading role in the corporation's 2012 Olympics coverage.
She has experienced sexism within the BBC and described the 2010 World Cup in South Africa as a "high–testosterone environment."
However when the BBC conducted an internal review of the outfits which its sports presenters were wearing, Mrs Logan found herself having to defend her more eye-catching wardrobe choices.
"A boss at the BBC once told me that I was too glamorous and pointed to my high-heeled boots. I said: 'I've just come from a radio show, it's what I wear'," she told the magazine, gesturing at her black, heeled boots.
"He said: 'You don't wear them when you do the dishes, do you?' Does he want me to look like I'm doing the dishes? I'm not here to look like a housewife. If I'm at home in my pyjamas I want to see something a bit more aspirational on TV. It's right that people on primetime look after their appearance."
Sky Sports' female presenters include Natalie Pinkham, now a Formula 1 presenter and reporter, Claire Tomlinson, a football reporter who has been with Sky Sports for 15 years and Sarah Stirk, a golf presenter and journalist with regular column in Golf International.
Like her BBC colleague Clare Balding, Logan, 40, is now making the leap into light entertainment. She will present a new BBC Saturday night celebrity quiz show I Love My Country next month. "I always wanted to do more," she said. "But when I started out I had a boss at ITV who was quite strict about keeping me on sport – he felt I was breaking ground as a woman."
Join our new commenting forum
Join thought-provoking conversations, follow other Independent readers and see their replies