'We need to watch that': David Blunkett calls for satirical TV shows such as Mock the Week to be reclassified as 'current affairs'
Programmes that mock politicians cross the line from satire to comment, he says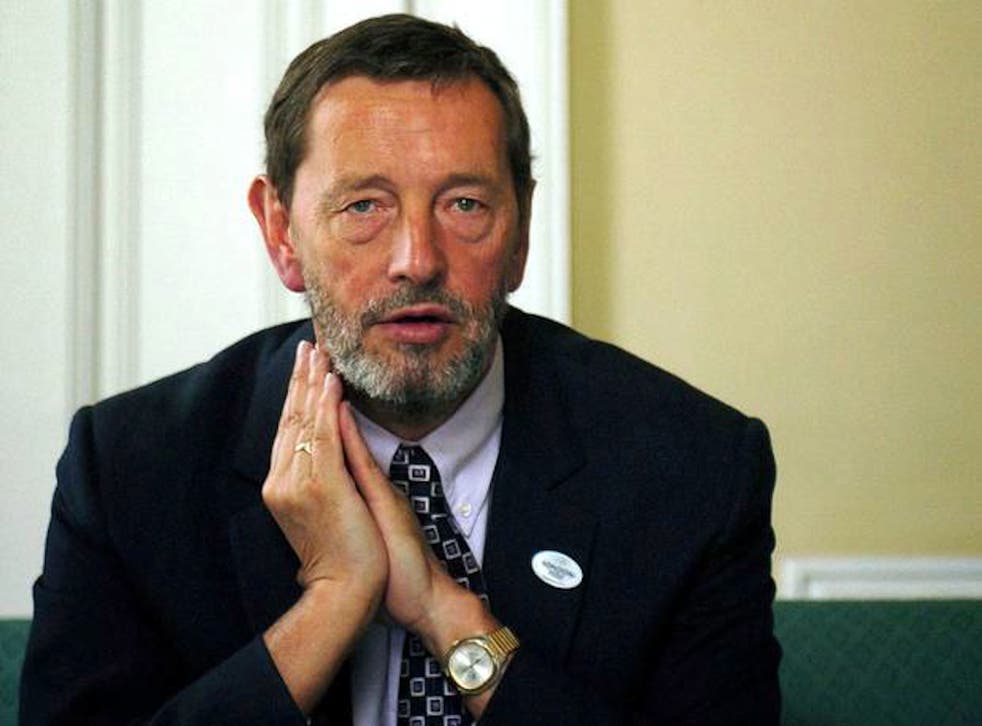 Satirical shows such as Have I Got News For You which mock politicians should be reclassified as "current affairs" and face tougher scrutiny, David Blunkett has suggested.
The former Home Secretary warned that the line between comedy and politically-motivated abuse was increasingly being crossed on programmes such as the BBC series Mock The Week, which he says need to be "watched".
Mr Blunkett said: "The protection that broadcasters in particular have is 'well, everybody knows this is comedy don't they?' So it's not libellous, it's not dangerous in the sense that it's targeted and therefore vicious towards an individual. And I think we need to watch that."
The Labour MP told the Radio 4 documentary, When Comedy and Politics Collide: "Sometimes actually it isn't comedy, it's comment and current affairs in the middle of what is supposed to be a comedy programme. There's a bit more of that going on at the moment."
Mr Blunkett's blindness has been the target of Mock The Week's panel of stand-up comics. A joke in a 2010 episode ran: "Sometimes Ministers would break up boring Cabinet meetings by convincing David Blunkett he was black."
The former minister said he declined to complain but feared that such jokes have a corrosive effect on an already cynical electorate's engagement with politics.
"I've often not taken offence deliberately at something that's referred to blindness, partly out of not being seen to be 'fuddy-duddy' or too sensitive or too thin-skinned," Mr Blunkett said. "If it's only a laugh or only cynicism or only denigration – which the worse of satire can degenerate into – then it is damaging both to the political process and to individuals."
Matthew Flinders, Director of the Sir Bernard Crick Centre for the Public Understanding of Politics at the University of Sheffield, who presented the documentary, said "barbed and bullying" punchlines designed to "appeal to prejudices" have become dominant.
"I can't help thinking that compared to the past, political comedy and satire is in a poor state. There's too much snark and not enough satire," Professor Flinders said.
Access unlimited streaming of movies and TV shows with Amazon Prime Video Sign up now for a 30-day free trial
Sign up
Dan Patterson, Mock The Week producer and co-creator, expressed his apologies to Mr Blunkett if he was offended by the blindness gag, which had not prompted any complaints at the time of broadcast. The show has since softened under a different line-up.
"He (Blunkett) was very keen to be treated like anyone else," Mr Patterson said. "He was very out there with his blindness as a major thing for him but he didn't want anyone to soft-shoe around it. I think the gag was about politicians being mischievous as well as the blindness joke."
The gag should be seen "in the context of all the other jokes about politicians being fat and ugly or all sorts of other things," the producer said.
BBC satire shows already must conform to the libel laws – the insertion of "allegedly" is a long-running Have I Got News For You gag - and Ofcom's "Harm and Offence" provisions.
However the BBC's guidelines grant comedians "scope for individual expression" and the corporation defends Have I Got News For You's more controversial moments by defending its absolute right to lampoon public figures in an irreverent manner.
Prof Flinders argued that the nasty edge to political satire was creating fertile ground for Russell Brand's call for young people not to vote in protest at party politics.
Rory Bremner said the current generation of personality-light politicians invited a derisive response. "Look at the political titans we now have. Philip Hammond, Andrew Lansley, Owen Paterson, Patrick McLoughlin. I don't know if Cameron knows who half the Cabinet are?"
Jesse Armstrong, co-writer of Whitehall satire The Thick Of It, said: "The targets have grown a little smaller. At one time it felt like if you were attacking Thatcher, you were attacking a monolith.
"You could mock her but you could never dismiss her but now we've become rather dismissive. Now Cameron, Miliband and Clegg are people who are derided rather than feared."
Mr Blunkett, who said he had turned down "quite large sums of money to appear on all kinds of entertainment programmes", agreed that the political arena currently lacks personalities.
"I do think we are in an era where people don't stand out in quite the way that they used to – what used to be described as late as my time in the Cabinet as the 'big beasts' – and therefore there isn't the ability to caricature in quite the same way."
Mr Blunkett said he had declined the entertainment programme offers because politicians who appear on reality TV shows are "likely to lose gravitas."
Join our new commenting forum
Join thought-provoking conversations, follow other Independent readers and see their replies