The Independent's journalism is supported by our readers. When you purchase through links on our site, we may earn commission.
Ray Winstone stars as HG Wells
An exceptional cast leads Sky Arts' chilling new series, The Nightmare Worlds of HG Wells, reports Ben Walsh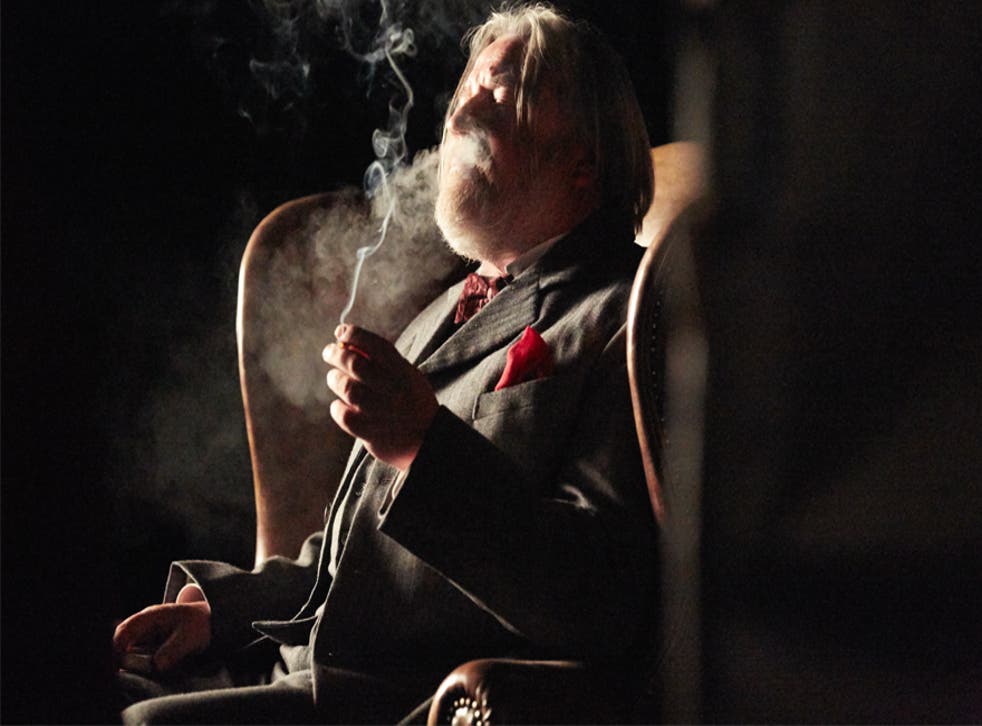 The pioneering sci-fi author HG Wells, celebrated for The Time Machine, The Invisible Man and The War of the Worlds, was also an adroit writer of short stories, which have been brought to life in Sky Arts' new four-part anthology, The Nightmare Worlds of HG Wells. It's adapted especially for Sky Arts to mark the 150th anniversary of the author's birth.
Ray Winstone, an expert at menace (see 1979's Scum for proof), heads a star studded line-up as the enigmatic HG Wells, narrating and guiding the viewer through his sinister stories, comment­ing on the dark moralities of his characters and overseeing their twisted fates.
The exceptional cast

Show all 5
Winstone succeeds the likes of Michael Sheen and Malcolm McDowell, both of whom have previously played Wells on screen; in 2006's HG Wells: War with the World and 1979's Time after Time respectively.
The first of the anthology, The Late Mr Elve­sham, is a tale of deception, betrayal and excess, and stars Michael Gambon and Luke Treada­way (last seen together in Sky Atlantic's thriller Fortitude). Treadaway's impoverished student is approached by a wealthy and mysterious gentle­man, played by a shifty Gambon.
Taking the old man's name in return for being named his benefactor, he is offered an exotic po­tion to take, which has shocking and disastrous consequences. The series, written and created by Graham Duff (writer of black comedy Ideal), refashions the chilling and suffocating world of Wells accompanied by a haunting soundtrack from Massive Attack percussionist Damon Reece with vocals from Cocteau Twins' Elizabeth Fraser.
The second of the 30-minute dramas, Devotee of Art, showing directly after Elvesham, has the actor and folk singer Johnny Flynn as a passionate artist who is fixated with his work. As his quest for perfection and fame start to take over his life, his neglected wife, played by Misfits star Antonia Thomas, begins to worry.
James Wilby and Rupert Graves play two re­nowned scientists, who have been lifelong rivals and bitter enemies, in The Moth, a horror tale with a psychological twist. When one of them dies the other is haunted by his nemesis who appears in a disturbing form.
And in the final of the four short stories, The Purple Pileus, Shaun Parkes (Silent Witness) plays James Coombs, a middle-aged man weary of his life and sick of his marriage to his wife (Leanne Best). All of this changes when he comes across some hallucinogenic mushrooms – with macabre consequences.
Each of HG Well's creepy tales pack a moral punch and they feel like a giddy blend of Tales of the Unexpected and The Twilight Zone. Be prepared to be spooked by these compelling and nightmarish tales...
Access unlimited streaming of movies and TV shows with Amazon Prime Video Sign up now for a 30-day free trial
Sign up
'The Nightmare Worlds of HG Wells' starts at 9pm with 'The Late Mr Elvesham', followed by 'Devotee of Art' at 9.30pm, on 28 January on Sky Arts
MORE FOR FANS OF HG WELLS​
A spectacular new musical, a revolutionary manifesto and a striking film poster are three of the HG Wells related items you can savour
1. THE WAR OF THE WORLDS MUSICAL
The Dominion Theatre in London's West End becomes the battleground for an epic musical version of HG Wells's The War of the Worlds next month. The spectacular show, which runs from 8 February to 9 April, has been penned by Jeff Wayne, whose 1978 album added a new twist to the ground­breaking sci-fi tale. Tickets are available from www.londontheatre.direct.com
2. THE RIGHTS OF MAN
HG Wells's revolutionary human rights manifesto was recently reissued by Pen­guin with a new introduction by fellow novelist and human rights campaigner Ali Smith. The Rights of Man outlines Wells's controversial and progres­sive views on equality and the shape of a truly developed nation remain directly relevant to our world today. The Rights of Man is available from Amazon (amazon.co.uk) for £5.
3. THE TIME MACHINE POSTER
This egg timer design takes a quote from Wells's 1895 science fiction novel – which popularised the concept of time travel and en­tered 'time machine' into the public consciousness as the accepted mode of transport for such adven­tures. Printed on semi-matte 280gsm gallery-grade paper, it makes a great gift for book lovers and fans of quotations and design alike. Priced at £26.99 from wayfair.co.uk
Join our new commenting forum
Join thought-provoking conversations, follow other Independent readers and see their replies