100-Year-Old Drivers, TV review: This wryly amusing look at mature motorists bypasses some bigger issues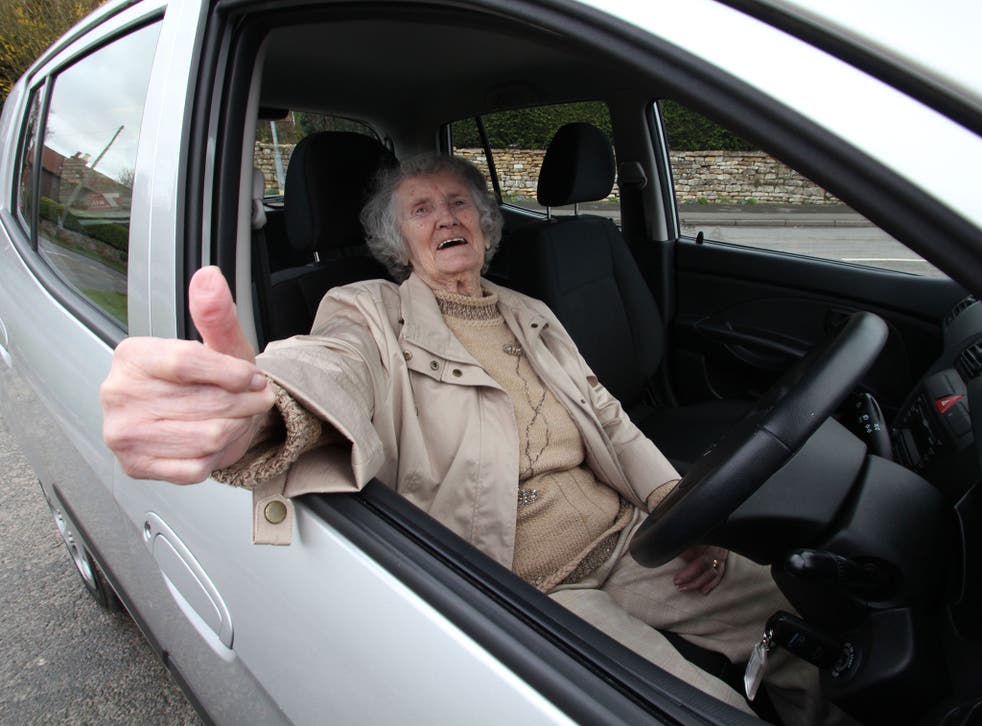 It makes a difference if you can walk to the shops or not. Design a town around people walking and you'll design a happier, healthier community. Follow the model of suburban town planning over the past 60 years and you create areas entirely dependent on being able to drive a car to go and get a pint of milk. Or need someone else to go and get you one.
So, it'd be a bit churlish to roll our eyes at the idea of 90-year-olds having the temerity to want to keep on driving. Or, as one interviewee in 100-Year-Old Drivers (ITV) worried: "They could have a heart attack, a stroke, anything could happen whilst at the wheel" – a valid point given that no one under the age of 65 has ever had a heart attack.
There are more than 200 drivers in the UK who hold a letter from the Queen and a driving licence and here we met a handful of them, plus a few sprightly ninetysomethings hoping to make it to the big one-oh-oh.
The set-up was delivered with a wry – what else? – narration by Felicity Kendal with hints of Driving School as we watched footage of cars going over curbs, drifting between lanes and cutting up other drivers. But, thankfully, it was less "Old People Do the Funniest Three-Point Turns" than you'd have expected.
Though there were some hairy moments, as when 91-year-old Harry got back on his motorbike for the first time in a year and nearly pulled a Duane Allman as he left his drive. No biggy, though; once he'd regained his balance, Harry headed for the hills to the strains of Man of La Mancha's "The Impossible Dream" – less of a Don Quixote and more of a Roger Miller: "It's almost like going back to the early days of motoring... king of the road."
Elsewhere, Ken and Edna Medlock have got a nice new red BMW and Ken, 99, does indeed like to drive it around. The Medlocks been together 86 years and have that wonderful dynamic that only couples who've celebrated their diamond anniversary have:
"I was born," began Ken, grandly, "14th September, 1914..."
"You were born on the 10th of September."
"I said the 10th."
Later, the pair's symbiotic approach to travel was confirmed as the two take a ride to the beach – "Edna is very attentive when I'm driving. Except when she gets tired, then she'll nod off."
The star of the show was undoubtedly 93-year-old Basil Smith. Basil is a fitness freak with a morning exercise routine to put a 23-year-old to shame. He plays tennis twice a week and needs his car to get to his club (and to see his wife in a home). Basil's a decent enough driver, but he was sensible enough to have a check-up with a driving instructor to see if he still ought to be behind the wheel. It's a minor triumph when he gets the all-clear. I was worried when instructor Ian asked him "So how close do you think you should be to the car in front?"
Others weren't so lucky. Gail Fulton had been forced to nick her 102-year-old mum Sheila's car keys. As we watched the pair in Gail's car, a non-plussed Sheila took aim. "I've cut you out of my will, did I tell you?" she asked with a twinkle in her eye. Danger!
Access unlimited streaming of movies and TV shows with Amazon Prime Video Sign up now for a 30-day free trial
Sign up
Though the stories told here were – by their nature – quite sweet and interesting, 100-Year-Old Drivers focused a bit too much on the micro, rather than the macro. Yes, it's a boon that a good number of people in their nineties and beyond are able to transport themselves. But many aren't. And for those away from areas with decent transport links (read: everywhere except London), or where Ring and Ride services have been cut, going anywhere can be a problem. Though if you're in Swansea, you could always ask Basil for a lift.
Join our new commenting forum
Join thought-provoking conversations, follow other Independent readers and see their replies