BBC's Boomers: It's entertaining enough, but this comedy feels old and tired
Some of the great cast are pushing 70, but they're only just entering their prime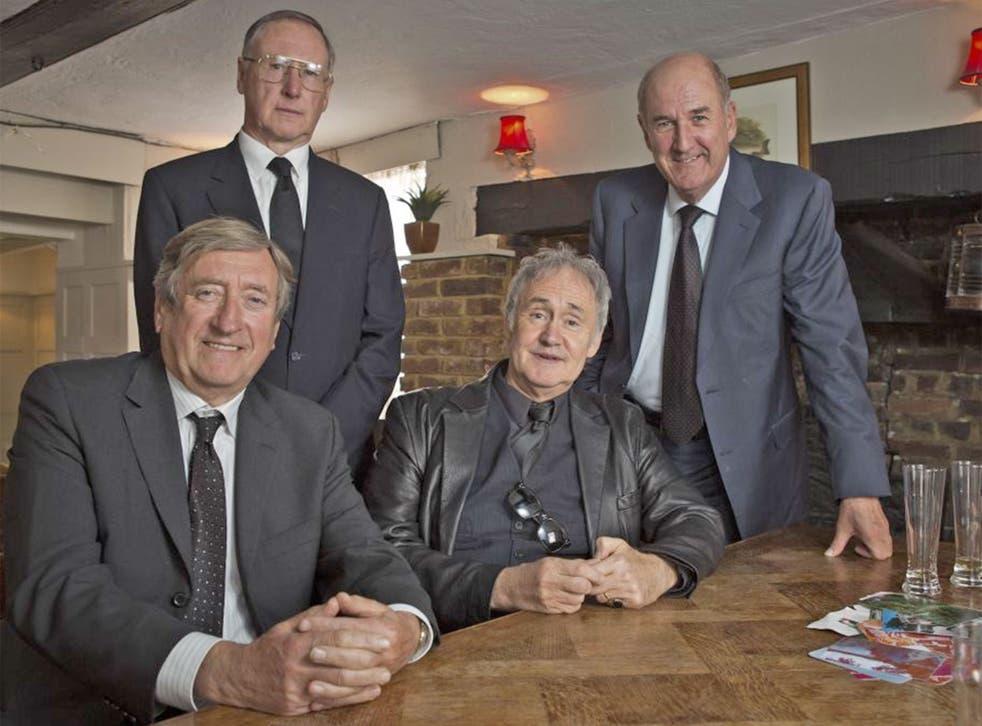 In the pilot stage, Boomers (Fri) was originally titled "Grey Mates". As the subsequent title change indicates, this new BBC1 sitcom has ambitions to rebrand comedy's portrayal of sixtysomethings. The desired tone is fun and modern, with no slapstick and no canned laughter. Think Friends if Ross was trying out a new cholesterol medication and Rachel liked to Skype the grandkids on weekends.
Episode one of six saw the old gang getting back together again. What's the occasion? A funeral, of course. No-longer-Young One Nigel Planer guest-starred as Mick, ex-husband of the deceased, who was over from Spain for the day with his 30-year-old Eastern European bride. Alan (Philip Jackson) was delighted to be reminded of the old days, but the others weren't so sure. Alan's wife, Joyce (Alison Steadman), worried that Mick would lead her husband astray and John (Russ Abbot) was frightened Mick would rekindle an ancient flirtation with his wife, Maureen (Stephanie Beacham).
The effort that has gone into Boomers is obvious, and yet a trendy single-camera set-up and a soundtrack of (probably expensively licensed) rock and Motown can't make the script's age-based stereotypes feel any fresher. Boomers dutifully ticks off the supposed concerns of its target demographic, without ever acknowledging that all age brackets are made up of individuals. That it remains entertaining despite this is largely down to a great cast. Steadman, Beacham, Paula Wilcox and James Smith (from The Thick of It) are pushing 70, but they're only just entering their prime.
What do Boomers star Russ Abbot and broadcaster Andrew Marr have in common? Both can do a surprisingly effective Scottish accent when the occasion requires. Abbot's "CU Jimmy" character from his 1980s sketch show days was voted third in a 2003 Glasgow Herald poll of "Most Scottish Person in the World" and Marr's Beeb-softened vowels still occasionally betray a childhood in Glasgow and Dundee. His Scottish heritage was deftly utilised in Andrew Marr's Great Scots (Sat BBC2), the first of three illuminating biographies.
James Boswell would make a fascinating subject for any biographer. Not only did he invent the literary genre of biography in its current form with the publication of his Life of Samuel Johnson, but his own life story was a catalogue of debauchery that would make a brothel-keeper blush. (Why Channel 4 hasn't already turned his London Journal into a late-night period drama is anyone's guess). In Marr's hands, and on the eve of the most important vote in 300 years of Scottish history, Boswell's story should inspire even more interest.
This was ground on which Marr might be expected to tread carefully. He's already been ticked off by the SNP for allegedly expressing bias during an interview with Alex Salmond earlier in the year. Lucky for him, the parallels between these two Scottish journos are too compelling to be overlooked. Clearly our presenter couldn't help but relate to "a man torn between patriotism and the allure of the big city – in our case, love of Scotland and lust for London".
Marr proved himself a worthy successor to his hero when it came to well-chosen anecdotes and animating description. With the help of actors Kieran Brown and Mike Henley, he brought both men powerfully back to life. Still, by the time the hour was out, it was obvious that these were not just men, but metaphors: "This is perhaps the prime example in literature of two men, the Scot and the Englishman, who achieved far more together than they ever would have done had they never met."
Join our new commenting forum
Join thought-provoking conversations, follow other Independent readers and see their replies