BBC's I Bought a Rainforest: A jungle adventurer's grand plans are cut down to size in a revealing documentary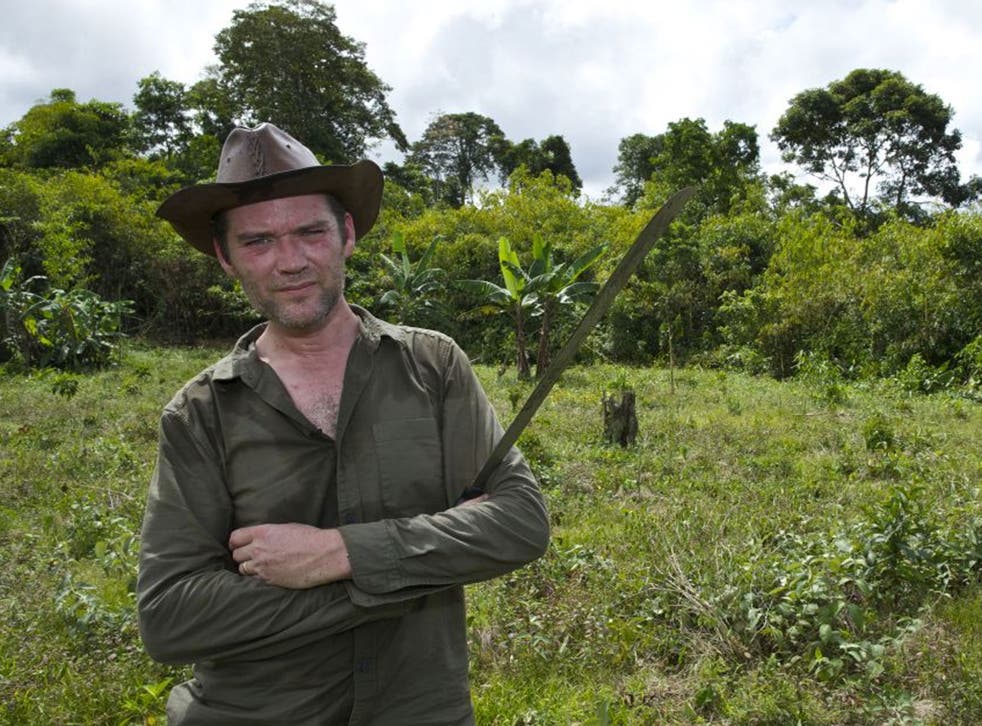 Don't make the same mistake Charlie Hamilton James did and assume this is going to be simple.
Two years ago the wildlife photographer and wannabe conservationist hit on a scheme to save the Peruvian rainforest. He would buy 100 acres for the knock-down, bargain-basement price of £6,000. Neither that endeavour nor the three-part documentary that came of it were as straightforward as you might think.
I Bought a Rainforest (Sun BBC2) involved much more jeopardy and excitement than your average wildlife documentary, having more in common with the second half of Apocalypse Now. In between admiring exotic beasts, Hamilton James stumbled upon evidence of illegal logging, members of an uncontacted native tribe and – most worryingly – a cocaine dealer's plantation. He wasted no time in erecting a hand-painted sign (translation from the Spanish: "Get ooorf my land!), but it is going to take more than that to deter the local machete-wielding drug lords.
To add to your enjoyment, whoever wrote the script for voiceover clearly had a grudge against our adventurous presenter. The narration noted reproachfully that, "Conservation is a luxury enjoyed only by the rich." Hamilton James was moved to tears by the felling of a rare mahogany tree; the film cut to a shot of a lumberjack and added, "There's one species that depends on this tree that Charlie didn't think to photograph."
Yet, even as his motives and methods were gently undermined, it was hard not to warm to Hamilton James. When confronted by the ethical complexities of environmentalism in the developing world, most people give up long before he does.
It was Andy, a young British biologist working at a working at a local conservation centre, who best summed up the slowly dawning truth: "The imperialist idea of buying up rainforest in a developing country isn't the solution. Charlie can't save that land until he convinces local people why it's important to do it."
There are more predators in Coronation Street (ITV) than the Peruvian jungle, as poor old Tina McIntyre (Michelle Keegan) has found out to her cost. Last night she was still in intensive care, but it's not looking good – either for Tina or the long-term viability of this storyline. The Lucy Beale whodunit in rival soap EastEnders is due to drag on till next February, assuming Ian Beale has a deep enough reservoir of snotty tears to last till then. We've been promised a speedier resolution on Coronation Street, but as yet killer Rob Donovan (Marc Baylis) remains free to roam the streets.
DS Hawthorn seems like a competent officer, but she hasn't caught on to the most suspicious detail: why would two attractive Weatherfield women be fighting over Peter Barlow? He's a deadbeat dad, a raging alcoholic and as Rob astutely observed a few episodes back: "He wears waistcoats, for crying out loud! He should be at the Crucible playing Ronnie O'Sullivan."
As if to distract us from this lingering mystery, Nick (Ben Price) chose this moment to demand the truth about Kal (Jimi Mistry) and Leanne's (Jane Danson) affair. Wailing Nick clearly has the same acting coach as keening Ian Beale, though since Nick's been able to blame everything else on the brain damage he sustained in that car accident, why not the melodramatics too?
Not sure what Rob's excuse is. He concluded this episode with the kind of clunky foreshadowing, rarely seen outside of a telenovela: "I promise you, Peter is going to pay for what he did... [long pause, a look into the middle distance]... I'm going to make sure of that."
Join our new commenting forum
Join thought-provoking conversations, follow other Independent readers and see their replies