Broadchurch finale review: Inexplicable red herrings make for damp squib not even David Tennant can revive
Spoiler alert: 'Boredchurch' it might not have been, but all the loose ends and an unsatisfying conclusion has made watching exasperating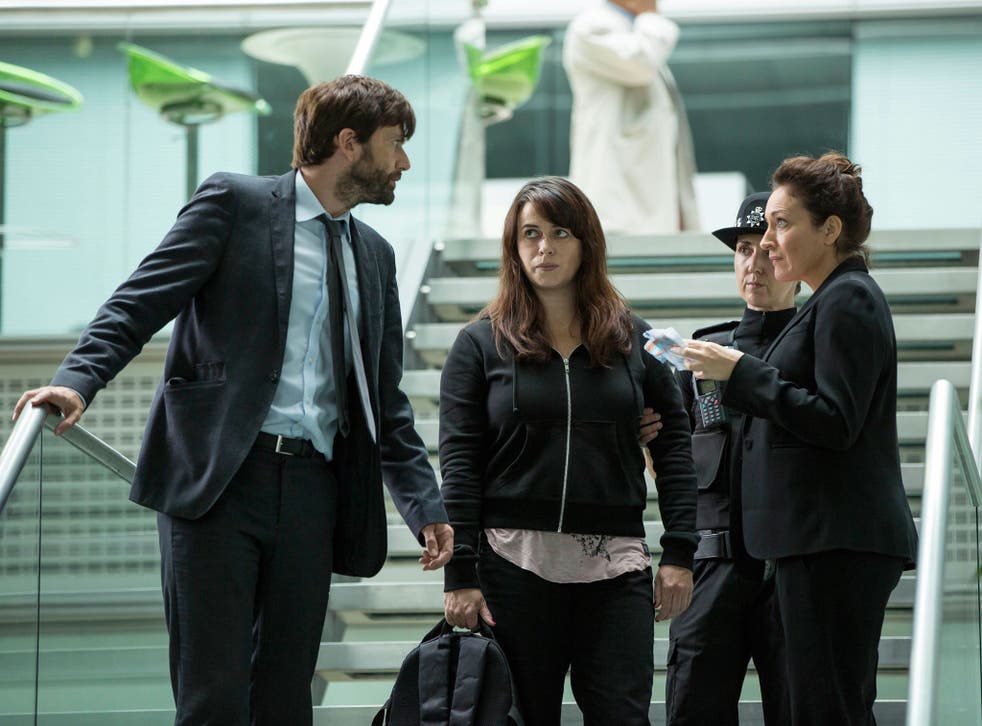 Underwhelmed by the silly conclusion to Broadchurch's second series? At least no one can claim it took them by surprise.
Broadchurch has been foreshadowing its own damp squib demise for weeks now. The clues were there in those unrealistic court scenes, the twelve or so minor subplots which no one really cared about, plus more red herrings than Billingsgate fish market after a crimson paint spillage. Even a detective as inept as DI Alec Hardy (David Tennant) could have put those pieces together.
So, guilty-as-sin Joe was found not guilty, forcing the people of Broadchurch to enact their own community-based justice. And in the more gripping Sandbrook subplot, Claire, Lee and Uncle Ricky all spontaneously 'fessed up to a three-way murder scenario, which somehow managed to be both unsurprising and unconvincing.
Why was it necessary to kill the 12-year-old who didn't see anything anyway? Why all that fuss about a pendant which, since it belonged to Claire, was totally useless as evidence? And if Lucy was dead all along, what was all that hinting about, eh, Lee? Oh nevermind.
Broadchurch series two in pictures

Show all 36
'Boredchurch' was Twitter's waggish nickname for this series but, in truth, with so much melodrama we were never so much bored as exasperated.
Surely everyone's favourite 2014 whodunnit had more to offer than this? Actually, it did. The same thing that had viewers hooked during the first series — a handful of fully-realised and skilfully acted characters in central roles.
Whenever the plot dragged, we could rely on Ellie (Olivia Colman), Beth (Jodie Whittaker) or Mark (Andrew Buchan) for a performance which delivered that missing emotional connection.
Alas writer Chris Chibnall's psychological acuity didn't seem to extend to his villains and Joe remained a motiveless mystery throughout. If only Ellie and Beth had let him get a word in edgeways during that final confrontation scene we might have had some insights.
Join our new commenting forum
Join thought-provoking conversations, follow other Independent readers and see their replies