Dickensian, BBC1, TV review: Please Sir, let's have lots more of this brilliantly reimagined Dickens
This 20-part series continues throughout the next fortnight and I'm already hooked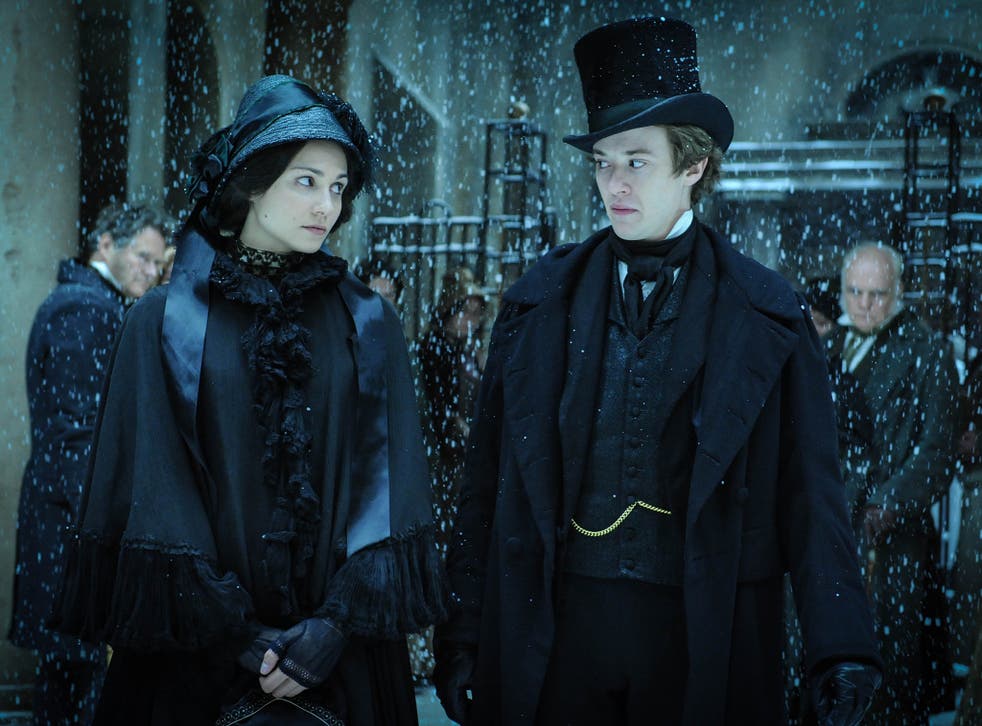 As every good Dickens fan will tell you, Marley was dead: to begin with. There is no doubt whatever about that. No doubt that is unless you happened to tune into the brilliant BBC re-imagining Dickensian over the weekend where Jacob Marley, most famous for being "as dead as a doornail", was alive and kicking. Or alive and spitting, cursing, offending and debt-collecting at least.
Dickensian, the brainchild of EastEnders writer Tony Jordan, draws on Charles Dickens's wealth of characters but relocates them all on to one Victorian London street. The Old Curiosity Shop now sits alongside the Three Cripples pub (of Oliver Twist fame), while Oliver's Bill Sikes and Nancy drink alongside A Christmas Carol's Ebenezer Scrooge and Martin Chuzzlewit's Mrs Gamp, served by Silas Wegg from Our Mutual Friend.
Miss Havisham – the wizened, bitter, jilted bride of Great Expectations – definitely came off best. Literature's most famous spinster had been sent back in time and rather than a miserable, wedding-dress wearing agoraphobic old lady, she was a beautiful, wealthy young woman (played by Tuppence Middleton). But Dickens being Dickens, it didn't mean she was happy. And – again in true Dickensian tradition – Marley being alive didn't last all that long either.
Happily, this most dislikeable of characters (played by Peter Firth) was promptly bumped off and his murder – or the solving of it – became one of the key plots in this clever and compelling Dickens mash-up.
The investigation was led by Bleak House's Inspector Bucket played utterly faultlessly by Stephen Rea. His mannerisms and vocal intonation were absolutely spot-on and the script was excellent. Game of Thrones actor Mark Stanley made a formidable Bill Sikes and Shirley Valentine star Pauline Collins was a deliciously drunken version of busybody Mrs Gamp. Bethany Muir cut a vulnerable-looking Nancy, Oliver Twist's "tart with a heart", and as she went to speak to Inspector Bucket about Marley's death (he had paid for her "services" the night before) I couldn't help thinking she was in need of a good feed. Inspector Bucket obviously agreed because the first thing he did was offer her a meat pie in exchange for information.
While the characters may have been lifted from literature, their words could not be due to the unfamiliar plotlines they were now a part of but Jordan did a brilliant job of casting his heroes as good to a fault and his villains as bad to the bone. He lost none of that great Dickensian humour either. A fraught Mrs Bumble, played superbly by Caroline Quentin, told her hapless husband: "A money lender murdered? And not two streets away. This is what you meant is it Bumble? When you promised my father to keep me in the style to which I became accustomed?"
This 20-part series continues throughout the next fortnight and I'm already hooked. Please sir, can I have some more already?
Join our new commenting forum
Join thought-provoking conversations, follow other Independent readers and see their replies