Downton Abbey Christmas special finale, ITV, review: An unashamedly sentimental send-off
'With any luck, they'll be happy enough, which is the English version of a happy ending'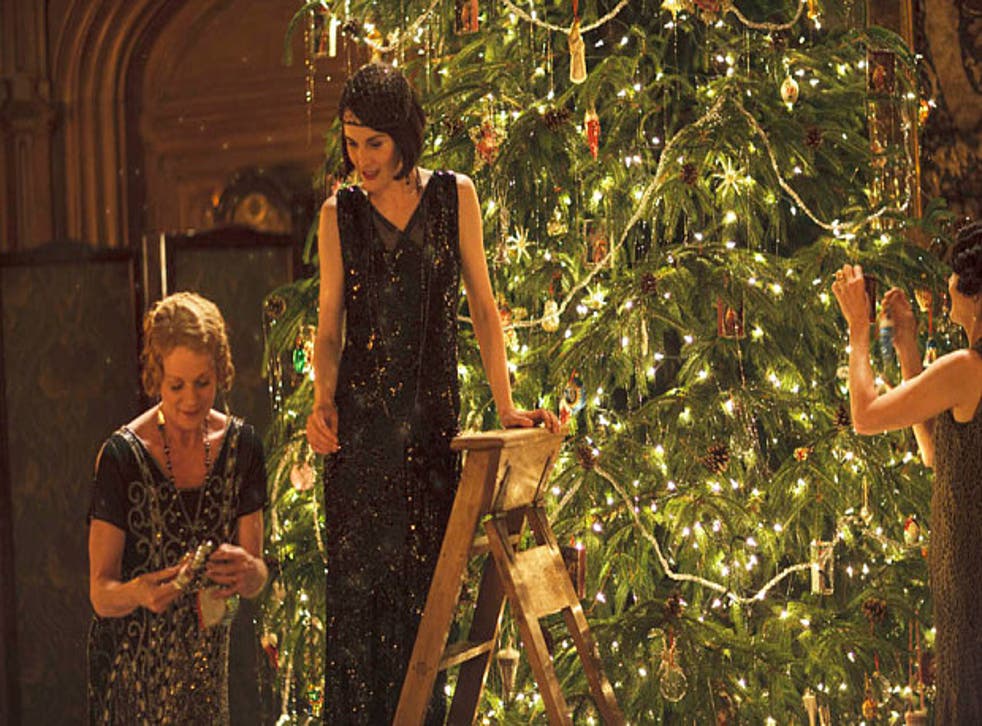 After six series, 51 episodes and almost a decade's worth of drama, misunderstandings and withering putdowns, Downton Abbey came to an end with a feature-length Christmas special containing a wedding, a pregnancy, a birth, the prospect of new horizons and the changing of the old guard.
As ever with Julian Fellowes' long-running tale of life above and below stairs the plot wasn't really the thing (although it was a pleasure to see permanently thwarted valet Barrow finally given a reason to smile after Lord Grantham named him butler on Carson's enforced retirement).
This was the ultimate piece of Christmas television viewing, an unashamedly sentimental send-off that saw wrongs righted, love conquer all and even Lady Mary's famous Freudian slip down a notch.
"We're sisters and sisters keep secrets," she remarked of her fraught relationship with Lady Edith, as close as long-term viewers will get to an acknowledgement that she was in the wrong.
Yet even as we said farewell to the assorted members of the Crawley clan, thoughts turned to what ITV will do next. Fellowes' comforting, conservative confection became a global phenomenon, watched in 250 territories worldwide and pulling in over 120 million viewers globally.
It was particularly big news in America where ratings have continued to rise even as the most devoted fans acknowledged that the writing had slipped.
It could also be said to have single-handedly revived ITV's fortunes – in 2010, the year the series began, the channel trebled its annual profits posting a pre-tax total of £312million up from £108 million the previous year.
In March 2014 ITV posted full-year pre-tax profits of £712 million. The pressure now will be on to find a suitable replacement with the smart money on Daisy Goodwin's upcoming take on the early life of Queen Victoria which features former Doctor Who star Jenna Coleman in the lead role.
Downton Abbey series 6

Show all 8
Even with that pedigree the new series will have some way to go to rival Downton's appeal.
As to why this series hit the spot above all others pulling in millions of viewers each week, the answer is simple: beneath the Big House trappings, the elegant costumes and the tantalising peaks into how the other half might once have lived, Downton Abbey was a soap opera.
Access unlimited streaming of movies and TV shows with Amazon Prime Video Sign up now for a 30-day free trial
Sign up
You always knew how each character would act and react and, like any good soap, the more plots changed the more they stayed the same.
The 1900s might give way to the roaring Twenties and the Crawleys strive to adapt with the times but our enjoyment came from knowing that this was a show where even the darkest moments came bathed in warm nostalgia for times long past.
As the episode finished Fellowes unashamedly made one last bid for our heartstrings cuing up the familiar strains of Auld Lang Syne as snow fell thick outside.
In truth Maggie Smith's Dowager Duchess of Grantham had delivered the best obituary earlier when she remarked: "With any luck they'll be happy enough, which is the English version of a happy ending." Few among us could ask for more.
Join our new commenting forum
Join thought-provoking conversations, follow other Independent readers and see their replies