The Fall, BBC 2, TV review: Jamie Dornan and Gillian Anderson are brilliant, but this Northern Irish noir still dehumanises women
Cue the controversy, the critics, and the return of some righteous indignation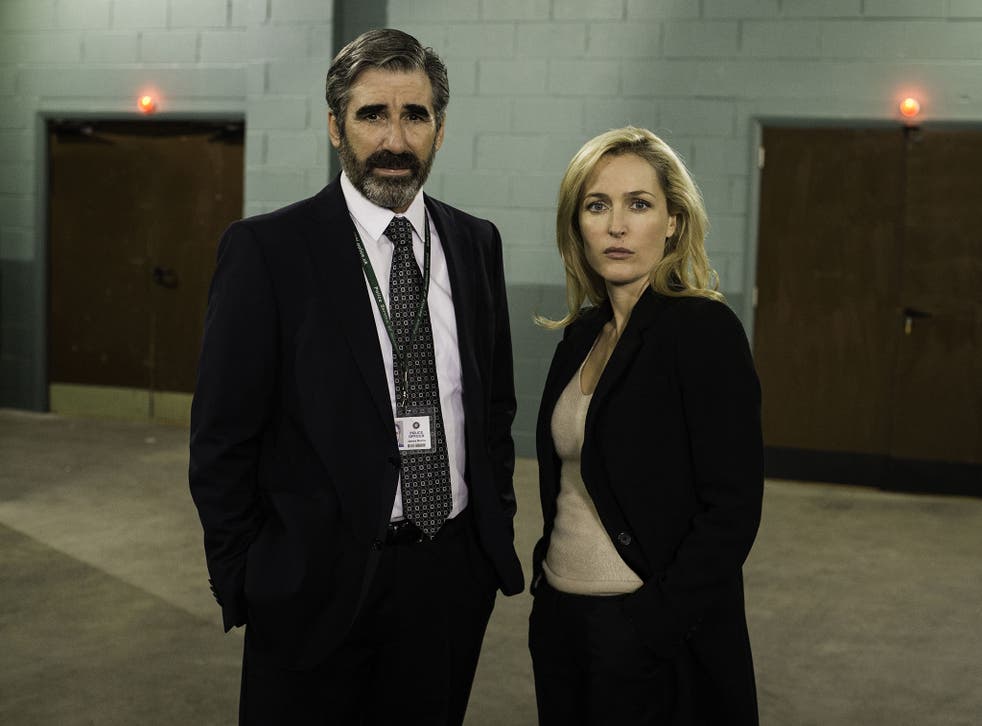 Business as usual in Belfast?
The Fall, BBC2's most popular drama in two decades is back for a second series, and it was with a characteristically controlled whimper rather than a bang that it returned to our screens last night.
Jamie Dornan's Paul Spector continued to exhibit the symptoms of a restrained psychopath (tying up Barbie dolls with string, drinking Scotch while tinkering aimlessly on an out-of-tune piano), Gillian Anderson's DSI Stella Gibson persisted in wearing inappropriate footwear to crime-scenes, and the rain still falls hard and heavy in Northern Ireland.
Wherever you stand on accusations of the show's misogyny, and particularly the allegations of glamorising violence against women, you can't fault the studied slowness with which last night's first episode, "Walk the Line", opened. Set 10 days after series one's unresolved finale, we saw a prolonged hunt for a murder weapon in a Belfast river, a hospital bed testimonial from Spector's half-strangled victim Annie Brawley, and little else besides.
Fans of the slow-burn approach taken in series ones will have been delighted; those hoping for a pay-off after months of patience may have justifiably despaired. The Fall still wants to be your favourite slow-paced neo-Scandi-noir, and it isn't changing tack for the sake of an impatient audience.
And as for the accusation of indulging in female victim horror-lust? Writer Allan Cubitt seems to have got the memo, or at the very least remembers the Daily Mail's exhortation last season that this was "the most repulsive drama ever broadcast on British TV". Addressing a group of officers, DSI Gibson spelt out the intended mission statement of the show loud and clear last night: "In order to do the terrible things that he does, the killer dehumanises his victims. Let's do the opposite."
Can The Fall keep its word? I'm not so sure. The camera still lingered on the bodies of Spector's would-be victims as hungrily as it ever did, and Dornan's roguish charm with women remained as potent as ever. Business as usual indeed: cue the controversy, the critics, and the return of some righteous indignation.
Join our new commenting forum
Join thought-provoking conversations, follow other Independent readers and see their replies