The Fifteen Billion Pound Railway, BBC2 - TV review: There's nothing boring about this look at the tunnel beneath the Thames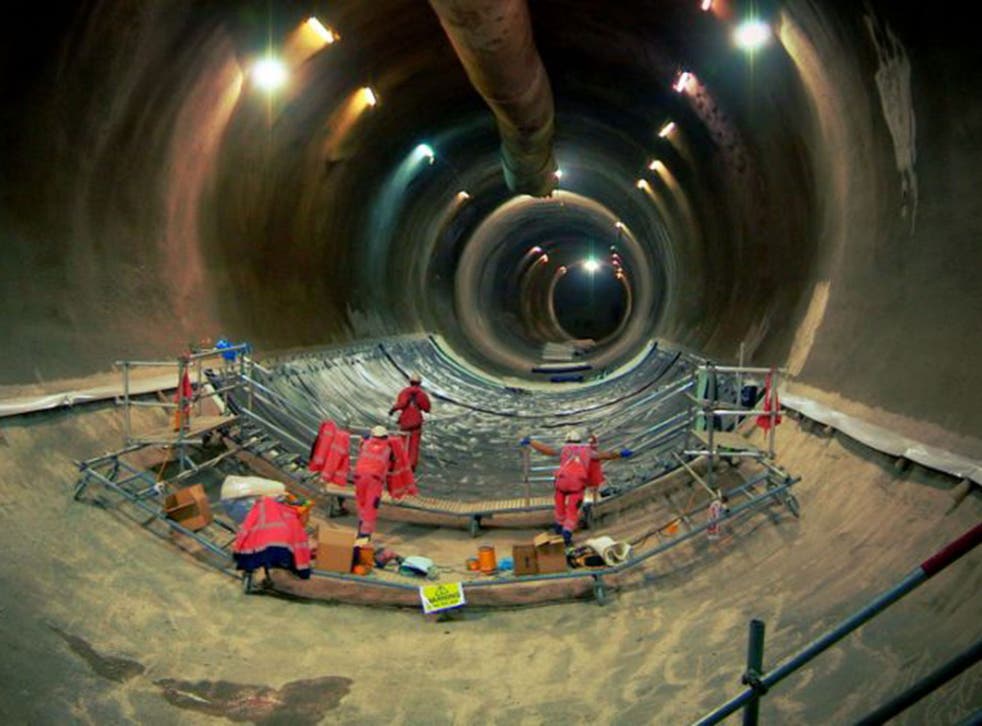 The London Underground can be quite a nauseating place at the best of times. If you're not shoved up against the sweaty posterior of a fellow traveller, you can be dodging the subterranean vomit of a weekend drunk. That's fairly par for the course, the cost of getting around a chaotic city. Well, the cost apart from the actual, wildly expensive, cost.
So, it's a good job that anyone travelling on the Tube had no idea that, at some point in the past year or so, a few metres above the heads of oblivious passengers, a group of engineers was threading a 1,000 tonne, 150m-long boring machine in between a Northern Line tunnel and an escalator. The job was so precise, that at its narrowest point the clearance was just 35cm.
That was the most extraordinary feat witnessed in last week's opening episode of The Fifteen Billion Pound Railway (BBC2), a title that perhaps didn't do its subject – the creation of London's new east-west rail link, Crossrail – justice. I would perhaps have called it "Look How Hard Digging Massive Tunnels Underneath a Busy City Is".
The Fifteen Billion Pound Railway is narrated by Julian Barratt, who's certainly carving out an odd, post-Mighty Boosh niche as the voice of BBC documentaries about the capital's transport infrastructure (he also did The Tube: an Underground History and The Route Masters: Running London's Roads, both a few notes away from Howard Moon and co).
But despite the London transport topic and the Barratt link, TFBPR doesn't quite have the human heart of The Tube.
While that series, of course, dealt with the logistics of ferrying millions around each day, its real heart was in the staff working on the Underground and their stories. Here, the star is a big machine called Mary, capable of boring through the ground under the Thames at 27 metres per day. And that's fine.
This series is produced by Carlo Massarella whom you may remember from such large-scale engineering documentaries as Animal Mega Moves, Heavy Haulers and Big, Bigger, Biggest and it's directed by Joby Lubman (World's Biggest Ship, Monster Moves etc). So it's safe to say they can handle filming scale.
Thus, it was absolutely fascinating watching the engineers planning the rebuilding of the Victorian Connaught Tunnel to make it fit for Crossrail's speedy rolling stock (and good to witness, in Linda Miller and Alex Mitchell, two female engineers featuring prominently in one of these Big Build-type shows).
I'd also been astonished last week by the genius of how grout shafts prevent surface-level subsidence. Which is not a sentiment I'd ever envisioned expressing with passion in a national newspaper, but there you go.
It was these how-does-that-work moments, including a decent set of explanatory graphics, which reminded me of reading those oversized Dorling Kindersley cross-section books as a kid, which were fascinating. The subplots – will a boat show at the ExCeL get disrupted by the Connaught project? Will a vintage car show at Bonhams have trouble with access? – really didn't add too much to the drama. But ignore them and it's engrossing.
If you live in London, it ought to be difficult not to find TFBPR interesting. This is going on below your feet. But, if you're one of the majority of Britons who don't, then any interest is possibly tempered by watching billions of taxpayers' pounds being spent on the capital. Again.
Just don't let anyone tell you that tunnelling is boring.
Join our new commenting forum
Join thought-provoking conversations, follow other Independent readers and see their replies