Game of Thrones season 4 episode 8 review: The Mountain and the Red Viper do battle
Fans were served another shocking twist that left jaws on the floor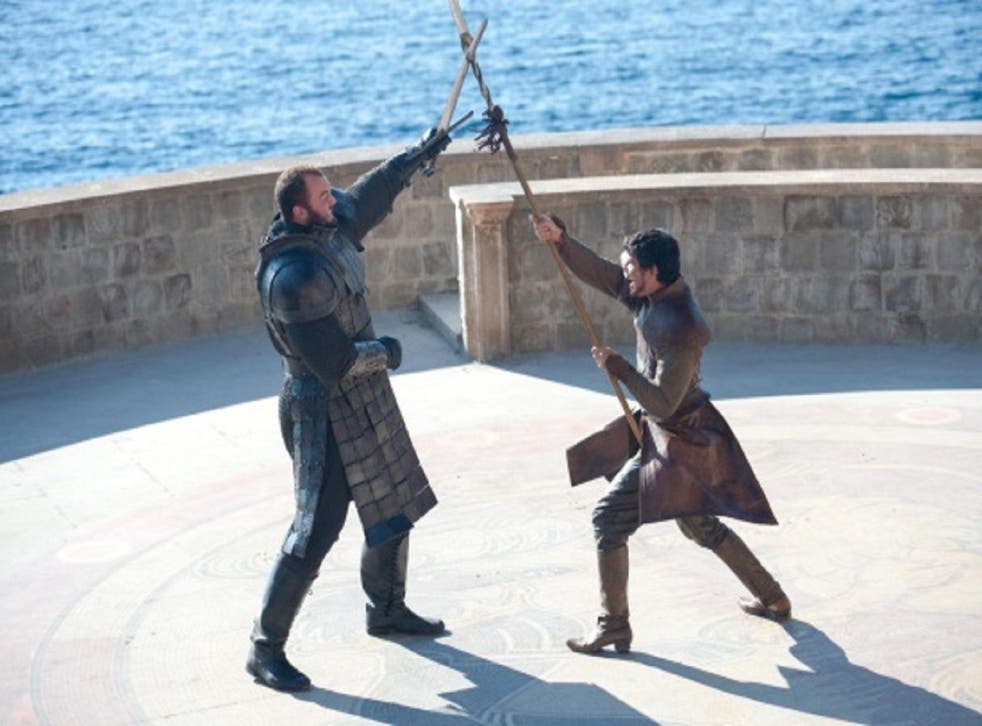 After a week away, Game of Thrones was back bigger and more jaw-dropping than ever.
With another massive twist that we never saw coming, Tyrion was sentenced to death after Oberyn, known as the Red Viper, failed to kill Gregor "the Mountain" Clegane.
It was a fantastic fight with all the spectacle and drama that a storyline like this deserves. The audience were left reeling in shock when the apparent victor met a grisly end at the last moment.
Watching the Red Viper getting his eyes gouged as blood spurted out of his eye sockets was sickening - even by Game of Thrones standards.
Oberyn's death may have even edged past Talisa's grim end at the Red Wedding or Joffrey's poisoning at the Purple Wedding as the most graphic death on the show to date.
Game of Thrones season four in pictures

Show all 36
Was it too much? Yes. The wildling attack on Mole Town at the opening of the episode seemed more like a children's birthday party in comparison - or at least how a wildling's nameday would be celebrated. The demise of the Red Viper was a moment to watch from behind splayed fingers. Oberyn's death is an image that is likely to linger and fester in the mind's eye long after the closing credits have rolled.
The Mountain and The Viper was very much a slow build-up but the final sequences in King's Landing were brilliant. As well as the battle, the scene between Tyrion and Jaime was superb; the brotherly love between the pair was so evident. Nikolaj Coster-Waldau and Peter Dinklage gave staggering performances.
Again, the episode detoured from the novels but it worked because of the focus on character development.
Meanwhile Daenerys' plot thread seemed rather dull. Jorah Mormont was banished after he was discovered to be spying on his queen – he was always a little bit dodgy. Unfortunately, Dany's gracefully suppressed regal "rage" at his betrayal just didn't cut it. It was difficult to believe that she was incandescent. Instead she just seemed annoyed in a more blasé manner. There needed to be more histrionics but there was nothing.
The fall of Jorah Mormont may have been lacking but luckily Grey Worm and Missandei's burgeoning love made up for it. Nathalie Emmanuel and Jacob Anderson gave wonderfully restrained performances that said more in what was left unsaid. Game of Thrones rarely indulges in moments like these, but when it does, they are done at the right pitch and never feel out of place.
Access unlimited streaming of movies and TV shows with Amazon Prime Video Sign up now for a 30-day free trial
Sign up
The other character worth a mention was Sansa Stark. Again, Sophie Turner excelled herself and gave another strong turn. Her transformation towards the end episode was striking as she rocked medieval gothic chic. Is this a promise of another facet to Sansa Stark that we have not yet seen?
All in all, it is a welcome return. With the Red Viper now dead, the question on everyone's lips now is: what is going to happen to Tyrion? Game of Thrones surely can't kill off its best-loved character, can it? There would be mass protests on Twitter and Facebook if the makers did that. Tune in next week for more of the same.
Join our new commenting forum
Join thought-provoking conversations, follow other Independent readers and see their replies