Grace Dent on TV: Big School, Channel 4
Today's lesson - how to produce a pleasurable comedy that passes the perils-of-primetime test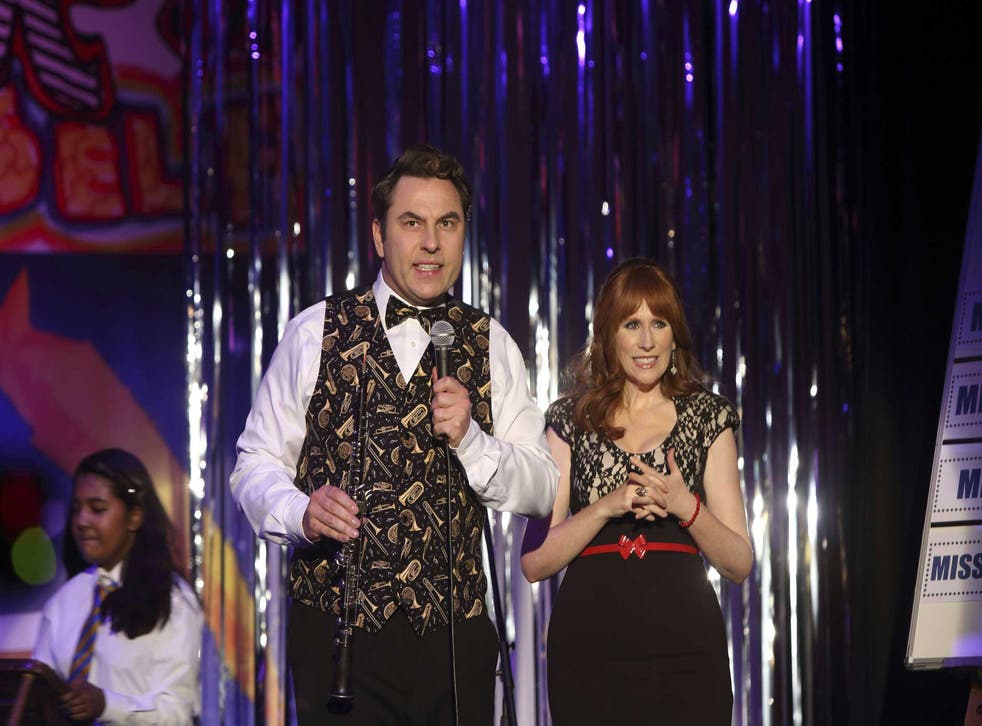 Conjuring up an amusing sitcom on Final Draft software in one's dusty back bedroom and thrusting it on to primetime British TV with the funny stuff intact really is, for many, many reasons, rather head-bangingly difficult. I'm always impressed – as with BBC1's new comedy Big School – when it happens. Primetime BBC1 comedy these days requires a distinct broadness of brush. It whimpers softly in its bed for another My Family, or a Wright Way that viewers don't attack with sticks.
It yearns for obvious ideas not puzzling ones, it tolerates dark-humoured shades, never unsettling tangents, it needs a cast heaving with faces approved by BBC1 people (let's use David Walliams!) pivoting around a subject matter everyone in Britain, including stupid people, actually, especially stupid people, can relate to.
Absolutely Fabulous would never get made in 2013. It was a script about two alcoholic drug-users with a loose job-spec, who lounge about a multi-million-pound town house name-checking obscure fashion brand names, making in-jokes about Eighties pop culture icons such as Shahpari Khashoggi and Marisa Berenson. In 2013, Ab Fab's pilot script wouldn't get picked up by Comedy Central for a 10-minute taster video sponsored by Tampax Pearl.
Big School, co-written by the very talented Dawson Bros – siblings Andrew and Steve and their friend Tim Inman – negotiates the perils of primetime and still remain rather great. I'd implore you to delve around YouTube and watch the Dawson boys' one-off sketch show Dawson Bros Funtime starring an excellent cast of young British comedy talent Cariad Lloyd, Chris Kendall, Jenny Bede and Mike Wozniak. Funtime should rightfully have been given its own series, but wasn't. Meanwhile, inexplicably, Badults, the wacky, madcap comedy about three men who simply can't act grown up – they're bad at being adults – they're "badults!" is currently on a six-show run on BBC3.
I loved the Dawson Bros' work with That Mitchell & Webb Look and with Peter Serafinowicz, and therefore watched their punt at primetime with interest. I firmly believe Big School pays off. The show revolves around a failing comprehensive school where the teachers are more directionless than the pupils. I love Catherine Tate as endearingly conceited French teacher Miss Postern, a woman who has never actually set foot in France, but hopes to just "go mad" and one day buy a ticket to Paris. I'm also taken with Daniel Rigby as Mr Martin, the thirtysomething music teacher with the sullen, wholly unrealistically determination that this job is just a stepping stone to joining the Kaiser Chiefs.
Big School also stars Steve Speirs – who one might remember from Extras as the dour, clingy Welsh man who pleaded with Ricky Gervais to come over and watch Vera Drake – playing Mr Barber, a poor sap suffering from en masse racism due to his Welshness and a name with unfortunate connotations of sheep. Big School's headmistress is Frances de la Tour delivering a brilliant, pithy, nihilistic dragon, hiding in a dimly lit office, vetoing everything from non-uniform days ("NO, the girls all come dressed as sluts") to school discos, which she claims always herald a rise in teenage pregnancy.
Scenes featuring De la Tour versus Catherine Tate are quite lovely. Add in Joanna Scanlan from The Thick of It and Getting On as Mrs Klebb, the butch drama teacher with the depressing home life, plus the formidable Julie T Wallace as sex-starved science assistant Pat, and this is a good way to spend 30 minutes. Pat's idea of light flirting with David Walliams' character Mr Church is to remove her 44E beige support bra and wait in the science cupboard among the conical flasks and Bunsen burners for the magic to happen. I'm not sure about Philip Glenister as Mr Gunn the loser sports teacher – his lines are funny, but he isn't.
For primetime Friday, this is comforting, funny stuff. Other critics disagree with me, but it's worth any writers or commissioners remembering when spotting an over-the-top negative review that TV critics, myself included, are quite ridiculous people who would benefit from a lot more fresh air, as well as a long think about a plan B career as our job is increasingly irrelevant. We are people who possibly watched your beloved, sweated-over comedy at 10am on a wet Tuesday just after breakfast, on a 10x10cm screen on an internet preview site, on a harsh deadline to file 600 words, with no milk in the fridge for a cup of tea, and the neighbour doing loud DIY next door.
With all these factors combined, we watched the first four minutes after the titles, failed to expire laughing and deemed it "a crap show". Only the hardest noses and most non-stick Teflon backs survive in the primetime comedy writing game. I hope the Dawson Bros muster up this strength because whether it's their prime time or their ruder, dafter, younger BBC3 work, they genuinely brighten my world.
Access unlimited streaming of movies and TV shows with Amazon Prime Video Sign up now for a 30-day free trial
Sign up
Poor Toby on Great British Bake-Off. Struggling on with a Victoria sponge with bloody, bandaged hands and then finally given the chop. "I'm going to give up baking and become some sort of anti-baking monk!" he announced.
Join our new commenting forum
Join thought-provoking conversations, follow other Independent readers and see their replies