Grace Dent on TV: Dear anyone whose property I destroyed with an axe this week... Katherine Jenkins is to blame
Steppin' Out with Katherine Jenkins, ITV1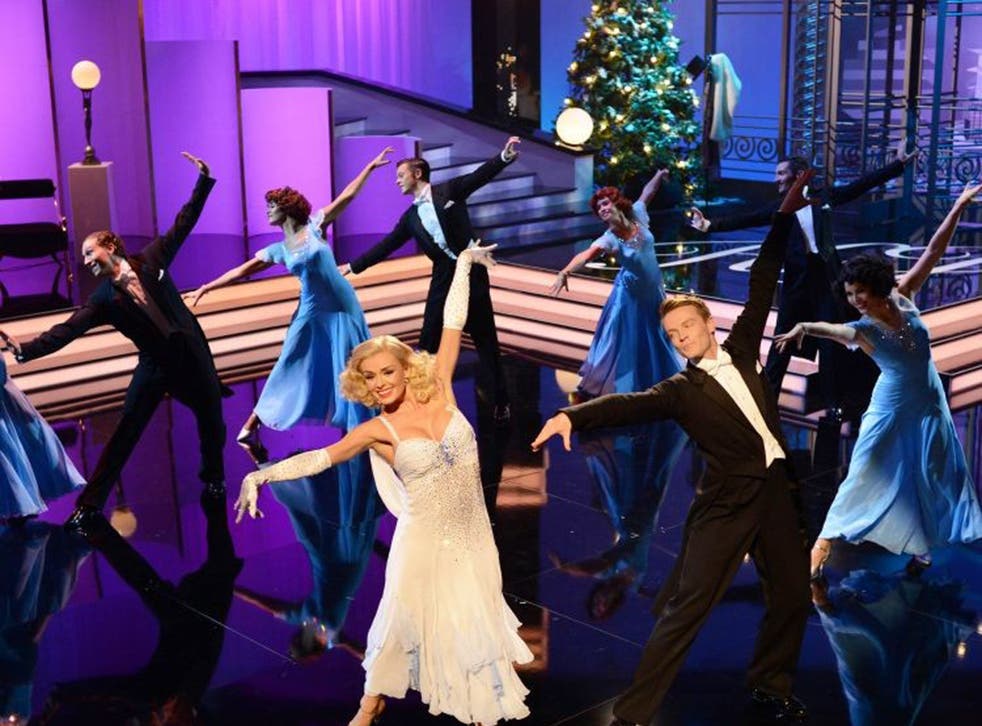 There's a life-enhancing outburst in beloved 1980s sitcom The Young Ones when Vyvyan Basterd – ever the diplomat – has a melt-down over Felicity Kendal. It seems to come from nowhere, yet as he rants and smashes his living room to pieces screaming: "She's so bloody bloody nice! Sugar spun bollocks!", it's evident he's been pondering this for many years.
I was reminded of this as the builders gave me an estimate to replace the chimney stack and supporting walls which I destroyed with an axe last Sunday evening during ITV1's faux 1930s music-hall showcase Steppin' Out with Katherine Jenkins. Until now I have smirked at claims of a giant shape-shifting lizard-illuminati controlling media, until I rose from my chair and slapped the side of the TV a few times, pulled the plug out and re-installed it, to find there really was an hour-and-15-minute-long special devoted to Jenkins appearing in ballgowns, never speaking, shrieking through little-known show tunes, not even classics, with Mark Benton appearing every three minutes to say again and again how very very beautiful she is. The police finally caught up with me circling the M25 trying to find Benton's house – the big cheery one out of the Nationwide adverts was roped in to play master of ceremonies in this televisual bonanza – so I could rattle his letterbox and shout: "Benton. Get your arse out here now. I have loved you since you played Eddie in Early Doors. And now you besmirch its good reputation by playing a lovesick janitor who fancies Katherine Jenkins, doubling as a compere in her one woman show, and (CASUAL SEXISM ALERT) you do all of the talking as Katherine seemingly can only be trusted to smile and do high kicks.
Just as I went under from the sedation shot, my last garbled rantings to the medics were: "A whole pissing prime-time hour devoted to bloody goody-two-shoes Stepford wife pissing mediocre plastic Disney princess fembot shrieky-voiced doing bloody 'Over the Rainbow' in a faux-1930s music-hall dream sequence setting! She can't even talk!!!" After that things become very hazy. Did you know Katherine Jenkins could dance, by the way? I didn't. I do now, as she was at it for an hour while the audience, made up solely of twenty-something actors and actresses all fully made up in 1930s garb, mumbled "rhubarb rhubarb oh she is good, the best we've ever seen!". This extremely gentle light entertainment was occasionally broken up by other star turns, like those creepy chumps Il Divo, who seem the living embodiment of an awkward paternity claim after a Rimini all-girls mini-break. And another Il Divo, the second generation, younger troupe, of models in tuxedos designed to cure women of a certain age of intimate dryness. And then some comedian, possibly off Britain's Got Talent, pretending to be a foreign pianist, who performed a skit with Jenkins which was essentially the André Previn Morecambe and Wise skit performed 40 year later by Lidl Joe Pasquale and a River Island mannequin. Little-recognised pop trio Stooshe were invited on to sing their delightful anthem to domestic abuse with lyrics "Daddy I've fallen for a monster". That song has troubled me since last April. Several verses to their father about some ham-fisted ogre who seems to have them mentally hoodwinked, then a chorus telling their father he's big and the best they've ever had.
As they stretchered me into the recovery ward, many thoughts floated through my mind. Who was this show for? Very, very old people? This was on after one of the final rounds of The X Factor, so surely it acted as ratings napalm. Do very old people want to watch a televised showreel of one very uncharismatic person who is not a professional dancer being flung about by a variety of hunks? And if this is what old age has to offer me, can I pre-book Switzerland now? Actually, they should put a dusty VHS copy of this in suicide clinics to speed people on their way. Because I like to live in a mind-state where I can recognise that this type of TV is terrible and created and signed off by people who owe other people in entertainment things and backed up by other people too terrified in this current climate to take any risks and thus would rather serve up luke-warm festive dog-sick on a Santa-imprinted bowl with bauble prints and then put a big tick in a glitter pen saying "TOTALLY BRILLIANT prime-time festive telly". But this was not totally brilliant. ITV1, I have sent you the bill for the home repairs. There should be a ITV2 accompanying show called Down and Beating Your Face With Your Own Fists With Grace Dent. I was not a fan.
Vote Maloney. The X Factor public pushing through Scouse cruise-ship crooner and nan-fan Christopher Maloney. Wicked, but fun.
Join our new commenting forum
Join thought-provoking conversations, follow other Independent readers and see their replies