Grace Dent on TV: Game of Thrones, Sky Atlantic
Sandor can't decide whether to protect drippy Sansa or disembowel her. I vote for the latter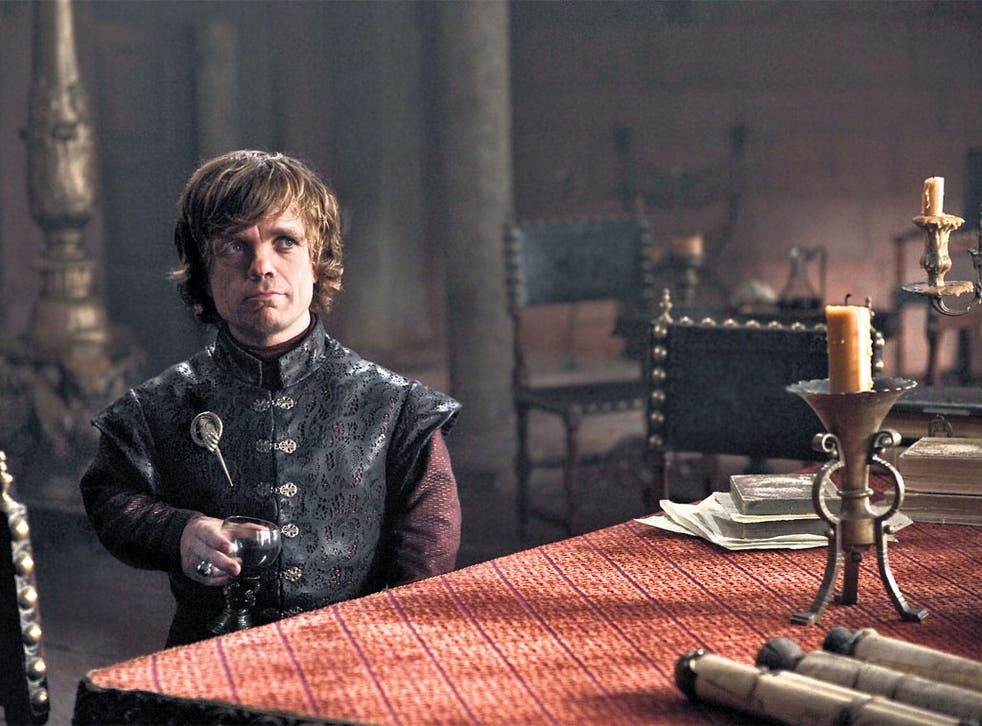 "The daily happenings of a medieval sex-obsessed dwarf and his mate Jerome out of Robson and Jerome," doesn't sound like my kind of telly.
In fact, pinpointing the attraction of Game of Thrones, currently pounding and bashing and hey-nonn-noing to the season two close right now is thumpingly tough. To anyone who wasn't Hobbit-friendly previously, this genre – fantasy medieval – is as sexy as pubic dandruff. Viewers like me, non-Dr Who types, vehement Hobbit-knockers, fell for Game of Thrones sheerly by accident and then fretted for their identity ever after. No sane person intends to go down a path where Saturdays are spent changing from jeans to a Dothraki pelt-skin costume in the back of a Ford Focus in a Milton Keynes conference centre car-park before meeting their friend Nige (him of the egg-box dragon costume and blow-torch mouth o' fire effect) but cosplay has to start somewhere. Game of Thrones, and its ilk, have made fancy-dress fools of wiser folk than us.
Yet, as that hulking dullard Stannis Baratheon, part warrior, part geology lecturer, fights his way into King's Landing, I must continue my war on non-Throners. It's really too good to miss out. This week's battle scenes left me hovering in my lounge on one foot, wobble-lipped, broken by the tattered demeanour of Tyrion Lannister as the body count rose. Elsewhere I've adored season two's precious scenes between Tywin Lannister (Charles Dance) and his cup-bearer Arya Stark and the trips to the capitalist metropolis of Qarth – "the greatest city there ever has been and ever will be" as the residents bumptiously claim – are pure joy. I love how season two has revealed the saintly Catelyn Stark as a slightly ditsy stirrer who even her kids can't trust and the addition of Brienne Tarth, her hulking, she-warrior protector, is just perfect. I wake in the night truly irked by the disloyal, weaselly quackings of Theon Greyjoy, lining his former friends and adoptive family outside Winterfell for his pathetic speeches. "And you will all listen to me! Or it will be very very bad. For I am Theon Greyjoy and yes I have the pallor of three-day old Readybrek and couldn't warrior my way out of a wet cardigan but FEAR ME!" Oh be quiet Alfie Allen.
I nag Game of Thrones refuseniks to get involved, just like people berate me to catch up with Mad Men, telling me Don Draper is an aspirational figure, when to me he's still a greasy chump who drives women to antidepressants. Breaking Bad fans' faces curdle when you tell them it's a "no" from you. Breaking Bad has officially replaced The Wire in 2012 as "TV show most likely to send you to social Siberia when you express dislike". Three times I've watched the first half of season one of Breaking Bad, three times I've given up on the coughing, the chemicals, the camper van, the crack and the corpses. In the meantime, I cackle on about Westeros, about Cersai Lannister and her wonky, regal, razor-cheekboned wisdom; Cersai, perched in her palace room in King's Landing, goblet of plonk in hand, slurring sadly for her boyfriend Jamie. He's also her brother, but, gosh he's handsome and hard as nails, so we overlook the vomitous aspect.
In fact George RR Martin's mock-medieval straightforwardness about sex pokes us to feel slightly old-fashioned. Why not sleep with your brother? Oh, here comes war, expect a raping! Who's for a threesome? A foursome? A moresome? Winter is coming, you may as well come too before the White Walker eats you whole. See, refreshingly simple. And there you were fretting over a Facebook friend request.
I've tried the "it's full of sex" card to sell Game of Thrones, but people are beginning to get wise to the world wide web now and its potential to watch actual real sex and not just tiny bursts of medieval dry-humping with breaks while someone eats a whole raw horse's heart, or is tortured to death by burning rat.
"But it's got great minor characters too," I tell people, then I tell them of the assassin, Jaquen H'ghar and his curiously sweet way of killing folk, featuring a long pre-amble about himself in the third person. "A man payz his debts. A man owes three lives." Or the facially-scarred Sandor Clegane, The Hound, who can't quite decide whether he wants to protect and cherish drippy Sansa Stark or disembowel her. I'd vote for the latter, personally, and make a job lot of her screw-faced tyrant husband.
It's wise to never form strong attachment to characters in Game of Thrones. This week's episode saw another surprising clear-out. Martin vehemently rules out safe spots for members of the cast; anyone can meet death at any time.
The most sublime joy of all Game of Thrones addicts is that HBO have only scratched the surface of Martin's vision. Whereas Tolkien's work has a natural end, Martin is alive, well and more than willing to keep dreaming. Winter may be coming, but this leaves me far from cold.
Access unlimited streaming of movies and TV shows with Amazon Prime Video Sign up now for a 30-day free trial
Sign up
Grace's marmalade dropper
Channel 4's The Real Mr & Mrs Assad. She looks like a floppier, winsome Natasha Kaplinsky, he looks like a recurring cast member of Only Fools and Horses, a lovable spiv Del might call "Syrian Sid".
Join our new commenting forum
Join thought-provoking conversations, follow other Independent readers and see their replies