Grace Dent on TV: These affable fops weren't nearly daft enough. Oh well, at least there was Courtney Love
The Aristocrats – Goodwood C4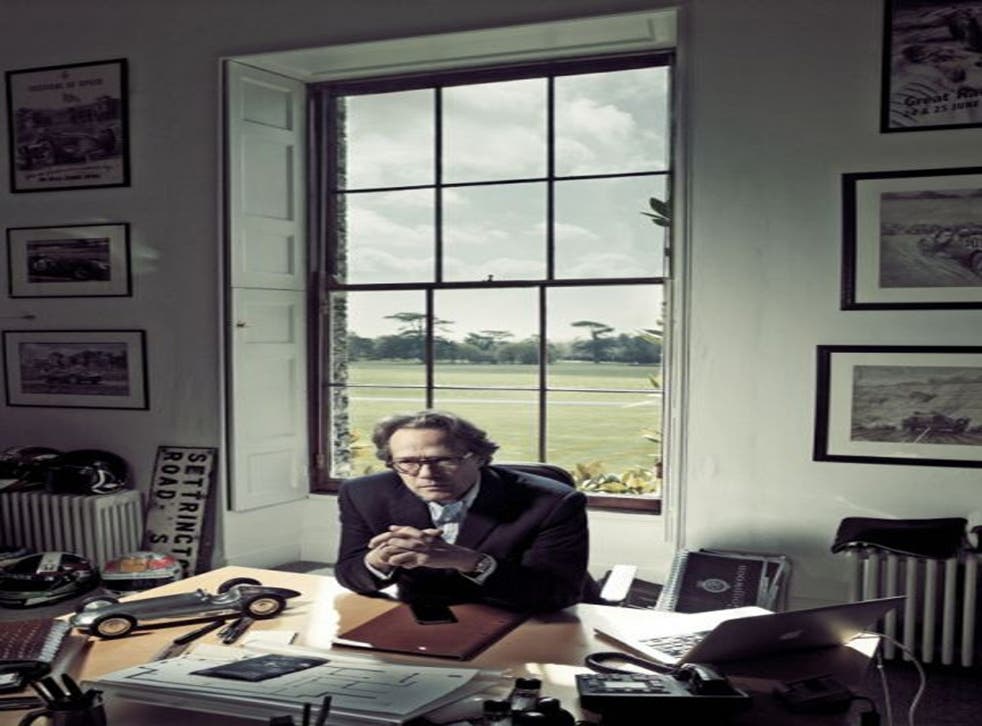 Charles Gordon-Lennox is the Earl of March and Kinrara, heir to the Dukedom of Richmond, and owner of the luxury playground Goodwood. During the second part of the C4 documentary series The Aristocrats, the first having focussed on the Duke of Marlborough, it transpired that Charles Gordon-Lennnox is the most affable, considered and grounded individual.
For a whole hour, I watched Charles juggling the perilous finances of a race course, organic farm, golf course, hotel and motor circuit in a calm and empathetic manner. Not once did he karate chop an underling in fury over the temperature of his consommé, or explode in a flurry of fiddlesticks and f-words. Neither did he shoot an elephant in the skull, then have the tusks fashioned as a cigar box or so much as claim his title was bestowed unto him "by God". TV posho-wise, he was a right let-down. In fact, not bloody documentary material at all.
Last week's episode about Blenheim Palace's current custodian, the 11th Duke of Marlborough, John Spencer-Churchill was of a similar heart-warming vein. Where was my glorious, all-access car-crash of the Duke's infamous son Jamie Blandford, who for a time in the 1990s was more or less Pete Doherty in a top hat and spats. I tuned in expecting fighting, bitterness and disarray and found a harmonious family moving through their mistakes and rebuilding trust.
In fact, I was left wondering how they ever made it to screen at all. Blenheim has 187 rooms and 11,500 acres to maintain. With continuous wrangling, bean-counting and an army of staff, "Sunny" – the Duke of Marlborough's nickname – kept it profitable and in tip-top condition. Sarah Beeny or the cast of Country House Rescue didn't appear to scream at them.
I was hoping for at least one Duke in tweed with hay-bale eyebrows roaring about the neatness of their topiary peacocks, while ignoring their accountant's advice to open a tea shop, as the entire west wing crumbled. Or children cajoled via expensive boarding school into believing they're the mid point betwixt emperor and deity. From Audrey fforbes-Hamilton of To The Manor Born via C4's The Fucking Fulfords landing at those risible clots from Made In Chelsea, I know where I am with a feckless fop.
Instead these two documentaries displayed a more jarring side to inheriting a whopping architectural albatross. It's sublimely unfashionable today to have a flicker of sympathy for the British aristocracy, but I watched these quite certain that I'd never be truly content owning the 187-bedroom house. Of course, the parties could be fabulous. Of course, one could swish about the place like Lady Mary from Downton Abbey. Of course, it's better than digging a ditch or living under a bridge.
These are givens. But it would be a constant cloud, an undertaking, a labour of love. The staff cottage with a roaring fire, a pile of paperbacks and a couple of silly dogs to walk is where simple happiness lies. As Sunny's family joke went: the 1st Duke won the battle of Blenheim, the rest of the family is still fighting it. It's a lifelong, ever-depressing battle to keep the hulking great pile upright and in the family's ownership.
"Well give it to me then!" a thousand readers will roar. But it must play on one's mind, the pressure of not being The One. Him who messed things up. Him in the history books, who made a ginormous pig's ear of events and watched all the silver being sold to Dubai and the whole decaying pile turned into an Allied Carpet Warehouse with a kiddy's ballpond out the back.
With a distinct dearth of scandal or intrigue on offer, episode two focused heavily on one of Charles Gordon-Lennox's gala ball extravaganzas, which he'd made 287 times more difficult – and I can prove this with science and graphs – by inviting Courtney Love, who, we heard, is "rock 'n' roll royalty".
Access unlimited streaming of movies and TV shows with Amazon Prime Video Sign up now for a 30-day free trial
Sign up
Courtney Love is anthropomorphised chaos at the best of times. Not particularly funny, interesting chaos, just a lot of surreal yadder and chat about legal feuds and "Here are my brand new best friends!" and "All of those people are my terrible sworn enemies," and "I don't want to talk about Kurt," and "Everyone listen while I talk about Kurt!" and "Courtney wants to play some songs," then "Courtney will be five or six hours late," and then "Courtney has left the building." I am exhausted even thinking about her. As this film was made, Charles Gordon-Lennox was in a phase of finding Love captivating and good value for money. He had asked her to "play a few numbers" for a heap of rich bankers in black tie and their fillies in large meringue gowns. Courtney arrived incredibly late, honked her way through "Sympathy for The Devil", slagged off the audience for "dancing like white people", took enormous umbrage at a request for a Nirvana track and flounced off stage after a lecture on "manners".
Love livened up the show, but it was difficult not to put on one's finest Dowager Countess expression and say, "Well my dear, this is what one gets when one invites the Americans."
ITV1's decision to show David Lynch's disturbing 197-minute surrealfest Inland Empire at 11pm last Monday to an audience more used to Cool Runnings.
This article appears in the 1 December issue of The Independent's Radar magazine
Join our new commenting forum
Join thought-provoking conversations, follow other Independent readers and see their replies