House of Cards season 3 premiere, review: Has Frank Underwood gone soft?
If series three of the Netflix original carries on like this we may soon come to miss the more flamboyant political satire of previous seasons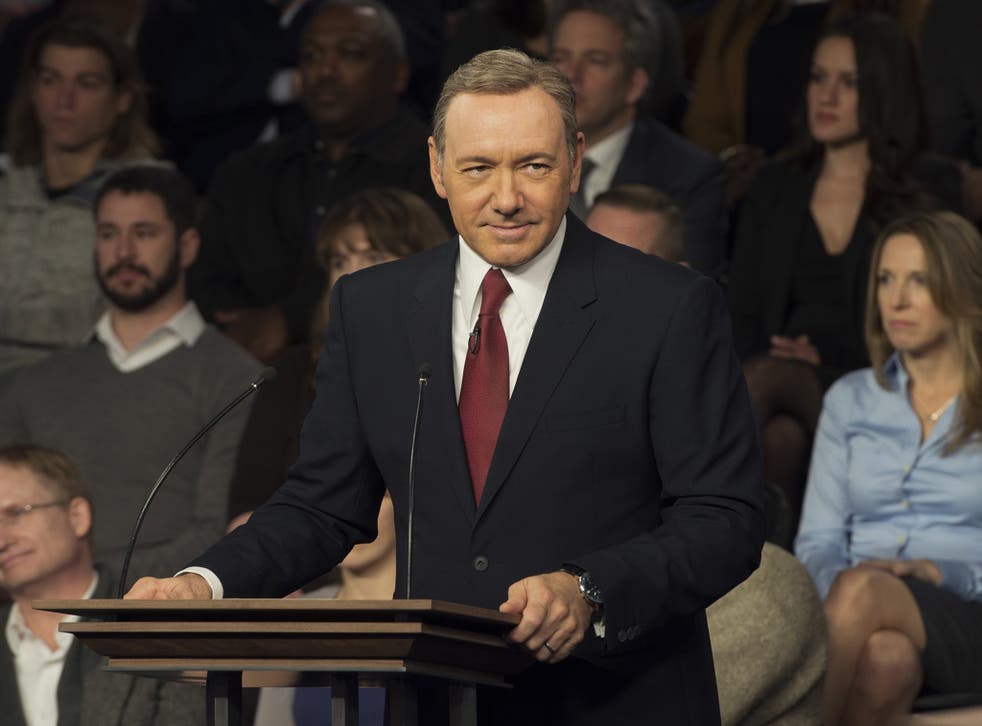 When you're the President of the USA, with the eyes of the world upon you, it can be hard to find time to pursue the hobbies you once enjoyed. Like pushing nosy reporters under trains, having kinky three-ways with the new bodyguard, or arranging for the "suicide" of a junior congressman.
Last year House of Cards' thrilling second season opened with then-Vice President Frank Underwood committing cold-blooded murder. In series three, which arrived on Netflix in full today, he can only manage some light criminal damage. Urinating on his father's grave during a visit back to Gaffney, South Carolina isn't polite, but it's hardly malevolence worthy of the presidential seal. Has Underwood gone soft?
Judging by the first episode of the new series, yes he has — and not for the reasons you might imagine. Frank (Kevin Spacey) and his equally ambitious wife Claire (Robin Wright) have attained the highest office in the land, but that doesn't mean their joint thirst for power is finally sated.
She is seeking the senate's nomination to become ambassador to the UN, and expects Frank to make good on his end of their Hilary/Bill style power-sharing deal. And what of the President himself? Having vanquished all comers in previous episodes, what's his next move? Surprisingly, he seems to actually want to govern.
Best Netflix originals to watch in 2015

Show all 12
Underwood's new focus, the America Works programme, is the sort of idealistic, national anthem-humming panacea-policy that President Bartlett might get misty-eyed about in The West Wing. What's more, Frank's only ulterior motive in seeking to end unemployment for millions is the hope that this will help him when it comes to securing the presidency for a second term (via an election this time).
This is no more power-hungry or conniving than your average politician's five-year plan, and maybe that's exactly what writer Beau Willimon is getting at. If so, we'll soon come to miss the more flamboyant political satire of previous seasons. This is as disconcertingly subtle as the show's David Fincher-approved palette of muted grey and neutral beige.
So even though the major plot twist of this opening episode is really only a reversion to the season two status quo, it's welcome. Keeping Frank's former Chief of Staff Doug Stamper and Christian call girl Rachel (Rachel Brosnahan) in the picture, means Frank hasn't got away with murder just yet, however secure he's feeling. It's also another opportunity to explore the endlessly fascinating quasi-homoerotic bond between Frank and his right-hand man.
Doug won't like it, but the inner-circle has been expanded. Frank now has a whole squad of mini-Machiavellis on his speed dial, including new chief of staff Remy (Mahershala Ali) and press man Seth (Derek Cecil). What he really needs, however, is a worthy opponent. In episode three he gets one, when Danish actor Lars Mikkelsen turns up as Russian President Victor Petrov (those 'VP' initials are no coincidence).
If you remember Mikkelson from his Sherlock, cameo, you'll know what a good line he has in chilling yet charismatic villains. Until then, House of Cards third season seems content to be a twisted take on The West Wing. Even down to the addition of some familiar-sounding military drums as the credit sequence rolls.
Join our new commenting forum
Join thought-provoking conversations, follow other Independent readers and see their replies