Raised by Wolves, review: Caitlin Moran's sitcom has got joie de vivre to spare
Episode 2: Give Rebekah Staton all the Best Female Comedy Performance awards, and all the Male ones too for good measure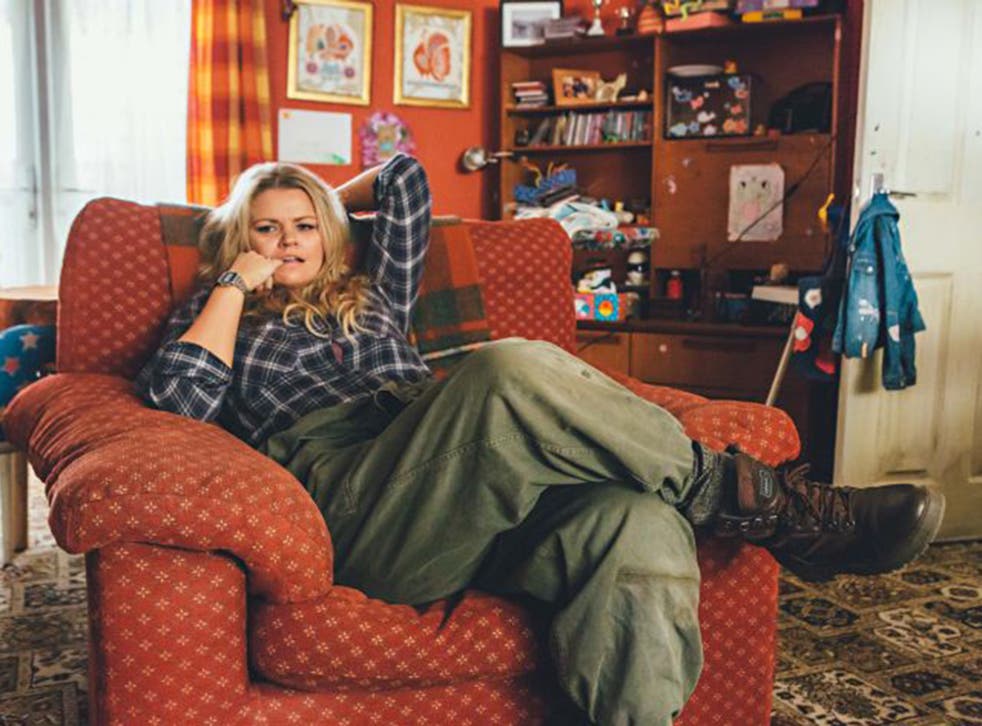 I have to confess, I was not at all expecting to enjoy Caroline and Caitlin Moran's sitcom Raised By Wolves (not least because 2013's pilot was severely undercooked). However the 2015 model is a show made with such enormous joie de vivre, such giddy chutzpah, and such BALLS that I am merrily eating my words. Who can argue with a programme that has 'there's no need to show anyone your bifurcated arse cheeks' as one of its opening lines?
This week the formidable Della (Rebekah Staton) took her daughters underwear shopping, while only boy Wyatt (a tremendously good Caden Ellis Wall) had some 'man time' with Grampy (Phillip Jackson), which mainly involved visiting a cemetery and buying some stolen paving slabs. Having grown up with three older sisters, for whom I was little more than a novelty doll, I have every sympathy for poor Wyatt. Raised By Wolves has been feted as a look at the 'intellectual working classes' or some kind of celebration of Wolverhampton, however at its heart is a passionate hymn to siblings and the worlds they create together.
Though we got a little peek behind Della's fearsome façade, as we discovered she masochistically spends every birthday doing the most unpleasant tasks (this year it was a smear test and unblocking the washing machine), the hard-as-nails matriarch - 'a lion and a scorpion in a woman's body' according to Grampy - is still getting all the best lines. It'll be hard to scrape her description of knickers as 'a drip-tray for your bits' from my mind. Think that enough has been written about Staton's performance (inspired, incidentally, by Clint Eastwood)? Nonsense. She's utterly brilliant. Give her all the Best Female Comedy Performance awards, and all the Male ones too for good measure.
The Top 10 Most Powerful Women In The UK

Show all 11
Phillip Jackson's cheerfully seedy Grampy was given a moment to shine too, as he took his grandson out for a day of male-bonding. The elder statesman of the Garry family took his young charge to his favourite childhood spots including a flooded quarry ('We saw a dead man's face in there once, it's why we call it Dead Man's Face Pond') and tried, unsuccessfully, to convince him that sticks are better than plastic guns. In the end it turns out that all Wyatt needed was a bit of peace and quiet (I feel it, Wyatt).
There's been some criticism of Raised By Wolves (let's face it, it's hardly going to be everyone's cup of tea), with a few suggesting that it's not actually an accurate portrayal of working class Wolverhampton and many Wolvo locals complaining that the accents aren't quite right. One, justified, comment has been the fact that the children use 'mum' rather than the more accurate Black Country 'mom'. However, this is to miss the point. Raised By Wolves isn't set in Wolverhampton, or anywhere in England. It's set in the Moran sisters' heads. And it's great fun in there.
Join our new commenting forum
Join thought-provoking conversations, follow other Independent readers and see their replies