The Walking Dead season 7 episode 13 'Bury Me Here' review: A moving yet stunted hour of TV
*Spoilers for season 7 episode 13 follow*
Jacob Stolworthy
Monday 13 March 2017 04:41 Comments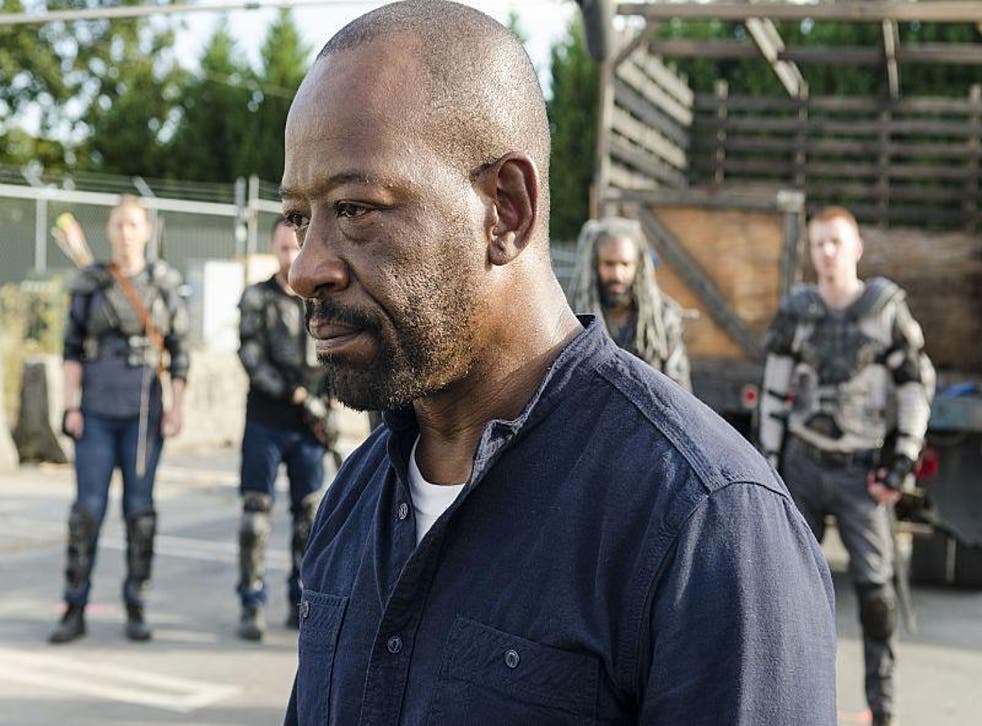 "We have to fight."
"I know. But not today."
The final words spoken by Carol (Melissa McBride) and King Ezekiel (Khary Payton) in the latest episode of The Walking Dead season seven are emblematic of the problems some viewers would express have plagued what's come before.
The slow-burn attitude that's been applied to the series in the run up to the oft-mentioned upcoming war against Negan (Jeffrey Dean Morgan) presents quite the catch 22: while we need time to be taken ensuring everybody's in their right position for the battle, it's proving increasingly more difficult to maintain enthusiasm when we know what is being worked towards - and while 'Bury Me Here stands out for (finally) convincing King Ezekiel that The Saviours need to be stopped, it opts for the scenic route; several seasons ago, this episode would have been condensed into a mere few scenes - fans' reward for their patience is being dripfed slowly and, this week, not a whole lot effectively.
Last week's episode took the foot off the pedal in a different manner - it was a departure instalment not really designed to propel the story onwards so much as reestablish character motivations and make the mandatory reminder that, hey, pretty much anyone can die at any time. This week's merged the two with Lennie James' Morgan Jones getting more transformation than he has since he resurfaced in the closing moments of season five: Richard's plan to convince Ezekiel he needs to fight back against The Saviours backfires when young Benjamin - the boy Morgan had taken under his wing - winds up dead. Morgan's psychosis spirals and, after momentarily slipping into 'Clear' Morgan, he murders Richard in cold blood and sets off to wreak his vengeance on unsuspecting Saviours.
It's an extreme reversal for the character whose abstinence from killing has really frustrated in an enticing manner - his 180 would irk if not for the episode's unhurried pace, and yet any shock surrounding his twist gets drowned in the fray, sadly.
The most shocking Walking Dead moments

Show all 10
The other person who is in waiting in the wings to dispatch of some Saviours is Carol (Melissa McBride) who comes out of murder retirement when Morgan - after initially refusing - undoes Daryl's white lie from episode nine and details all of the awful acts we've seen Negan commit this past season. Glenn, Abraham, Spencer, Olivia - all dead, he tells her. After a season of sparring, their motivations align - Morgan's unraveling calls her bluff and, through tears (McBride stealing the show - quelle surprise), heads directly for Ezekiel who's enjoying some downtime in the Kingdom's gardens before certain bloodspill in the season's final stretch.
Sure, 'Bury Me Here' is by no means a weak episode in the grand scheme of The Walking Dead - it merely suffers from its placement; with three episodes to go before what is sure to be a dramatic finale, not to mention after a season of baited breath, it's almost a necessity for things to be moving faster than this. All that was required was a final shot of Morgan approaching Alexandria, bloodied stick in hand, with Rick looking on. Not today, indeed.
The Walking Dead airs in the UK tonight, 9pm on FOX. You can read our review of last week's episode here.
Register for free to continue reading
Registration is a free and easy way to support our truly independent journalism
By registering, you will also enjoy limited access to Premium articles, exclusive newsletters, commenting, and virtual events with our leading journalists
Already have an account? sign in
Join our new commenting forum
Join thought-provoking conversations, follow other Independent readers and see their replies