The Tiger Who Came to Tea, review: David Oyelowo is charming in this intricate adaptation of Judith Kerr's children's tale
The story's playful spirit is brought to life by a voice cast including Benedict Cumberbatch and Tamsin Greig
The Tiger Who Came To Tea trailer
Last Christmas, David Oyelowo played a vengeful prison officer in Les Misérables – six hours and 12 minutes of relentless suffering. This Christmas, he plays a hand-drawn tiger gobbling up jam sandwiches in The Tiger Who Came To Tea (Channel 4) – 23 minutes and 17 seconds of unmitigated joy. I know which one I'd rather watch again.
Adapted for the small screen from Judith Kerr's delightful 1968 children's book, The Tiger Who Came to Tea uses 20,000 individual drawings to bring Kerr's wild imagination to life. So intricate is each frame that a few months ago the production team thought they weren't going to get it done in time for Christmas – so they recruited students from Middlesex University to help them out. The result is lovely: sticking closely to Kerr's original drawings, it is reminiscent of 1982's The Snowman, its intricate and subtly inconsistent shading giving the whole thing a sort of old-school vibration.
Kerr invented the tale – a little girl and her mother are visited by a taciturn tiger, who eats their cupboards bare and drinks their taps dry – as a bedtime story for her own daughter after a trip to the zoo. Here, the mother and daughter are ably voiced by Tamsin Greig and Clara Ross, while director Robin Shaw and screenwriter Joanna Harrison keep the story's playful spirit alive.
Voiced in snarling baritone by Oyelowo, the eponymous beast was described by Shaw as "the Roger Moore of tigers" – and he's right. In the hands of Oyelowo, the animation team and some excellent Foley work, he is charming, entitled and just a little bit dangerous. He's also delightfully greedy – quietly (and I must say somewhat seductively) eyeing up, and then loudly scoffing, the following: a tray of cookies, a whole cake, a can of whipped cream, a block of cheese, an entire turkey, several lemons, and a tube of toothpaste.
The 30 best TV shows of the decade

Show all 30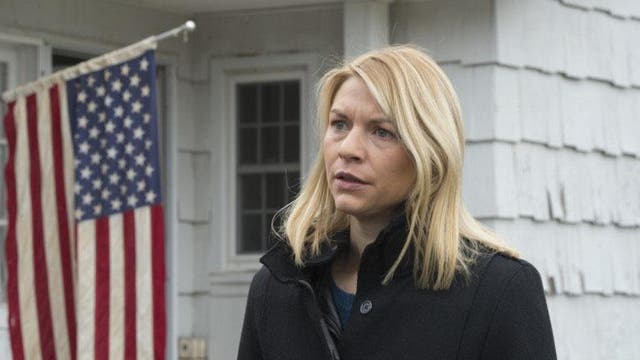 Benedict Cumberbatch offers his plush, distinctive voice to the role of the father, a benevolent if unimportant figure who trots off to work and then swans back in to discover that the tiger has drunk all his beer. And there's a lively musical number, courtesy of Robbie Williams, that'll be stuck into your head until the new year.
How should we interpret The Tiger Who Came To Tea? Is it a wry reflection on youthful trust? A parable about the importance of hospitality? A gentle send-up of the British tendency towards passive politeness? Or even, as journalist Emily Maitlis put to Kerr herself, a symbol of "the 1960s sexual revolution, where normal mores and suburban life became upended by this wild and exotic creature"? No, said Kerr, it is about a tiger coming to tea.
Kerr had a heavy hand in the production process, banning pizzas from the tiger's menu because they were too American, and insisting that excess dialogue be removed from the script. But she never got to see the finished product. She died in May at the age of 95.
"Of course it was sad she wouldn't be there to see it finished," said Shaw. "But, in a strange way, it was motivating – it made us want to do an even better job." I think she'd have been delighted. And I think you will be too.
Join our new commenting forum
Join thought-provoking conversations, follow other Independent readers and see their replies