TV review: Big School - Please Sir, is it the Seventies all over again?
A dated and mild-mannered sitcom is saved by  its casting, but a social experiment goes phut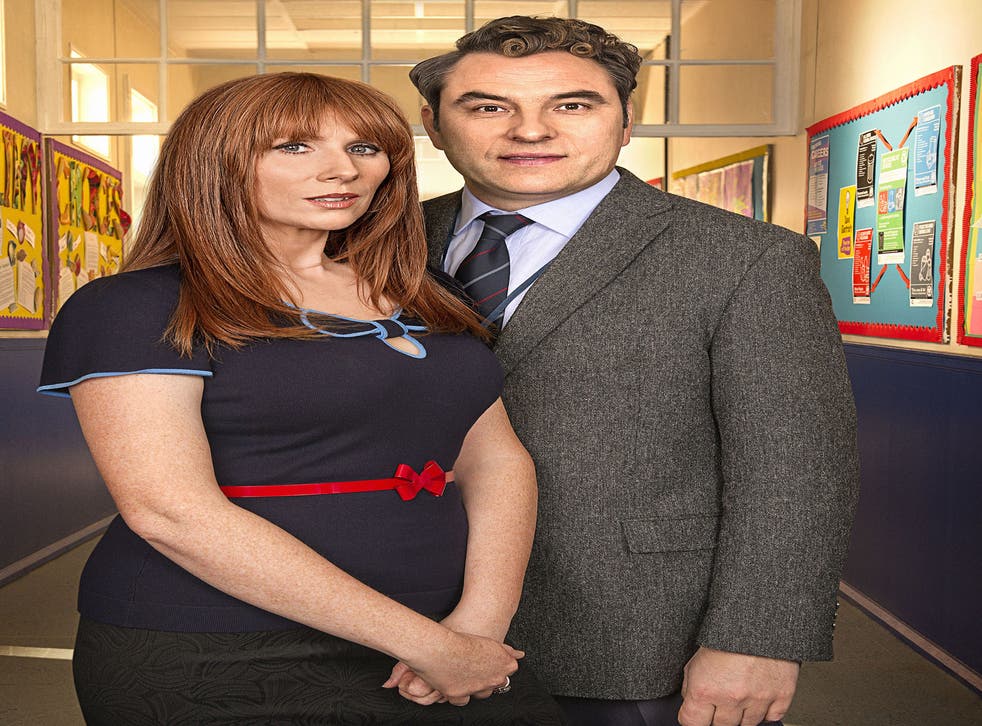 Are you going soft when you find yourself laughing at a new BBC primetime comedy? Possibly.
There were a couple of times during Big School, its latest stab at a Friday night sitcom, when I heard myself chuckling and, horrified, resolved that next week I would be out at an illegal warehouse party. Well, out, at least. Big School has less edge than a beach ball, but somehow manages to be mild, likeable and at times even quite funny – a feat that, based on innumerable misses in the same vein, seems harder to nail than spikey, subversive fare.
David Walliams, its co-creator and star, describes Big School as "Remains of the Day meets Grange Hill" – a televisual crossbreed I'd dearly love to see – but I couldn't find the bittersweet nuance of the former nor even the grit of the latter. One half of the Little Britain double act with Matt Lucas, Walliams goes solo here, playing chemistry teacher Mr Church. A tweed-jacketed, 40-something bachelor, he is a stock character – as is Miss Postern, the ditsy new French teacher, played by Catherine Tate, to whom he takes a shine. Cue much bumbling courtship against the backdrop of a school where the kids are savvier than their neurotic, clueless teachers.
The scenario has served everything from Evelyn Waugh's Decline and Fall to The Simpsons, and Big School finds a respectable amount of mileage there. In large measure it's about casting. Philip Glenister does a nice grotesque as PE teacher Mr Gunn, clinging to his laddish youth. And Frances de la Tour as the headmistress is absurdly watchable; she smokes and necks cans of confiscated lager, but her withering put-downs offset the cliché factor. And if the wallpaper of her office also recalls the 1970s, it reflects the Beeb's intention, for better or worse, to create something redolent of the hit comedies of that era.
To that end, in the first episode, the kids were wisely kept at the fringes of the action, sparing us too many cringey renditions of contemporary "youth culture". Instead, it is the adults that are sent up. Challenged by Mr Gunn to list all the women he has dated, Mr Church hesitatingly mumbles the names of Henry VIII's wives. "I've had lots of sex!" he shouts in desperation, before checking himself in Miss Postern's presence with, "Well, you know … the appropriate amount."
All in all, Big School plays with a certain notion of Britishness, insecure and eccentric, recognisable more as a persistent idea than a reality. It's not thought-provoking or ground-breaking, but it's gently amusing and if there is a place for that then it's probably on BBC1 on a Friday night.
Also looking to the past for inspiration was Channel 4's Benefits Britain 1949 (Monday, 0 stars), an unspeakable mish-mash of historical re-enactment and life-swap, which revisited the birth of the Welfare State to see if its rules on benefits "point to a way out" of the current economic conundrum.
Three volunteers – pensioner Melvin, spina bifida sufferer Craig, and Karen, on long-term incapacity pay – were asked to live on 1949 benefits, adjusted for today's prices. So, less than a fiver a day for Melvin and Karen, and absolutely nothing for Craig, unless he agreed to a training course designed to size up his usefulness to the workforce.
TVs, cars and free bus passes were all confiscated by two dole officers in period dress, who asked Karen snooping questions about who mowed the lawn and berated Melvin for exceeding his budget.
Reality shows often prey on the vulnerable, but the brazenness of this format was astounding; the makers could give Stanley Milgram a run for his money on dodgy experimental ethics. After a few days of being restricted to his house surviving on toast and tinned soup, widower Melvin was lonely and distressed. Karen, too, broke down after being told that her vintage medical assessment – which involved picking up a potato – had assessed her as fit for part-time work and her benefits would be cut off if she refused. Craig – who got a job as a telesales consultant after being given a day's work experience – was touted as the success story, but it was nice PR for the company in question and had, I suspect, less to do with 1949 rules than with the power of the TV camera to alter, not record, reality.
Access unlimited streaming of movies and TV shows with Amazon Prime Video Sign up now for a 30-day free trial
Sign up
The next episode looks at council housing. For different reasons, I am again making a note to be out.
Join our new commenting forum
Join thought-provoking conversations, follow other Independent readers and see their replies