TV review: I Love My Country - Be patriotic and turn off your set right now
With a set like an explosion in a Cath Kidston shop, a quiz on Britain is little short of treason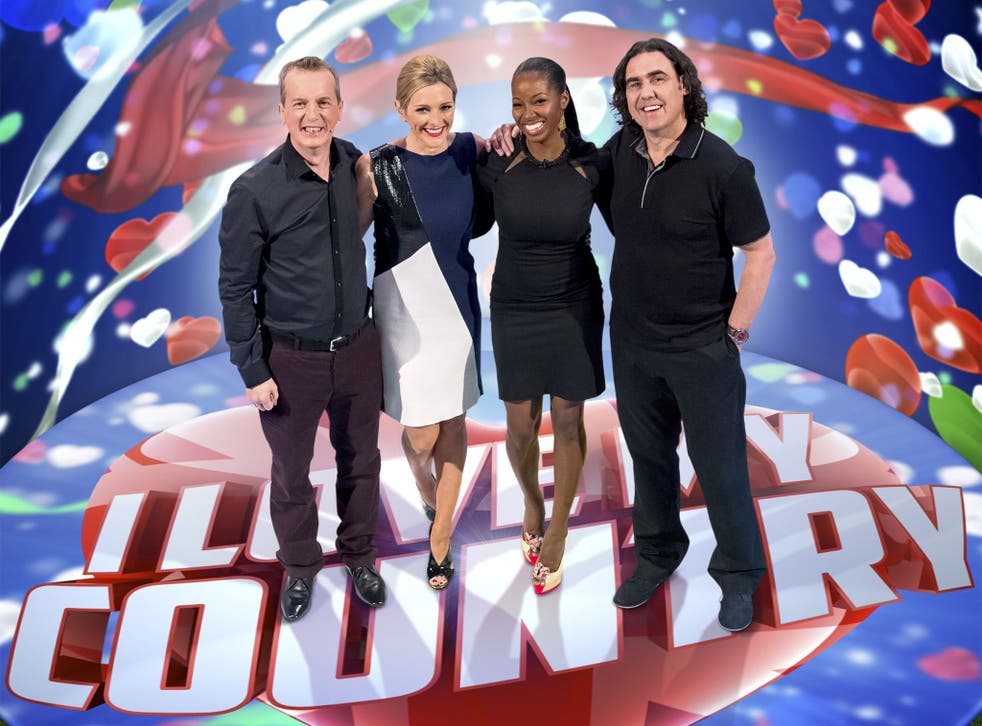 We're obviously living through a Golden Age of patriotism in the UK, but unfortunately the trickledown wealth from royal weddings/jubilees/babies and Olympic/Wimbledon wins only really amounts to the following: bunting; Union Jack cupcakes; Nigel Farage positioning himself as normal pint-loving bloke; Pippa Middleton's party-planning book; the inability to tell if someone with a flag in their window is a racist or not, and now I Love My Country.
This comedy quiz show pitches itself as good old-fashioned light entertainment – nudge-nudge naughtiness, a live band, "lovely girlies" in patriotically hued skimpy outfits. Gabby Logan beams in a set stuffed with sheep and corgis, white picket fences and red phone boxes and flags, as if a Cath Kidston shop had exploded over an episode of Last of the Summer Wine. Comedians Frank Skinner and Micky Flanagan lead teams of smiles-on-legs "stars" off EastEnders, Casualty, Saturday Kitchen. Sample comedy gem from Micky: "Gordon Ramsay on the telly. Why is he so angry? Is it because he's ended up doing a woman's job?" This man had the best-selling stand-up DVD of 2012, ladies and gentlemen.
Guests answer (incorrectly) questions such as "How many letters are there in the alphabet?", and try to place a Yorkshire pudding on a giant map to show where they think Peterborough is. Apt, given the whole thing is as stiffly formatted but soggy-bottomed and unappealing as an Iceland ready-made that's been left out of the freezer.
Another round involves guessing the song from the live band's rendition, and features wilfully obscure numbers such as the Beatles' "All You Need is Love", which turns into a singalong with words running along the screen, karaoke-style. The studio audience wear giant red or blue Afro wigs, and I Love My Country's most cringe-worthy moment comes when it attempts to celebrate diversity: about 22 seconds of London School of Samba, for a cynical splash of multiculturalism, followed by Frank and Micky attempting to samba too, in sequined bras and headdresses. Cross-dressing is another great British tradition, of course, but still ….
I Love My Country aims at the spirit of the Olympic opening ceremony only with the budget of your local pub quiz and the ambition of a primary school assembly. Don't get out your bunting; it only encourages them.
Channel 4 also brought out its own new quiz last week. That Music Show (Friday **) smacks of development desperation: part Top of the Pops-style live music show, and part Never Mind The Buzzcocks-style panel show, with an attempt at anarchic edginess à la The Word. Filmed in a Brixton gig venue, for "authenticity", presumably, the sound quality isn't great, and songs by electro-pop duo AlunaGeorge seem oddly truncated.
You would think a Nick Grimshaw-fronted music show would be after the yoof vote, but it's more likely to appeal to older viewers too knackered to do anything but collapse on the sofa after the working week. And That Music Show is nostalgia heavy: each team is allocated a year – 1995 and 2005 – to be quizzed on.
Alongside team captains Shaun Keaveny (of 6 Music) and stand-up Seann Walsh, guests are mostly from the archives, including Heather Small of M People, Sharleen Spiteri of Texas, Maggot of Goldie Lookin Chain, and – with a sigh of inevitability – Alex James of Blur.
Shaun and Alex go on about how wasted they were back in 1995 while ruefully drinking pints, but the show does hit certain "oh-my-God-I'd-forgotten-that-song" sweet spots. And if you'd had as many pints as the contestants – not implausible by 10pm on a Friday – the show's charms would likely be greater.
Access unlimited streaming of movies and TV shows with Amazon Prime Video Sign up now for a 30-day free trial
Sign up
Grimmers does a lot of ironic grinning or grimacing at clips of embarrassing old pop antics, and although he lacks the satirical bite of, say, Simon Amstell on Buzzcocks, the more wilfully eccentric elements aren't as annoying as they could be. Scores are kept with the quirkiness of Shooting Stars – by an actual ferret.
But best is Hammered Time, where well-known recording artists are described by very sloshed members of the Great British public for the teams to guess. Honestly, it's funnier than it sounds. Turns out drunkenly blathering rude things about pop stars is more of a national skill than mastering British geography. Who'd have thought it?
Join our new commenting forum
Join thought-provoking conversations, follow other Independent readers and see their replies