Jeremy Paxman's final Newsnight - TV review
He was box office. BBC's news will be duller without him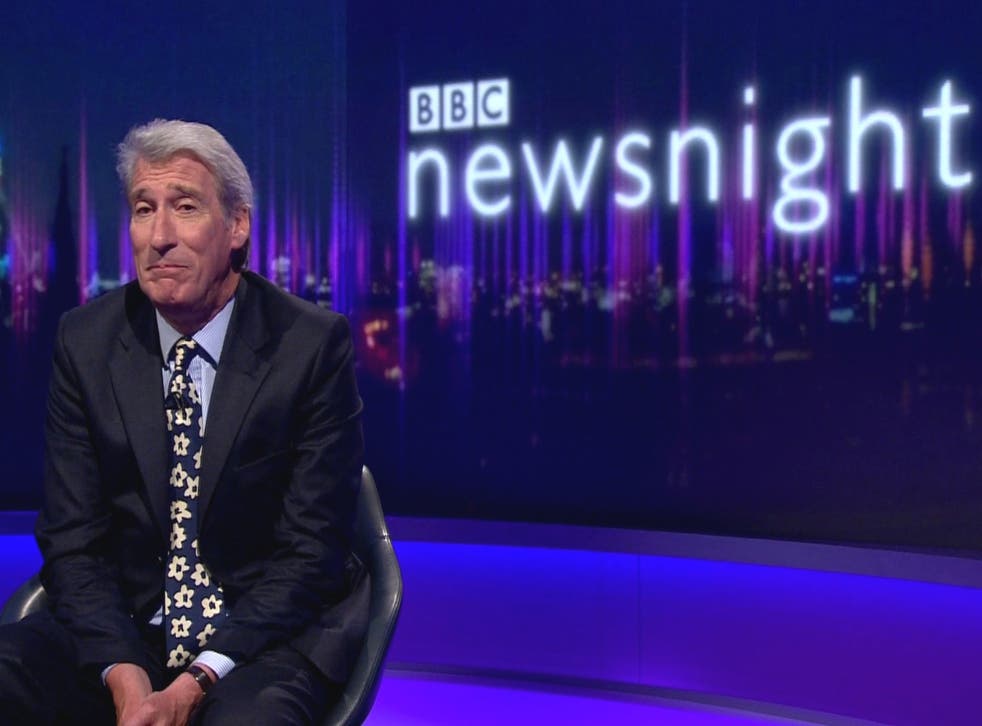 How we shall miss that sneer, that raised eyebrow, the quiet menace of that voice, the implied assumption that the interviewee is a rogue with something to hide. Jeremy Paxman, prince of the disrespectful tendency among interviewers, has presented Newsnight for the last time, after a run of 25 years.
The 64-year-old broadcaster's last hurrah began soberly with a report on the Iraq crisis. The first demonstration of vintage Paxman came 13 minutes in, as he interviewed Iraq's ambassador to the USA, about Baghdad's ability to deal with Sunni insurgency.
"So you can't cope?" was one scornful question. Another was, "So your military was inept?" He asked whether the Iraqi government wants Iran's help, suggesting that Iran is already involved. "I'm not aware of that," the ambassador replied. "You're not aware of that," Paxman repeated disdainfully.
On to the next item: an interview with the old spin master, Peter Mandelson, on Ed Miliband's leadership, currently going through a bad patch. "Why is he so much worse a leader than Tony Blair?" Lord Mandelson was asked. "He is a different leader, Jeremy," is a short version of his answer.
Paxo's best verbal jousts

Show all 6
Soon, the interview was no longer about Ed Miliband, but about whether Lord Mandelson was in any way responsible for the low opinion that people now have of politicians. "I don't know what you're accusing me of," Mandelson responded at one point.
Then came the highlight – a ride on a tandem with Boris Johnson, whose natural exhibitionism makes him one of few politicians who could handle Paxman with confidence. They talked across each other as they pedalled past bemused pedestrians, Johnson in front, Paxman behind.
"This is the most stupid assignment I have ever…" Paxman complained, He was interrupted by the Mayor, who said: "This was your idea."
"I've done war zones, Boris, that were easier than this."
The interview that followed was a sparring match between two well matched big beasts "This is Jeremy's valedictory programme," the Mayor said to camera, as he embarked on a mocking tribute which Paxman cut short by bopping the Mayor on his helmet.
These were, presumably, the biggest name the BBC could pull in to grace the occasion. David Cameron has never risked a Paxman interview. The last prime minister to do so was Tony Blair, who had reason to regret it.
Access unlimited streaming of movies and TV shows with Amazon Prime Video Sign up now for a 30-day free trial
Sign up
He was political journalism's greatest showman. He did not have that talent of the late Sir David Frost for getting the subject of his interviews to let slip revealing information. In one of his best remembered conversations, he asked the then Home Secretary Michael Howard the same question 12 times – an occasion referenced in a brief cameo from Howard – without adding anything much to the sum of human knowledge.
But whatever his faults, this man was box office: the BBC's news output will be duller without him. His final words were "Thank you for watching Newsnight, I hope you continue to enjoy it, goodnight and goodbye." And goodbye to you too.
Join our new commenting forum
Join thought-provoking conversations, follow other Independent readers and see their replies