World On Fire review: Not especially clever, but big and exciting
The BBC's new Sunday night extravaganza is an expensive Second World War drama with a tremendous number of bells and not a few whistles
In case you didn't know summer was over, the BBC has a new Sunday night extravaganza to fill the Poldark hole. World on Fire is an ambitious, expensive Second World War drama with a tremendous number of bells and not a few whistles. Its creator is Peter Bowker, who most recently gave us Occupied, the Bafta-winning drama about Iraq.
World on Fire's stated aim is to tell the stories of "ordinary people". Isn't the point of world wars that most of the people involved are ordinary people? Anyway. There are bombed-out streets, firefights, heartless Nazis, smoky jazz clubs, tank columns and abundant strapping young men in uniform. If these ingredients have not put you off already, you are unlikely to be disappointed.
There's one strapping middle-aged man in uniform, too, in the form of Sean Bean as Douglas Bennett. The difference is that he relinquishes his usual martial clobber for a bus conductor's blues. Even more shockingly, he has become a pacifist, traumatised by what he saw the first time around and worried by what he's reading in the Manchester Guardian.
He has reason to be concerned. His daughter Lois (Julia Brown) has a boyfriend, Harry (Jonah Hauer-King), working in Warsaw as a translator. She hasn't heard from him in a while, mainly because he has taken up with winsome waitress Kasia (Zofia Wiclacz). An American journalist called Nancy (Helen Hunt, on strident form) advises Harry to help his beau and her family flee the coming invasion. "Make sure you do what's right, not what's British," she urges, an admonishment I must remember next time I'm served something cold in a restaurant.
Perhaps inevitably, the effort to cover so many bases comes at the expense of characterisation. From the doomed soldiers defending Danzig to the smouldering gay, black saxophonist in Paris, via the snobbish old English mother with sympathies for Mr Mosley, we hardly get to know anyone before we are whisked off to the next location.
The best TV cliffhangers of all time

Show all 37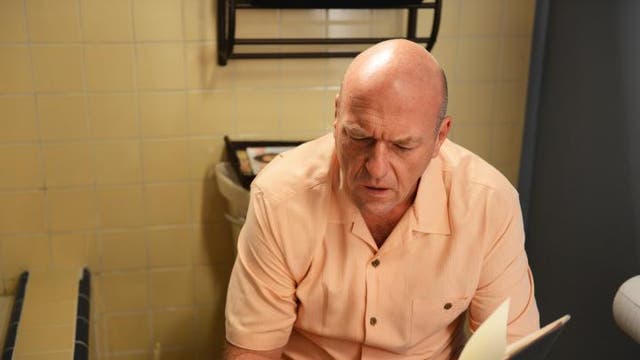 It's not especially clever, but it is big, exciting, and packed with watchable actors. What's more, in a TV world where too often we are encouraged to see the Nazis as warm and cuddly real people with emotions, it's refreshing that they are here relegated back to pure baddies, strafing cafes, shooting surrendering fathers and generally being Nazi-ish about things. When the world's on fire, it's nice to take refuge in the old certainties.
Join our new commenting forum
Join thought-provoking conversations, follow other Independent readers and see their replies