The TV shows to watch this week: From Bake Off... The Final to Portillo's Great Australian Train Journeys
It's a good week for fans of the Great British TV phenomenon, says Sean O'Grady, with Sir David Attenborough in Antarctica, Michael Portillo down under, and chocolate cakes in the oven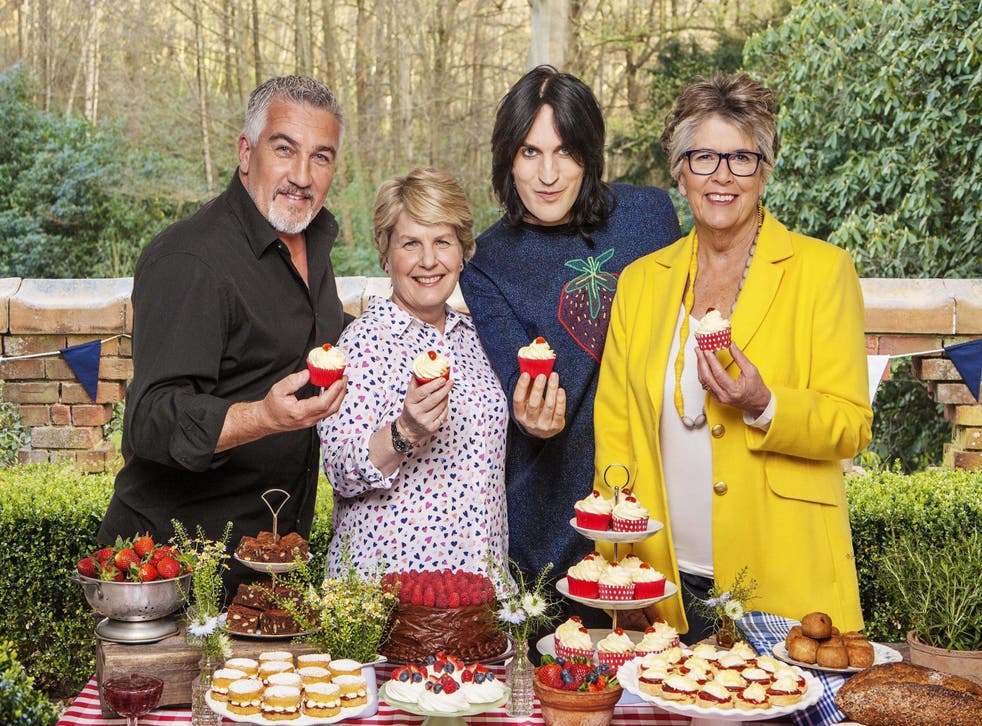 Sometimes, in our prelapsarian prosperous pre-Brexit Britain it seems you can hardly move for classy cupcake stalls and artisan bakers selling vegan sponges. While aisles in supermarkets once dedicated to crisps and nuts have been taken over by baking ingredients, the shelves groaning under the weight of tens of different hundreds of thousands mixes, retro tins of golden syrup and gluten-free flour (can there be such a thing? Really?).
And we all have The Great British Bake Off to thank for the revolution. This most unlikely of global broadcasting successes has been with us since 2010, offering comfort food and, I suppose, comfort television all the way through this turbulent decade. The latest series of GBBO comes out of the oven on Tuesday night, with the grand finale of series 10. The challenges for the final trio are especially well chosen. The "ultimate chocolate cake" is, one would hope, not an invitation to bake some excessively sweet and sickly sludge, which happens all too often, but a confection that still has some texture and, in every sense, taste. The showstopper is on the theme of a deceptively delicious feast, built in the form of an (edible) picnic basket. Sandi Toksvig, Noel Fielding, Prue Leith and Paul Hollywood provide the human equivalent of gluten, binding and offering some structural integrity to the mix.
Like chocolate cake, could it be sometimes the case that you can have too much environmentalism? Too much Attenborough? Of course not, because in his hands, and those of the brilliant BBC wildlife team, even the most dire warnings are leavened with an uplifting relish of hope and even optimism – it is not quite too late. Plus, of course a reminder of the breathtaking hi-def treasure of our natural world, so much of which remains undiscovered or underappreciated.
So Sir David is "doing" the seven continents in Seven Worlds, One Planet, kicking off bottom to top, so to speak, by checking out Antarctica. Now though it may seem a snowy "wasteland" it does harbour its own version of biodiversity, and its preservation as a still remarkable pristine place is crucial for the future of mankind. If you don't fancy glueing your hand to a train in the rush hour, then at least you can settle down in front of the telly, with some penguins. Enjoy it (Planet Earth) while it lasts.
Or maybe you'll be going trick or treating this week, an obscene ritual that is basically organised low-level juvenile terrorism. This week enough pumpkin flesh to feed Britain for a week, or something, will be thrown away in the name of the absurd cause of making poorly carved "scary" faces in the remaining pumpkin shell. Frankly, a no-deal Brexit is more terrifying than any orange apparition you'll see leering at you this week (unless you happen to bump into Donald Trump, that is). The Motherland gang find themselves tangled up in the nonsense, and the question arises of these mostly loving and mostly incompetent parents – can they manage to get though Halloween without losing a child. I think you know the answer. Anna Maxwell-Martin, Diane Morgan, Lucy Punch, Paul Ready, Tanya Moodie and Lily Frazer scream their way through another wry episode.
In a parallel universe, Michael Portillo would be prime minister by now and successfully be navigating Britain's way out of the European Union. It all went a bit wrong back in 1997 when the then great hope of the Tory right lost his seat in Tony Blair's landslide victory, and "went on a journey". It started as a political one, sure enough, but showbiz beckoned and the journeys started to roll on different rails.
He's done the trains in Britain, India, America and Canada, and now the time has come for Portillo and his colourful slacks to go down under. Great Australian Train Journeys does sound promising, although I was a little taken aback by the publicity image which showed Portillo cuddling what appears to be a baby kangaroo, which I suppose proves that the show is more a travelogue than anything else. Still, the train spotters, an underprovided-for community, will enjoy it too. The first stop on the journey includes Portillo judging a Michael Portillo lookalike competition, which surprises me as I thought Portillo was a purely British phenomenon. Maybe, like the apocryphal story about the real Elvis Presley coming second in an Elvis lookalike contest, he might enter himself. Something like that anyway.
Children in Need, or Children in Greed as us BBC cynics used to call it, is around the corner, and you may be delighted to learn that the Countryfile presenting team is throwing everything at the charity appeal. A special Countryfile edition on Sunday will follow presenters Matt Baker, Steve Brown, John Craven, Ellie Harrison, Tom Heap, Adam Henson and Anita Rani as they head off to various locations across the nation to lead rambles for BBC Children in Need. On their rambles they are joined by viewers of the show and inspirational children and young people who have been supported by charities and projects funded by the charity. Sounds a bit like a candidate for the delightful Twitter hashtag #AccidentalPartridge, but it's all in a good cause. Alternatively you could skip Countryfile and just go online and give some money to any or all of: Surfability UK; Focus on Family; Cardiomyopathy UK; The Donna Louise Trust; and Spina Bifida Hydrocephalus Scotland.
There's also rugby, as you've no doubt noticed.
The Great British Bake Off... The Final (Channel 4, Tuesday 8pm); Seven Worlds, One Planet (BBC1, Sunday 6.15pm); Motherland (BBC2, Monday 10pm); Great Australian Train Journeys (BBC2, Saturday 8pm); Countryfile Ramble for BBC Children in Need (BBC1, Sunday 5pm); Rugby World Cup Semi-Finals (ITV, Saturday 7.30am, England v New Zealand; Sunday, 7.30am, Wales v South Africa)
Join our new commenting forum
Join thought-provoking conversations, follow other Independent readers and see their replies