TV Preview: The X-Files (Channel 5, Monday 9pm)
In these Trumpian times of rampant conspiracy theories, what better antidote than to welcome the return of Mulder and Scully to our screens? Sean O'Grady, for one, is a believer...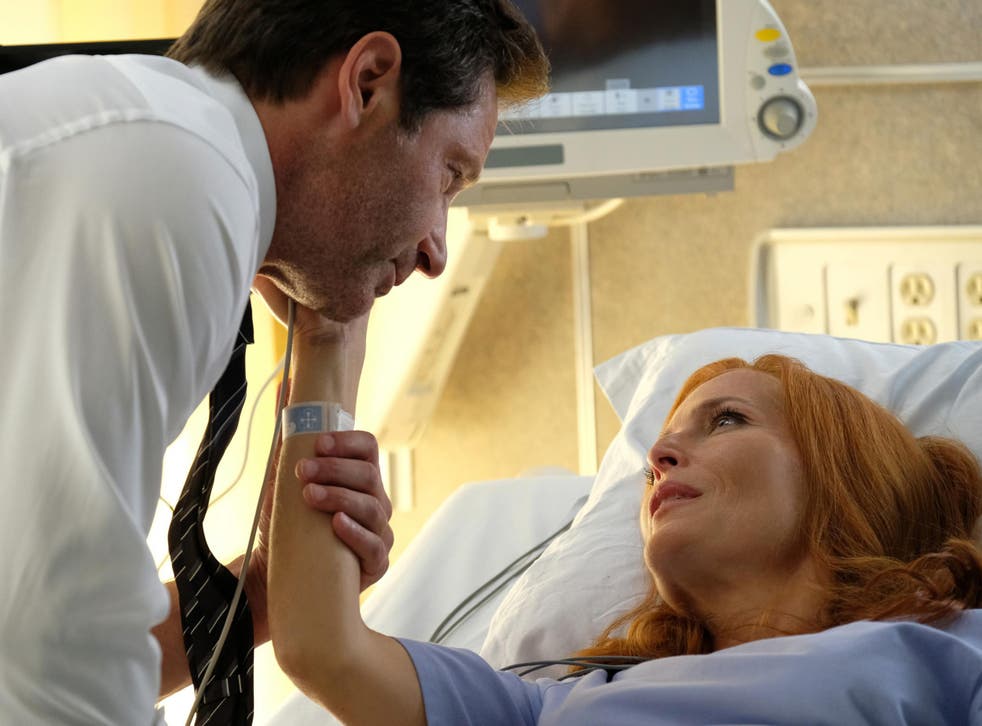 They're back! I was going to say on terrestrial TV, but maybe that should be extra-terrestrial TV…? Yes, it's Mulder and Scully, returning for another run, with Channel 5 hosting their revived quest for "the truth". Continuing the policy since The X-Files was revivified a couple of years ago, makers Fox have stayed commendably true to the classic original, right down to the eerie title sequences and the retention of cigarette-smoking man (William B Davis), Assistant Director Walter Skinner (Mitch Pileggi), agent Monica Reyes, (Annabeth Gish) and of course Gillian Anderson (Dana Scully) and David Duchovny (Fox Mulder). Creator Chris Carter is still involved too, hence the intricate stories and still-stylish cinematography – this is no cheaply made sequel series.
The magical chemistry is still there too, though I'd say that Fox is a bit grumpier and Dana a little more emotional than when they started out. You'll also be reassured to encounter the usual life forms from outer space, dreams-that-aren't-dreams, UFOs (obvs), the dark web, Roswell, and plots within plots. Otherwise the most dizzying mystery in this new 10-episode run Series 11 of The X-Files is how Mulder and Scully look so incredibly youthful. It is almost as if they were abducted by aliens in 2002 and injected with some DNA from a race of beings that simply never grows old. After all those years these agents probably ought to have had a few promotions at the Federal Bureau of Investigation and, out here in the real world of Donald Trump, one or both of them should have been sacked by the President for their attempts to uncover his links to Russia and, quite conceivably, his unnatural, inexplicable behaviour than could only be explained by some sort of external intervention. Perhaps Trump is one of the lizard people. Or maybe I am simply imagining things, and I only see what I wish to see. At any rate, these days do seem ripe for a new set of conspiracy theories involving the FBI to flourish. It might be of some commercial benefit to all concerned too. As Agent Scully says in one episode: "There's a lot of money to be made in scaring people." An abiding truth, right there.
With a slightly fortunate/unfortunate sense of timing, the BBC brings us Flatpack Empire this week, a whole three-part documentary series about Ikea, days after the recent announcement of the passing of its founder Ingvar Kamprad. As has been well-noted lately, Kamprad was the founder of the largest furniture business in the world, an attractively frugal figure but one who, to some minds, never successfully played down a certain sympathy for the Swedish version of Nazism in the 1940s. Leaving that aside, if you can, you'll be able to see everything you'd wish to see of the Ikea machine, which is a self-assembly sort of business I suppose. Like so many vast transnational companies, Ikea follows the same model as McDonald's, Sony or Apple, say, in imposing a set of values and procedures on its employees and a consistency to its products so that they and their logo are recognised and familiar anywhere in the world. First up: the Ikea catalogue.
These cold dark nights make for an especially fierce completion for viewers on a Sunday evening, when so many of us try desperately to cling to the last crumbs of a free weekend and need to keep the grim realities of the next morning's commute as far from our minds as possible. Hence the blatant escapism of Call the Midwife and McMafia on BBC1, which are now joined by Endeavour on ITV – with the pre-Morse Morse-based drama spread majestically over a good two hours. This would not be possible, let us be clear, without the magnificent talent of Roger Allam as DI Fred Thursday – magnificent moniker, no? Like John Thaw before him, Allam is the middle-aged, middle-class actor of choice for middle-brow material (and above) and discharges every role with an accomplishment that is hard to fault. Shaun Evans as the young DI Endeavour Morse is good too, but a little compromised by his 2018 haircut in a show set in around 1968. Given that they are both set in roughly the same era, with all the lavish period detail we've come to expect from British TV, I have sometimes wondered if there might be some world where the midwives and coppers might all meet up one day, over a case of missing baby or something, last glimpsed in the back of a Ford Zodiac.
The remaining shows to look out for this week can be run through pretty economically, I hope. Back in Time for Tea is the latest televised experiment in living in the past (aside from all those period drams), and social history this time is centred on the North, circa 1918 – tripe, Blackpool, t'mill. Inside No 9 is simply the best drama on TV, hovering uneasily as it does between horror and comedy. James Bulger, a Mother's Story disturbs me a little because of the intrusion into something that should never have become such a sensationalised story, a means, to be frank, of selling papers. So I pray Trevor McDonald overcomes the obvious problems with this project – if anyone can, he can. And, in the cause of world peace, we have the Winter Olympics starting on Friday night, with a unified Korean team the centre of political, if not sporting attention. That and the Six Nations Rugby and an unusually entertaining FA Cup competition should be sufficient to keep the fans content. Is it too wicked to want to see Newport County beat Tottenham Hotspur at Wembley on Wednesday night?
Last, and looking a little further ahead, I am also of course delighted to report the return of This Country. In a tough field this mockumenatry about life at the social arse-end of the Cotswolds was the best of the new comedy offerings of 2017, and Daisy and Charlie Cooper's only problem is that they set the bar for the their second run so high. Even if it was only half as good as the first, though, it would still be brilliant.
The X-Files (Channel 5, Monday 9pm); Flatpack Empire (BBC2, Tuesday 9pm); Call the Midwife (BBC1, Sunday 8pm); McMafia (BBC1, Sunday 9pm); Endeavour (ITV, Sunday 8pm); Back in Time for Tea (BBC2, Tuesday 8pm); Inside No 9 (BBC2, Tuesday 10pm); James Bulger: a Mother's Story (ITV, Thursday 9pm); The Winter Olympics (BBC1, Friday 10.30am); Six Nations Rugby (ITV, Sunday 2.15pm); FA Cup Match of the Day Live (Wednesday, BBC1 7.30pm)
Join our new commenting forum
Join thought-provoking conversations, follow other Independent readers and see their replies