War & Peace: The epic that gave power to the people
Tolstoy's Napoleonic novel is coming to the small screen once more in a big-budget Andrew Davies adaptation for the BBC - and it is so much more than a period piece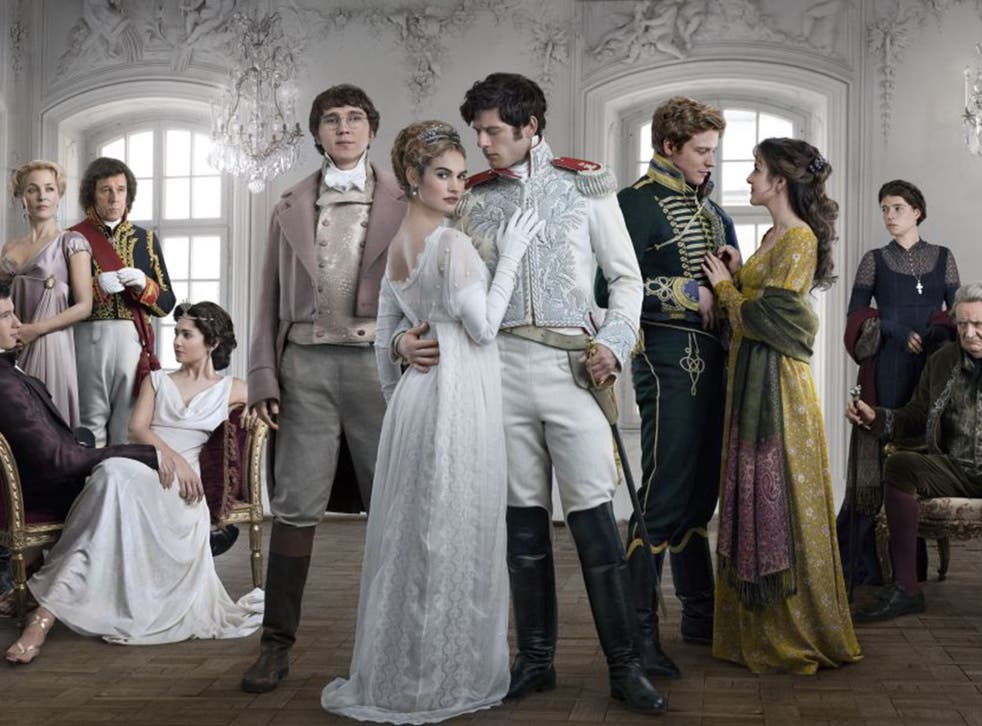 So far, this winter has been short on snow. But you can bet on a flurry or two at 9pm next Sunday when the first episode of BBC1's new adaptation of War and Peace hits our screens. Announced in 2013, Writer Andrew Davies and director Tom Harper's six-part version of Leo Tolstoy's 1869 novel promises "a thrilling, funny and heart-breaking story of love, war and family life". Well-trodden themes, you might think. So, why is this groaningly epic novel such an important book?
Running to well over 1,000 pages, War and Peace tells the Slavic story of the Napoleonic era, from the summer of 1805 and moving onto the French army's disastrous invasion of Russia in 1812 and beyond. The book's scope is so broad that Tolstoy felt it couldn't be pigeonholed – "it is not a novel, still less an epic poem, still less a historical chronicle", he said. But whatever War and Peace is, it him "five years of ceaseless and exclusive labour", as he researched countless countless documents and journeyed to many battlefields to stand in the footsteps of his fictional and factual heroes.
Originally, rather than telling tales of conflict and concord,Tolstoy had wanted to get to the root of how the self-styled "children of 1812" came to lead a revolt against the Tsar on 26 December 1825. These "Decembrists" hoped to end autocratic rule, establish a constitutional monarchy, and emancipate the serfs. But when Tolstoy started writing the story of their movement in 1861, he quickly realised it began much further back, on the frontline of the War of the Third Coalition, when Russia joined Britain, Sweden and the Holy Roman Empire n an attemptto defeat Napoleon.
While fighting the indomitable French during the summer of 1805, some 30 miles north-west of Vienna, a group of young, high-born Russian officers began to see the intrinsic moral worth of their peasant soldiers. This marked a radical change, given the solid class divisions in Tsarist society. The noblemen, who now lived and ate with the patriotic serfs, were appalled by the army's severe punishment system and decided instead to extend the hand of friendship. Returning to Russia, united by their experiences, the officers hoped for socio-political change, in the mould of the West's more moderate systems of government. But, as so often in the country's history, from Peter the Great to Vladimir Putin,the road to democracy reform was paved with disappointment. Tsar Alexander I and his advisor Mikhail Speransky began a series of reforms, surprisingly based on French models, including the Code Napoléon. Although there was a natural suspicion of the self-crowned Emperor of the French, the open-minded Tsar and his counsellors couldn't deny the positive transformations that had occurred under his rule in France. But when hostilities flared up again, the reforms failed to sway dogged Russian conservatives and Speransky was dismissed.
The liberal Major General Sergei Volkonsky said that coming back to St Petersburg after the Patriotic War of 1812 and his subsequent time in Paris and London, "felt like going back to a prehistoric past". Along with a host of other like-minded figures, Volkonsky doubtless inspired Prince Andrei Bolkonsky in War and Peace (played in the new adaptation by James Norton) (played here by James Norton). He and his similarly dismayed military fellows did find kinship with the city's intellectuals, represented by Andrei's friendship with the pro-Napoleon, wannabe firebrand, Pierre Bezukhov (Paul Dano) (Paul Dano).
This young generation's hunger for social change also manifested itself in the culture and clothing of the time, as they embraced folk art and donned peasant garb in an act of serf solidarity. Even "the children of 1812" who had never been or could never hope to go to war, such as Natasha Rostov (Lily James), found their own ways to grasp the essence of the nation. In one of the most famous scenes in War and Peace, Natasha intuitively dances to a folk song played by a retired army officer whom she calls "Uncle". Viewing the scene, like one of the peasants gathered in Uncle's wooden hut, Tolstoy wonders, "where, how and when had this little countess, brought up by an émigré Frenchwoman, sucked this spirit in from the Russian air she breathed". Natasha embodies the ideal woman and an idealised nation, neither aristocratic nor serf.
Indy Choice: Best of the new books

Show all 10
Tolstoy's tome is full of such moments, to say nothing of the author's protracted ruminations on the principle of historical truth. Impossible to translate to the screen, these passages are nonethelessvital for understanding Tolstoy's world view as he, like his characters, struggles to "grasp directly and embrace in words – to describe – the life not only of mankind, but of one people". War and Peace is therefore a bold rejection of "great man" history. What drives Tolstoy is the desire for a more democratic approach to the recounting of seismic moments from Russia's past, even through the prism of fiction. It explains his quick, innovative shifts from expansive panoramas to urgent close-ups, all part of a proto-cinematic style that is a superb blueprint for Davies and Harper.
Yet any adaptation has to distil and train Tolstoy's beast. Reciting the whole of War and Peace aloud takes 60 hours – proved by a marathon reading in Russia earlier this month – while the BBC has only six hours to work with. Accepting the necessary limitations, Davies and Harper focus on the stories of Pierre, Andrei and Natasha. Nobody appears on screen that is not immediately connected with them, though this still offers a cast of thousands and a wealth of situations and dilemmas. The social whirl of St Petersburg and Moscow, with Gillian Anderson's Anna Pavlovna Scherer and Rebecca Front's Anna Mikhailovna as its scheming salonnières, proves as combative as the scenes on the battlefield. And whether Harper and his crew are weaving through parties during the first episode's swift but skilful exposition, or scanning the disorder of war by means of eye-widening drone shots, they prove equally keen-eyed guides to both.
And it's not just the production's technology that reflects the present day. Anderson sports an off-the-shoulder gown, while Callum Turner's party boy Anatole Kuragin seems to have smashed his way in from The Riot Club, trashing palace parlours and conniving with his father, the chameleon-like Prince Vassily (Stephen Rea). Two hundred year old social conventions are upheld, though conversations feel decidedly fresh, as is Davies's emphasis on the romantic and erotic, firmly established after three decades of crafting costume drama.
Access unlimited streaming of movies and TV shows with Amazon Prime Video Sign up now for a 30-day free trial
Sign up
The most publicised embellishment, so far, is the depiction of an incestuous relationship between Anatole and his depraved sister Hélène (Tuppence Middleton), which has been criticised by Tolstoy scholar Andrew Kaufman, among others, for having no textual basis. But Kaufman's associated complaint that the new adaptation "may be imposing a 21st-century perspective on to a 19th-century novel" contradicts his earlier assertion that War and Peace is "a mirror of our time".
Just as Tolstoy did in the 1860s, connections have to be drawn between then and now. Observing the lives of Pierre, Natasha and Andrei, the new BBC adaptation will also hopefully reveal the novel's faith in finding stability in an increasingly unstable world. Its interaction of sprawling history and personal sacrifice will be all too recognisable from the recent, admittedly less gilded scenes of contemporary warfare on our televisions, while the conflict between Russian values and those of Western Europe is as complex now as it was in 1812.
Above all, the hope endures that Russia can embrace the nascent optimism expressed in War and Peace on the way to a fully tolerant, egalitarian regime, such as Tolstoy's characters and their real-life counterparts dared to imagine two centuries ago.
'War and Peace' begins on BBC1 on 3 Jan at 9pm
Join our new commenting forum
Join thought-provoking conversations, follow other Independent readers and see their replies